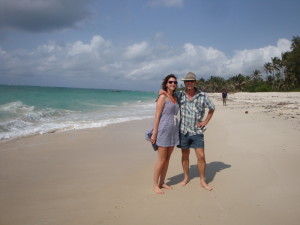 Lucile and Bruno at Tiwi Beach
Kenya.  A country of picture-perfect coastal paradises; infamous wildebeest migrations on African savannahs; sing-song Kiswahili words echoing through ancient Arab architecture; sprawling African metropolises coughing up people, traffic, and fumes; and the towering giants of Kilimanjaro and Mt. Kenya standing off against one another, beckoning one another upward still.
I touch down at Moi International Airport in Mombasa, and it comes to me.

 

I will be in East Africa for one full year without stepping out of her.

 

No sporadic trips to London or Austria or North America to give me a dose of Western civilization, which somehow makes the difficult aspects of Africa more bearable.

 

Not even a trip to South Africa, Africa's own mini-America
Lulu and I enjoying young coconuts!
And suddenly, I feel Africa upon me again, in all her raw intensity, like heavy, humid air.  She has a way of getting into every orifice, of soaking into your pores, of pounding her way into your mind so that all you can hear is your suddenly very loud heartbeat
Mercifully, Bruno is the first face I see when I exit the airport, my very own knight in shining armor.

 

And just that like, he whisks me away from the intensity of Mombasa and to our very own beachside haven, Tiwi Beach.

 

The coconut trees seem to wave at me as I catch my first glimpse of the turquoise-clear water, the white sand, the dramatic cavernous cliffs and the coral reefs teeming with life.

 

I take a long, deep breath of humid, salty air, and the African drum-like pounding in my head fades.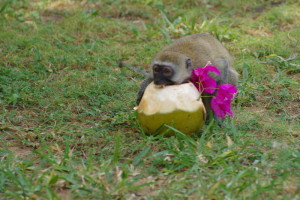 The vervet monkey enjoying our leftovers…
The next five days pass in a blur.  Perhaps the sound of the waves has lulled us into a state of such stillness that we no longer recognize the passing of time.  At some point, Bruno's niece, Lucile, joins us, and she merges with our serene pace of life.  We drink young coconuts decorated with pretty pink flowers.  We walk past the cliffs at low tide, searching for crabs, snails, and urchin.  We snorkel in a deep pool created by the coral reefs.  We take brisk morning swims in the water.  We laugh as vervet monkeys enact their all-too-human games around us.  And we sit on the beach and sleep and talk and read and stare at the waves crashing into the coral wall many meters offshore.

Bargaining for produce at the Voi market
It's a good thing we had a tightly-packed itinerary, or chances are Bruno and I would still be at Tiwi, whiling away the days, like so many travelers who have passed there before.  But I had a job starting in Uganda in a couple of weeks, and Lucile only had two weeks to see as much as possible, so we packed up and headed inland for a Kenyan safari. 
Safariing in East Africa is not like in Southern Africa.

 

Here, it's bank-breaking expensive and not-so-easy to do independently.

 

But wearing his tour guide hat, Bruno managed to design us an itinerary that maximized our wildlife viewing possibilities while minimizing our costs.

 

This meant spending time in the private and community wildlife sanctuaries that border the national parks rather than actually going inside the parks.

 

Elephants for breakfast at Lion's Bluff (they are in the
background, not on Bruno's plate!)
So, from Tiwi, we headed to Voi, the town situated at the intersection of the Tsavo East and West National Parks.  On our way to Voi, we made a detour to the Mwaluganje Elephant Sanctuary.  This community sanctuary was created to act as a passageway for elephants heading to the Shimba Hills National Park.  We must have hit the sanctuary at the wrong time of year, because we only saw one lone elephant, and Lucile's first baboons.  Nonetheless, it was a worthwhile stopover, if only for the rugged back roads and remote Kenyan villages we passed through as part of the detour.

the best leopard shot
Voi, too, was merely a stopover, but it was a more successful one.  We spent the night at the Red Elephant Lodge, which borders the edge of the Tsavo East NP and has a salt water hole 20 meters from the fence, attracting loads of elephants, buffalo, and antelope.  I had wondered why the lodge would be called "Red" Elephant, but soon found out the reason.  The earth in this part of Kenya has a reddish hue to it (sort of like Prince Edward Island) so when the elephants throw the earth onto themselves, they take on that reddish color.  Though Kenyan elephants are smaller than their southern counterparts, I might have loved them even more, for red elephants are striking, and certainly photogenic.

male and female flirtation and rubbing
The next morning, we headed to the local Voi market to buy food before journeying into the deep Kenyan bush.  This was Lucile's first African market, and it couldn't have gotten any more genuine – narrow mazelike stalls, dirty, dusty roads, and people everywhere, shouting, blaring music, and trying to hawk their goods to us. It wasn't easy, but we managed to find enough food to feed three hungry adults for 3 nights, and Lucile even enjoyed the trip (although I don't think Bruno did).

Ugali with potatoes, beans, pumpkin,
spinach, and chili sauce
Our destination par-excellence was the Lion's Bluff Lodge, at the edge of the Tsavo West NP.  Another community wildlife sanctuary, but this one chalk-full of wildlife.  We camped at the isolated (and very basic, à la Kenya) Cheetah campsite, on a hill overlooking the stark savannah with a view of Kilimanjaro in the backdrop.  Unfortunately for us, the clouds didn't clear the entire three days we were there, and we only managed to spot this infamous peak partially, as the sun was setting, for a brief moment.  At least we had elephants and baboons as our breakfast buddies!

A hartebeest momma and baby
Our time at Lion's Bluff didn't disappoint.  The lodge itself was gorgeous with a stunning view, so we made sure to have an afternoon tea there one day, and even requested a special Kenyan dinner on our last night, which the owner was only too happy to oblige.  The meal consisted of meat, meat, and more meat, but thankfully included a few beans, potatoes, and spinach for me.   And of course, Kenya's maize-meal ball, called "Ugali" here (or "sadza" in Zimbabwe, or "nshima" in Zambia).  As we ate, a Maasai tribesman stoked the nearby fire.

Watching the elephants at the salt water
hole at the Red Elephant Lodge
Bruno, now wearing his safari driver hat, took us on three very full days of safariing.  It was so fun to watch Lucile see her first zebras, impala, and giraffes, and it made me appreciate these animals more being able to see them through her excited eyes.  And I even saw a few new East African animals, like hartebeest (close relative of the wildebeest), the suni antelope (very tiny and cute), klipspringers (Africa's mountain goat), and the Maasai giraffe, which has leaf-like spots.

the Generuk ("giraffe" antelope)
But the highlight of our time at Lion's Bluff, and indeed of my entire time in Kenya, was spotting not one, but two leopards!  Two mating leopards, to be precise!  Most of my blog readers know by now that spotting a leopard in the wild is an incredibly rare feat (although by my own leopard statistics it wouldn't seem that's the case!), but spotting mating leopards is something that only the very lucky few ever witness.  And Lucile saw them on her first safari!  In fact, she's the one that spotted them!  (I think we'll keep her for luck!). 

my favorite elephant shot (you can really see the
reddish hue with the dark blue sky)
At first, we just spotted the male leopard, lying on a rock.  Within a moment, he was gone, and it seemed as though he wouldn't reappear.  We stayed, waiting and hoping, for more than 30 minutes, and just as we were about to continue along our way, the female leopard ran in front of our vehicle and met the waiting male.  For the next half hour, the two very happy and very healthy leopards rubbed up against trees, rocks, and one another.  They would follow one another up the rocky cliff, into the bushes, on top of boulders, into the grass… Usually, felines are sleeping lazily at this time of day, so it was absolutely mesmerizing to see such activity, such passion, such joie-de-vivre in this happy couple.  Eventually, the two of them wandered up the giant rock and disappeared, perhaps to make little leopard cubs!

the bigger swimming pool at the Temple Point Resort
(that's Lucile, and I'm in the pool in the background)
Hyped up from this amazing sighting, we headed back to Voi for another trip to the market and another night at the Red Elephant.  We watched elephant herd after elephant herd arrive at the water hole in hopes of drinking some salty water.  It was fascinating to watch which elephants were able to unseat the drinking group and which didn't muster up the courage to try.  Lots of trumpeting, grunts, and mock charges – it was obvious that this salt water corner was desirable.  At one point, a fairly large elephant arrived with his posse and unseated the current drinking group without even making any  grand gestures.  He was never unseated himself.  Obviously, all the elephants in this area knew who was boss!

Bruno at the Gedi Ruins
To maximize our sightseeing opportunities, we decided to take a different route back to the coast.  This meant driving through Tsavo East NP.  We thought that, perhaps, as a vehicle in transit, we might get a bit of a discount.  But no – $65USD per person!  That hurt!  We paid it, in hopes of spotting a few lions (simba in Kiswahili!) or rhinos.  But we didn't see much of anything at all.  That, folks, is the nature of a safari.  You just never know what you will see, and even if you pay a fortune, you might see nothing.  It made the leopard spotting and our general success at Lion's Bluff that much more special.  And at least Tsavo East introduced me to my first dik diks (almost as small as the suni) and the generuk ("giraffe" antelope, famous for its long neck and its ability to eat leaves on taller trees than any other antelope).  We also witnessed stunning palm trees along the rocky edges of the Sala River.

Lulu and I taking it all in at the Gedi Ruins
We spent a night camping near Sala Gate, just outside the park, before heading to Watamu, a coastal fishing town cum-tourist destination.  Bruno had received a tip that we could camp at The Temple Point Four-Star Resort.  We were skeptical, but it was true!  We spent 3 wonderful nights camping within their grounds and taking advantage of their two salt-water swimming pools, free afternoon tea, coffee and home-made potato chips, evening activities (Maasai samburu dancing!), free use of canoes, and private beach – all for $5 a night each! 

Temple Point and the Mida Creek Estuary
We spent much of our time relaxing by the pool, canoeing among the mangroves along the Mida Creek estuary, and walking along the rocky inlets of the beach (where we came within 10 meters of a large group of tiger sharks – another Kenya highlight!).

 

Although it was difficult to pull ourselves away from this beachside paradise, we did manage to make an afternoon trip inland to visit the Gedi Ruins.

 

These were the ruins of a 12

th

-century Swahili town that mysteriously collapsed in the 17

th

century.

 

The palaces, mosques, tombs, and individual homes were all built with coral rock, and almost 1000 years later, the jungle (and the monkeys) had all but taken back the town.

 

It had the feel of a small Angkor Wat, and we all enjoyed walking through the ruins, seeing the architectural ingenuity, and imagining life here in that ancient time.

canoeing on the Mida Creek
Before we all knew it, it was time to head back to Tiwi and complete our loop, before heading our separate ways.  Lucile is back home, relaxing a bit before completing the final year of her Master's in Psychology.  I write this from my new home in Kampala (which I will detail more in a separate blog entry).  And Bruno awaits a flight in Nairobi to spend the month with me before heading back to France in September (and back here in October, obviously).  Kenya seems already a long-ago dream.
But, hakuna matata.

 

I'll be back to Kenya.

 

Back, to experience the heat and humidity of the coast, the strong Arab influence of the towns, the very basic campsites.

 

Back to Kenya, to keep practicing my Swahili, which I was more well-versed in than I had known (thanks to "The Lion King").

 

So, dear rafikis (friends), I promise another Kenya blog entry in my future!