My trip to Egypt has helped me articulate why I value travel so much – it dissolves preconceptions.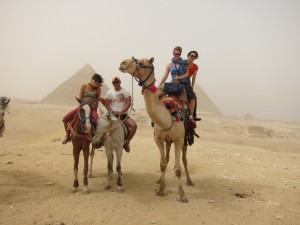 I have wanted to visit Egypt for at least 12 years. This desire has always stemmed from my interest in Ancient Egypt – the pharoahs, pyramids, tombs, hieroglyphics… I expected my trip to Egypt to largely be passed soaking in the history before me on a camel by the banks of the Nile.
If I was going to Egypt mostly for its history, I was going least for the people, especially the men. My idea of Egyptians were that the men were chauvinistic, patriarchal, arrogant, and sleezy. In my mind, they were a mix of Indian men, who are known to stare and grope, and "typical" middle eastern men, who believe they are God's gifts and that women are objects for their personal enjoyment.

This is where I pause to return to my opening statement – that I love travel because it destroys preconceptions and replaces them with perceptions based on understanding, observation and experience.
My trip to Egypt ended up being much more about Egypt's people than its history, and it is the male Egyptian friends I made that I will remember with the greatest fondness when I think back on this trip.
There were many small but memorable interactions with Egyptian people that I could mention: Moses, our guide to see the pyramids of Giza on the back of a camel; Sherif, the owner of Basata resort on the Sinai peninsula; our Bedouin guide up to Mt. Sinai, the friendly and helpful horse-carriage driver in Alexandria. But long after my memory of these kind people fades, I will remember a few special Egyptian men.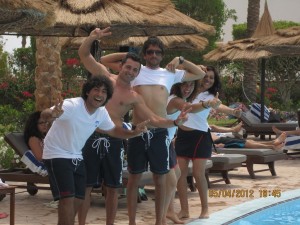 First and foremost, I want to mention the most fun group of guys we met – the diving boys of Sharm el Sheikh. We received the recommendation to go to Pirates Dive Shop from Hatem (who I was soon mention) and we are so thankful for this recommendation. Not only did Alex and I have an excellent day of diving (snorkeling for me) on the boat in Ras Mohammed National Park, but we made an excellent group of friends with whom to spend our afternoons and evenings. Bego, Mohammed, Ryan, Sherif and Khaled – thanks for inviting us to your party, where we all danced unselfconsciously to loud Arabic music. Thank you Bego for taking us to one of the most stunning cliffside beaches in Sharm, and for sharing your ideas on Islam. And thank you Sherif for giving us the names of your childhood friends in Alexandria, with whom we spent a lovely afternoon drinking tea and eating fetir (Egyptian-style pizza).


Secondly, and perhaps most meaningfully, Alex and I (and Fay and Steve too!) had the fortune of befriending Gasser and Hatem, two Cairo boys, at an eco-lodge of the red sea called Basata. 25km past Nuweiba on Sinai, facing Saudi Arabia and near the Israeli border, this simple beach camp is famous locally among those seeking an escape from the hussle and bustle of Cairo life. Operating on an honor-basis, foodstuffs are available to guests who cook their meals in the camp's kitchen and mark down the ingredients they use on a sheet of paper. No tv or music is allowed in the main lodge, and most people do little more than read and snorkel among the amazing coral reefs.


This is why Gasser and Hatem came – perhaps they didn't expect to make friends with a Canadian, Singaporean, Brit, and Aussie! We befriended them in the kitchen as we compared our pasta sauce recipes, and by the end of the evening we were playing cards, giggling like children, and debating politics and religion like old friends. The next day they showed us the best snorkeling place, we played an uber-competitive game of volleyball, and Alex and I cooked them Nepali food. By the time they left the next morning, Alex and I had made a plan to see them on our last day in Cairo.
And that last day in Cairo was perhaps one of my favorite days in Egypt. Gasser invited us to stay at his home for the night. His mom prepared us a traditional Egyptian meal of lentil soup and a staple food with rice, lentils, pasta and chickpeas topped with caramelized onions and a spicy red sauce. It was a delicious meal followed by Egyptian tea (one of our favorite Egyptian traditions) and fresh fruits. Conversation between the four of us continued late into the night as we spoke as mish-mash of English, French, and Arabic.


The following morning, Gasser and Hatem took us for an Egyptian breakfast, which consists of various bean – or "foul" – dishes, fresh warm pita, falafel and orange juice. Delicious! After dropping the two of them off at the mosque for the all-important Friday noon prayer, we bought a huge box of Egyptian sweets (most made with a variation of flaky pastry, Egyptian honey, and pistachio) and ate them on a feluccah boat ride on the Nile. I LOVED this ride, not only because I love boats and the fresh air on the water, but because we had awesome conversations about culture, love and marriage, family, careers, religion, and hopes and dreams.
Following our boat trip, we went to the top of the Cairo Tower for a sunset view of the city. Sadly, Gasser had to leave us for an engagement party, but Hatem took us for a massive seafood spread at a boat restaurant of the side of the Nile. I made an exception and dug into sea bass, king prawns, and calamari, all grilled and flavoured in Egyptian curry spices.


Happily, Gasser left his party to rejoin us and see us off at the airport. For me, Gasser and and Hatem MADE the Egypt trip. Not only did we get to experience a variety of Egyptian foods with them, but we gained an insight into Egyptian culture (including men not letting women pay for anything!) and Islam. More importantly still, we made true friends with two of the kindest people I've met, and I discovered once and for all that my preconception of Egyptian men was a sweeping misconception.
My trip to Egypt will be full of memories – the bustling city of Cairo with its traffic and dry, dusty air, experiencing a proper sandstorm while visiting the pyramids and sphinx of Giza on the back of a camel, learning to love snorkeling amongst the colorful coral of the red sea, climbing Mt. Sinai in the middle of the night in order to see the sunrise from the top of this red, jagged peak, going to a dance party in the middle of the desert, and drinking endless cups of tea at cafes along Alexandria's cornice. But none of these memories will be as meaningful as that of my new Egyptian friends, and of discovering that Egypt, more than its glorious history, is a place full of beautiful people.