Leopard fur coats have always been pretty fashionable in Africa.  Chiefs of villages and rulers of tribal kingdoms wore them during ceremonies and warfare.  To have a leopard coat was the ultimate status symbol in Africa.  The Lozi tribe of Zambia even has an ancient proverb on the matter:
"To wear a coat of leopard skin is to be lucky in all things."
I'm just joking about the proverb.  I made it up.  But some African tribe somewhere might have had some such proverb, and if they didn't, they should have.
Because to wear a leopard you have to spot a leopard.  And to spot a leopard, you have to be pretty damn lucky.
Leopards are notoriously elusive and fearful of man (rightfully so considering their status symbol as a coat).  Because they are stealthy, nocturnal, and solitary, they elude most tourists on safari.  They even elude conservationists and rangers working day in and day out in the bush.  I've met several such people who have spent decades in parks and spotted a mere handful.  In Bruno's four years of almost-constant safariing (from 2001-2004), he only spotted one leopard, and for a mere moment.
Without further ado, let's bring out the leopards I've spotted in only fifteen months.  Drumroll, please.
1. My first spotting, at uMkhuze Reserve in South Africa, was in March 2013.  Bruno and I had spent a lone afternoon hidden in a wooden hide watching game drink at a water hole.  I looked up from my book, and there he was, appeared as if from thin air.  "Leopard", I choked out, believing he was a mirage.  Watching him drink slowly while periodically staring at us through the hide – especially knowing he could come inside the hide had he wanted to – was a safari experience unmatched by any since then.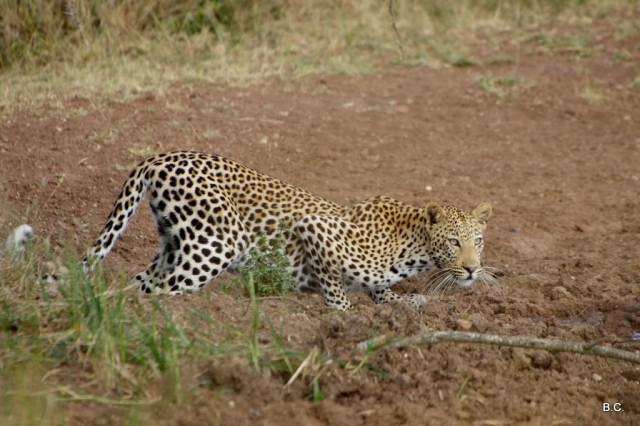 2. Later that same month, we received a more "typical" leopard spotting, among several vehicles on the side of a main road in Kruger National Park, South Africa.  When we approached the safari trucks – which, when clustered together, always signals a big game sighting – we had to ask neighbors what and where we were viewing, so far away was this leopard. Vying with the other vehicles for the best spot wasn't the most romantic way to see a leopard, and I was even more grateful for my first leopard spotting.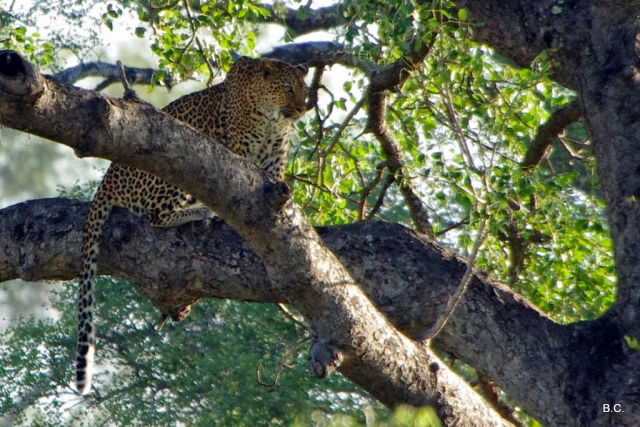 3. A double dose of leopards, in the
Lumo Community Wildlife Sanctuary in Kenya
last July.  Bruno's niece – a safari virgin! – was the one to spot the big male lying on a rust red rock.  After a few photos, he disappeared, and the couple of vehicles that had accumulated left.  With patience, we stayed on and waited for over a half an hour.  Suddenly, he reemerged from the bush, this time with an accompanying female!  The two performed a mating dance around our car for over 30 minutes, and we were so close we could feel the vibration of their purring against the frame of the car.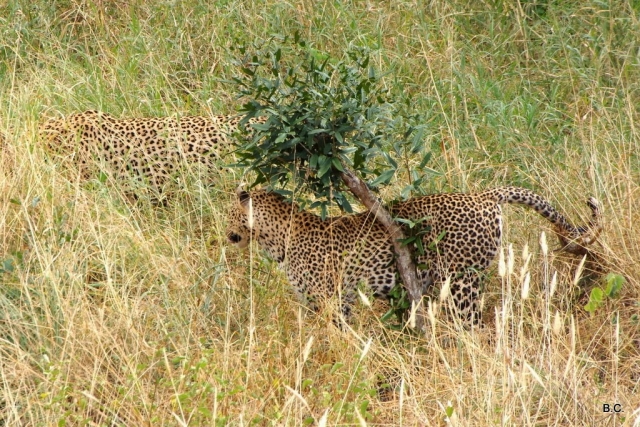 4. Earlier this month, in Zambia's South Luangwa National Park, we watched this female leopard mock-charge a warthog, surrounded by barking baboons and curious reedbucks.  Eventually she vacated the patch of mud the warthog so desired and sat in the shade for us to observe.  Later we learned she had been nicknamed "Alice" by local game drivers and didn't shy away from the limelight.  That explained her atypical leopard behavior.

5. A mere five days after Alice, in the same park, Bruno spotted a big male resting in the shade by the Luangwa River.  Upon closer inspection, we saw that he was carrying a monitor lizard – probably caught just before our arrival – in his jaws.  Were it not so hot, this annoyed male would most certainly have charged us (we who had disturbed his feast!), but instead he eventually stood up and carried his meal to thicker bush.

6. On the final eve of our time in South Luangwa, I was joking that it would be funny if we spotted another leopard.  I looked up into the trees, and there he was, on the perfect branch for an afternoon snooze.  We crept up very close and watched him snooze and wake, snooze and wake, for almost an hour.  This sleepy man was in no hurry to wander off hunting, and we eventually left to hunt lions (that's a story for another time, however.)

I didn't make this list to boast.  Ok, I did, kind of (and to showcase Bruno's fabulous photos).  I mostly made it, though, to prove a point.
The point is this: To see seven leopards, most by ourselves, and all for incredible lengths of time, is incredible.  It's rare, really really rare.  After our fourth sighting, Bruno and I got to joking around about how we were "lucky with leopards".  After spotting leopards thrice in a matter of days, we could no longer joke about it.  We werelucky with leopards, and it had to mean something.
Bruno, unromantic that he is, started rationalizing that perhaps the leopard population in Africa had increased since he was here a decade ago.  Or, he supposed, after several generations of leopards that were no longer hunted, perhaps the leopards had become less weary of humans.  Perhaps it had been bred or taught right out of them.
I agree not.
The reality is that the luck we have with spotting leopards is a manifestation of the luck Bruno and I both have in life.
How else can we explain the luck it took for us to
find one another
, on that fateful afternoon in Mozambique, when the winds were beckoning Bruno onward to newer pastures?
Or how else can I explain the fact that we live in a camper van and travel the world, with more stories and photos to share on this blog than we can keep up with?How else can I explain that we are both living a dream and that we feel blessed every single morning when open our eyes and pop out of bed for a fruit-muesli breakfast, gazing at whatever garden we happen to be parked in front of?
Nope, Bruno's theories about our luck with leopards are just.plain.wrong.  Two years ago, almost to the day, we both put on leopard fur coats, and they became magic capes, for now we are lucky with life.