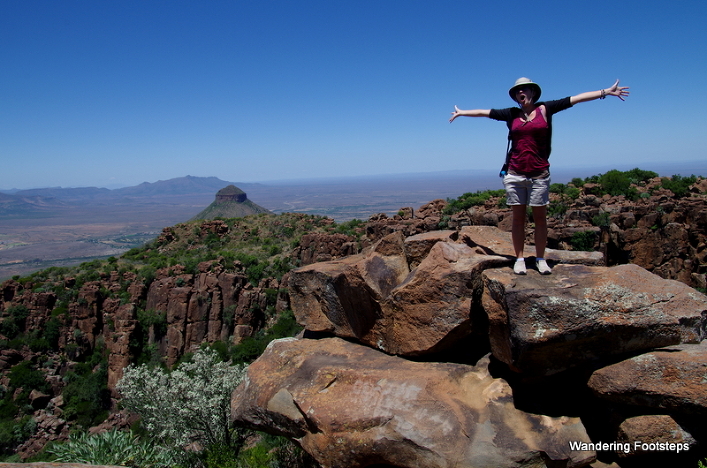 Today, I'm taking a break from my mini-series on the Month of Eight Countries. That's because I am celebrating something that I expect is very rare in the blogging world – my ten-year blogiversary. Yup, I've been travel blogging for an entire decade. Check out the date on my first blog post ever if you don't believe me.
I don't remember the moment I learned what a "blog" was. It was 2005, so the term wasn't common knowledge yet. I only remember why I'd decided to start a blog: I was about to embark on a semester studying abroad in Dakar, Senegal and I was looking for an easy way to keep extended family updated on my life without having to write to each and every one of them all the time. (And, as my first blog post states, a way to post my pictures from my apparently expensive point-and-shoot camera. Oh, perspective…)
Going to Senegal was my first international solo trip. I had a few [mostly inaccurate] ideas of what to expect, but I had no idea where the trip would lead.
Ten years later, I'm three years into an around-the-world trip in a camping car with a nomadic French husband. Before that, I worked as a private tutor on a farm in Zimbabwe, where part of the job entailed jet-setting across the world. Before that, I taught English in Thailand, using my weekends and holidays to explore Southeast Asia. Before that, I volunteered in Nepal with three different NGOs.
Senegal started me off on a path of endless adventures in travel – and this blog has charted them all since the beginning.
Admittedly, my blog didn't always look like this. Initially, it even had an entirely different name – Afrobrit. I'd chosen the name because, at the time, I only expected the blog to last for the four months I'd be in Senegal. Once I got home and began obsessively planning my next stints abroad, I realized I needed a name that more accurately captured what the blog would be about – worldwide travel, or better yet, worldwide wanderings (inspired by the J.R.R. Tolkien quote, "Not all those who wander are lost"). Thus, Wandering Footsteps was born. I'm proud to say I used the term "wandering" in my travel blog years before it became trendy.
In Senegal, I'd written in my blog as I would an email. I'd open the browser and spontaneously write text directly into the post page. I never re-read or edited what I wrote before clicking "publish". My blog from the Senegal-days is raw and full of rants. Sometimes I'd insert a photo and write nothing but a blurb. These were the days before everyone had Facebook.
Later, in Nepal, Wandering Footsteps became a chance for me to reflect on my experiences. I took more time to share the cultural experiences I was having. It became more than a simple means of assuring my family I was well (in Senegal, if I didn't write twice a week, I'd get a worried email from my Nanna asking if I was alive). I began to enjoy blogging for blogging's sake.
In Thailand, though, I was too busy living the expat life to properly keep my blog. This is the period in the last decade where my blogging was most erratic and my reporting most superficial, I think.
Thankfully that ended in 2011, with my move to a farm in Zimbabwe. Wandering Footsteps has been growing stronger and stronger ever since. My writing has become more deliberate, I've posted more regularly, and I've begun using more photos (mostly taken by Bruno, my husband and fabulous photographer).
Through Wandering Footsteps, my passion for writing has blossomed. In 2014, I even started writing stories for outside publications, including Pink Pangea, Travel Belles and an article for well-known travel writer Don George in his Wanderlust blog that I'm particularly proud of. Because of my newfound love of writing and the new ideas I wanted to implement in my blog, last year I finally purchased my own domain. Wandering Footsteps. 2.0 was born.
Wandering Footsteps has followed me around forty-seven countries to date, faithfully charting my development as a person, a traveler, and a writer for an entire decade. I'm so proud of the collection of articles featured on the site – from experiences dealing with water cuts in Senegal and power cuts in Nepal to the ups and downs of working in Zimbabwe, Thailand, and Uganda; from special encounters with locals in Egypt and Oman to visits with friends in Switzerland, Singapore, and Turkey; from jet-setting to London and Cape Town to eating my way across Ethiopia and France; from boat rides with humpback whales in Ecuador to close-calls with elephants in Namibia; and from learning to love all that travel has to offer in Senegal to deciding to make it a permanent way of life in Mozambique. I've shared reflections, profound experiences, funny stories, challenging moments, inspiring encounters, and lessons learned. Through Wandering Footsteps, I've become who I am today.
Thank you to all of you who have followed my journey, whether it has been from the very first blog or the very latest. I've loved having you along for the ride.
Here's to another ten years (at least)!
To celebrate ten years of travel and ten years of blogging, I treated myself to a little bit of fun – a podcast interview with Nomadic Tales' host, Shannon Enete!  We talked about what inspired me to travel, what it's like to live in a little camping car, and the things I've learned along the way.  I shared a few memorable and crazy travel tales and practical tips for those seeking to travel overland.  I'm really excited to share this fun, casual interview with you today.  Click here to be taken to the link, and don't forget to send it on to anyone else looking for a little travel inspiration!