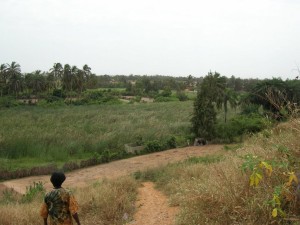 So, last week I went to a village called Njaygen in the Louga region, near St. Louis. It was a very peaceful week, but tiring at the same time. It was peaceful because there was a lot of sitting around, efforts to speak Wolof, ataaya drinking, and dancing. The tiring part was that we were working with a very inefficient organization, Green Senegal, helping them plant trees and work the field that you see in the picture here.
I would have liked to stay with a Senegalese family, but instead they stuck all the girls in this dorm-like building. Ah well, at least I already know what it's like to live with a Senegalese family.
I have a looooootttttt of work to do this week – 2 presentations and two tests. As such, I don't have a lot of time to write a huge blog entry, but I just wanted to say hi and tell you all that I'm alive and well.