I'm about to reiterate a phrase that I seem to say often: "We're hitting the road again!"
Since my last blog entry, many things have happened, and many things have changed.  Bruno and I got legally married (yay us!), and I resigned from my teaching job (due to circumstances outside everyone's control).  The tiny year 3 class I mentioned being so relieved to teach is already no more, and instead of setting up shop in Kampala for the year, we are repacking the camper van and heading back on the road.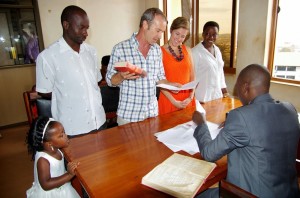 Bruno swearing to love me forever!
We'll call this trip our "extended honeymoon"!
The plan (albeit, always subject to change): leave Kampala on December 22nd, heading for the Kenyan border, and subsequently, the coast.  After revisiting some of the places we saw this past summer with Bruno's niece (well, our niece, now!), we will head south to Tanzania, across to Burundi, up through Rwanda and Uganda (as tourists only this time) and back toward Nairobi.
The length of this extended honeymoon?  Seven months.  I wasn't exaggerating when I labeled the honeymoon "extended", was I?
At the moment, I feel a bit numb.  Leaving the students and my fellow teachers has been harder than expected – the teachers have been WAY TOO kind and generous with me in the short months we've known one another, and I wasn't able to say a proper goodbye to my students (in fact, they don't even know I'm leaving – an unfortunate GEMS policy).  I'm quite comfortable in this house, with its big bed, decked-out kitchen, and hot shower. Not to mention the adorable little kitten we are babysitting right now for a choir friend.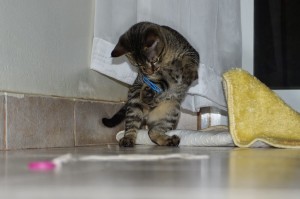 Kalungi the kitten, playing with a paper clip
Bruno, however, is raring to go.  His mood is lighthearted, and he's giddily packing up the camper.  I'm sure I'll be excited once we get started, too.  But for now, I'm too busy catching up on some much-needed sleep and enjoying alarm-less mornings to need much else!
Kampala was not my favorite place to live, and there isn't much about the place itself I will miss.  The traffic, the distance to the city, the chaos – It didn't charm me, that's for sure (I think it takes slightly more than that for me to feel like I'm in an exotic, otherworldly place, anyway now).  Living isn't cheap here, and it doesn't have an especially palatable cuisine.  The souvenirs are kitsch, typical African wares, so I was never lured by its markets or shopping centers.  All of the criteria which I generally use to "measure" the "worth" of a place don't factor in here.
So, will I miss Kampala, and the life that could have been here?  Or will I be too excited and enticed by the road ahead to put any further thought into Kampala?  The only way, dear reader, to find out for sure, is to keep reading my blog.  Many more entries to follow in 2014, I should think!