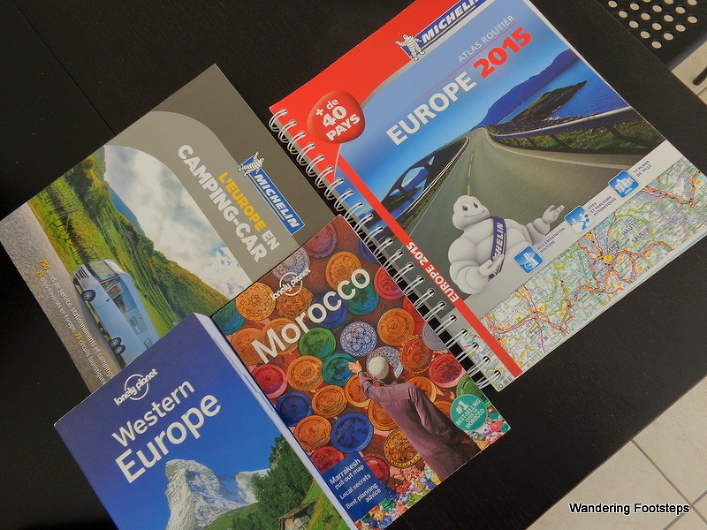 I'm taking a break today from my This Overlanding Life series to update you on our fall and winter plans (which I touched upon in a travel update several months ago). Yep, we're actually going to be on the road again! After almost three months of travel-hiatus – where we hung out in our home-towns, visiting family, friends and hospitals – we're getting geared-up to hit the road again.  (This means repairing, cleaning, and reorganizing our vehicle/home-on-wheels, shopping and ordering lots of stuff on Amazon, and trying to do research on our upcoming travel route.)
This has been the longest break from life in a camper van that either of us has had since we started living this way (with the exception of a few months working in Kampala – but that experience somehow still felt like being on the road, maybe because we were in exotic Uganda). The break has been fun, particularly for me, because I've been enjoying some of the luxuries of sedentary living (is that the opposite of nomadism?), like showers and Wifi, a big fridge, and a flat piece of floor to lay my yoga mat upon.
But I also feel like I've been out of the nomadic lifestyle for so long now (eighty-six days!) that I'm getting a little too comfortable. I'm losing my urgency to have the open road before me; just Bruno and me, a map, and our little home-on-wheels. The excitement at what lies just around the next bend feels muted. Though Bruno does not share this feeling at all, he's so busy giving some TLC to our lovely Totoyaya that his own need to be on the road has been pushed aside by all that he wants to get done before we go.
We've got our rough plan for the next five months pretty well set. I thought that by sharing it with you today, it might help make it feel more real. It might get the excitement pumping through my veins so that we actually start researching campsites, activities, and must-stop destinations. I mean, we leave in ten days, but it feels as surreal as if we were leaving in ten months!
Ok, here goes:
October: Drive from Southern France through Andorra and into Spain. Possibly do some hiking in the Pyrenees Mountains. Meet up with our overlanding friends, Josu and Ana, near their hometown in Spain's Basque country. Do a bit more work on Totoyaya with them. Possibly walk a bit of the Camino de Santiago.
November: If it's not too cold, slowly drive down the coast of Portugal. If it is too cold, race toward the south of Spain. Arrive in Morocco as late in the month as we can stand it.
December: Drive inland toward Tarroudant, visiting whatever strikes our fancy along the way. Just after Christmas, rent a giant home in Tarroudant for a two-week family reunion with Bruno's family.
January: Ring in the New Year in luxury with family. When we leave the house, drive out into the desert for a bit. Possibly travel with my parents and/or another childhood friend.
February: Spend a couple weeks showing my lovely travel friend, Sahnah, around southern Morocco. Scurry back up to Gibraltar before our three-month visa ends. Arrive back in Europe.
In other words, over the next several months, Wandering Footsteps will be sharing stories and photos about hikes in Spain, coastal drives through the Iberian Peninsula, bush-camping in the Sahara, souqs and food in Morocco, and more.  When we're back on the road, we plan to do a better job of updating our Facebook page and our new Instagram page – so subscribe to those social media pages now and stay-tuned!
Anyway, our travel plan may look very vague to you, but it's actually a lot more concrete than we're used to because we have a few meet-ups planned, as well as a house rented. The part that is slightly less concrete than usual is that neither of us quite knows where exactly we're going to spend time in each of these countries. Bruno hasn't been to these places in such a long time, and I haven't done much research yet, so we don't know if there are any amazing campsites, towns, or parks that we simply must visit while we're in these places.
That's where YOU come in! If you've been to any of these countries recently – especially as an overlander – and have any tips on beautiful drives, amazing bush camps or wilderness spots, cheap but awesome campsites, or great hikes, please share your experiences in the comment section at the end of the post. We're needing the travel inspiration right now!