I returned last night from a fortnight trip to India. My travel buddy and old friend, Sahnah (met while studying in Senegal, saw Anchor Wat together in 2008) had never been and could get there on air miles, so even though I had already been twice, I enthusiastically agreed to meet her
there. It also helped that it was actually cheaper for me to fly to Mumbai than anywhere on the African continent!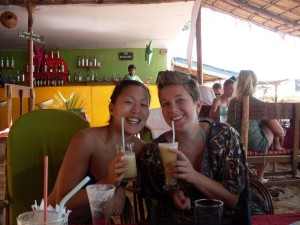 Unfortunately, something bad happened the day before I was to leave for India. While horseback
riding, my horse got spooked by a giant lizard and began bucking and running. I managed to hold on for some time, but eventually fell off the horse and badly sprained my left ankle. That day I kept my foot elevated and put absolutely no pressure on it, as when I did, searing pain shot up my entire leg. The next day was much the same, so I had to travel to India in this condition.
It was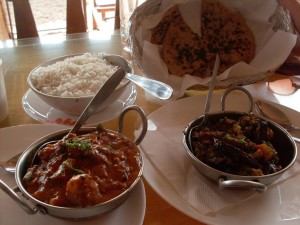 a rough journey, full of staring people and me hopping along, watching enviously as others quickly marched forward on two good feet. The injury affected my trip, especially the first few days, when I couldn't walk around Mumbai and explore it with Sahnah. Slowly, though, it heeled, and by midway through the trip I was able to walk more or less normally, though I still have quite a lot of pain and inflammation. Bless Sahnah for being such a patient person, and a naturally slow walker!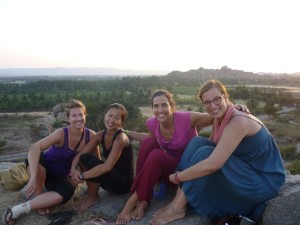 Our trip was spent in Goa, Hampi, and Mumbai. In Goa, we did typical beach things – swim, read books lie around and soak in the sun, kayak, eat, exercise – but with a Goan twist. You swim for hours because the water is so warm, you get on a one-person kayak with two people and fall off 6 times because the balance is off, you do yoga classes every morning to start off the day right, and you eat curry, chapatti, naan, parotha, samosa, thali, rice, dosa, and dahi for each meal. You meet wonderful people, from England, Sweden, Switzerland,

the US, and Nepal, and these people become your dinner dates, your drinking buddies, your volleyball team, your fellow yogis, your body-surfing spotters, and your travel companions. We brought two of them – Candice and Clarence from Switzerland – to Hampi with us, where we soaked inthe beauty of the ruins around us, ate the best Indian thali of the trip, motored around on broken-down scooters, struggled through the heat and dehydration of the day with smiles, a few laughs, and a lot of coconut water, and night-capped it all with a glorious hilltop sunset and a huge Indian feast. We brought two Americans

and a Nepali – Ben, Marlene, and Bikul – to Mumbai with us – or rather they brought us, as one of them lives there – and there we shopped, we ate, we drank, we danced, we walked along the boardwalk, we got lost, and we talked, talked, talked, talked, talked.
I'll miss so many Indian things. I'll miss the sunsets, which I got to watch from Marine Drive and Chowpatty Beach in Mumbai, the spectacular beaches of Goa, and Sunset Point, surrounded by the 800-year-old ruins of Hampi. I'll miss the chai – the best tea in the world, the only way to wake up in the morning,

the best conversation-enhancer, and the perfect way to digest each and every meal. I'll miss hearing and reading Hindi all around me, a language that feels familiar, that I can mildly understand, and that I relish trying to speak. And I'll miss the head bobs and the sing-songy accent. My family probably remembers me picking up this accent whilst living in Nepal, and I certainly got the head bob down as well. Folks, it's back! Temporarily, I'm sure, but I love it and wish I could head bob my way around the world and into the ground, but I'd probably just confuse most of the world with

my counter-intuitive body language. Google "Indian head bob" if this didn't make sense to you.
Now I am back on the farm, and despite the comforts of home (especially my cats), I feel sad. After the excitement of Mumbai and the socializing I did throughout the trip, I, yet again, feel isolated. As much as I enjoy time to myself, and as much as I wanted this life on the farm and this year away, I think I have realized that 28 is not the age to leave society and become a hermit. The character from my favorite film, Into the Wild, resonates

even more profoundly with me
now than ever. At the end of his life, he realized that it was wrong for him to escape society; that people and relationships made life beautiful; and that running away from it all, no matter
how romantic, was naïve. Unfortunately, for him, by the time he realized this it was too late, as he had already ingested a poisonous plant which was slowly starving him to death. For me, thankfully, it comes early enough to allow me to actively decide to rejoin society – the good and the bad of it – before I too swallow the poisonous plant.