I've been back from South India for just over a week and am now officially missing the wonderfully warm weather and the beaches. It was a wonderful month of sunshine, fresh air, and great food.
The journey began with a lot of traveling.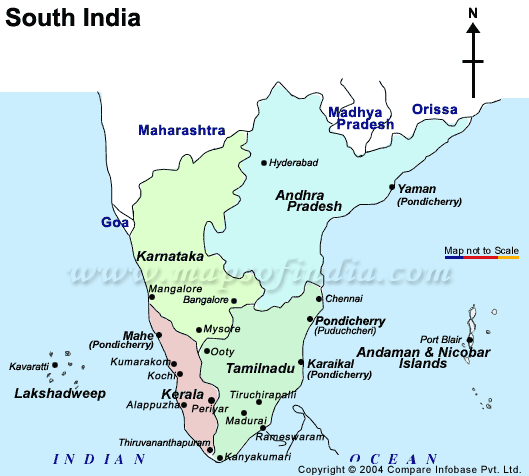 A 40-hour bus ride from Kathmandu to Delhi (which, because of traffic actually took 46 hours), and a much more comfortable 40-hour train ride from Delhi to Bangalore. Finally in South India, our 3 week trip included stops to Kochi, Alappuzha, and Varkala Beach (100 km North of Thiruvananthapuram) in the state of Kerala, and then a visit to Pondicherry in Tamil Nadu before returning to Bangalore and flying off to Delhi.
Bangalore itself is a booming IT city and perhaps the capital of South India. I had heard that it was clean, beautiful, and exciting, but I found it rather polluted and un-astounding.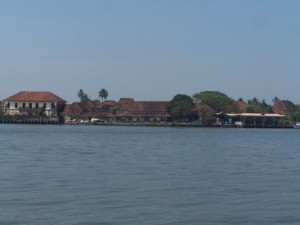 I was just waiting to get out of there as fast as possible and head to the beaches of Kerala! Kochi, our first stop, is also called Fort Cochin and is an island off the coast. A short, 3 rupee ferry ride gets you there. Once you step out, it's like being back in old Colonial times. The streets are narrow, the buildings old and whitewashed, the atmosphere very English. We spent a bit of time wandering around the area, soaking it in, and then took a ferry to another island where, 25 km down Cherai Beach awaited us. Now, if I had seen this beach later on in the trip it wouldn't have astounded me, but at the time I was so happy to be sitting on white sand, with coconut vendors around me, a great book in my hand, and the warm waves of the Arabian Sea just before me that I was blissfully content.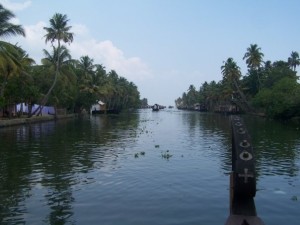 The next 2 days were spent there soaking in the sun, at least on my legs, arms and face – women shouldn't wear bathing suits in India or they attract unwanted staring and attention.
From Kochi, we traveled to Aluppuzha, the main starting point for houseboat tours of Kerala's infamous backwaters. Hundreds of years ago, the backwaters – which are like huge lakes situated about 50 km from the coast – spread over a 300km territory. But, slowly, people began to take chunks of these watered lands and transform them into fertile agricultural territory. Finally, in 1950 the government put a stop to it, but by then 2/3rds of the backwaters had already disappeared.
Taking a houseboat backwater cruise is an expensive outing, costing roughly $35 per person, but it's one of those things that you can't not do in Kerala.

So we did it. And I really loved in, for the most part. You depart at 12pm on a private houseboat, cruise the waters for an hour, stop for a 2-hour traditional South Indian meal on a banana leaf, and then drive again for another 3.5 hours. While the boat is going, I was so content – staring out at all the natural beauty around me, letting the sun's rays warm me and that unique waterside's breeze cool me… I could do that for days and days – heck, maybe even the rest of my life! But, because of an agreement with the local fishermen to let them have the waterways in the evenings and early morning, our boat had to park on the side of the backwaters, and it stayed there for the next 14 hours! I know the reason for it and I understand it, but the experience would have been a lot more satisfying if we were able to cruise the waterways at least until bedtime.

It just wasn't enough cruising time – I wanted more! Once the boat stopped, we prepared for dinner – another South Indian meal – played cards, laughed, and slept early in order to catch the sunrise the next morning. Then, after a light breakfast and tea, we were off again for the last hour of our cruise.
From Aluppuzha, we traveled 160 km south to Varkala Beach, where we spent the next 5 days basking in the sun and playing in the water. Less touristy and developed than the better-known Kovalam Beach 60 km south, this cliffside town with a picture perfect beach was a little slice of paradise. If it had been up to me, I would have stayed there until the end of my trip, and easily occupied myself with swimming, reading, eating, relaxing.

French-Indian food, and speaking French to all the French tourists as well as some locals. In the evenings, after filling our stomachs with too much delicious food, we would walk down the 2km Promenade and watch the Bay of Bengali waves crash into the rocks. During the day, we would go North or South to explore other towns and But what can I say? I was with a restless group of people who wanted to explore another state, so we went next to Pondicherry on the East coast. Perhaps the only place in India that has remnants of being colonized by the French, it was easy to spend some time wandering the beautiful streets, eating beaches. We discovered a place called Auroville, 40 km North of Pondicherry.

Created in 1968 as a village of peace and unity, 2000 people from 44 different countries live there and contribute to the proper functioning of the place. They all live in small sub-communities which have as their main purpose anything from organic farming to traditional medicine, and everyone works at least 5 hours a day, producing things to help the community move forward. It was a fascinating place, but I don't think I could ever live there. People were really nice there, though, so we returned often to have a cup of tea or an organic salad here or there.
Back in Bangalore, I was feeling a range of mixed emotions. Excitement at heading back to the West, sadness that the trip was over, and a deep knowledge looming over me that very soon I would begin to miss th

e life I had led in Kathmandu. In fact it's true, because now that I have been gone from that world for a week, I have begun to miss certain aspects of it, and I do feel a greater sense of cultural anxiety coming back this time – perhaps because I know it will be for such a long time.
But for now, I content myself with seeing old friends and places here in Chicago.