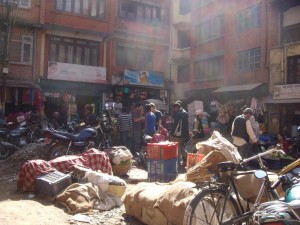 On March 4th, I left for Nepal, excited, anxious, happy to be returning to a place I once called home. On March 13th, I left, 3 days early, happy to be returning to Bangkok, the place I now call home.
What happened that made me want to leave and so happy to return to Bangkok? I spent nine days walking through memories…
I arrived at the Kathmandu airport and was greeted by Muna's parents, just as I was the first time I journeyed to Nepal. I was taken in the family vehicle past busy and narrow streets, past Pashupathinath temple and around Ring Road to Maharajgunj and Muna's family home. It was the same process, only this time more familiar. I greeted Anita, Kali, and Kanchi, as well as the family dog, Pepchu. I ate Ama's yummy daal bhaat and felt the evening chill that I've only ever felt in Kathmandu.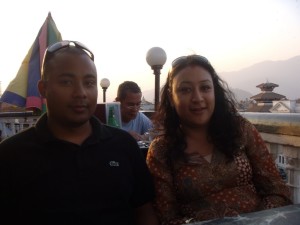 Sounds great, yes? It was. The next day was nice too. I had lunch with the family, and then left, alone, to walk the streets where I used to roam. I soaked in the sights, smells, and sounds, and let me body and mind wander among the memories. It was nostalgic, but not in a bad way. I walked past my old apartment and neighborhood, down the narrow markets of Assan and Chetrapathi, and ended up in bustling New Road before looping back up to Thamel to meet up with old friends.
Old friends that have new lives.
The next day, I was greeted by a big dirty water balloon on the back of the head as I left Muna's apartment. Holi, the festival of colors, was four days away, and the city was starting early…. and targeting ME. Maybe if they'd known I wasn't a tourist, but a former resident of their town – maybe they wouldn't have struck me so?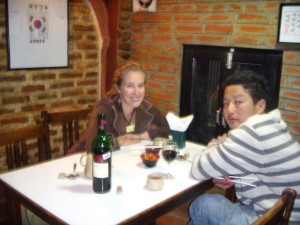 I moved into a guesthouse that day, as Muna's family home was about to be bombarded by relatives. I returned to my old guesthouse where I had spent almost two months falling in love with Kathmandu. Everyone remembered me, and it felt that no time had passed at all, in some ways.
I wanted to go to Chitwan the next day, to relax by the river and revisit a place I had always loved. But the roads were closed due to political turmoil.
I wanted to go to Pokhara to visit my host family and my old school, but I no longer had their phone number and no one was responding to any of my emails (this may have been because Nepalis only get 4-8 hours of electricity per day now because it hasn't rained in seven months and there isn't ebough hydro-electric power!).
Instead, I stayed in Kathmandu. That would have been fine by me, if my friends still lived the lives they lived a year ago and the residents of Kathmandu didn't see me as target practice for their water balloons.

So I hid. Ihid from the balloons. I hid from the memories. And I realized that Kathmandu is no longer my city. It was, once, but it has writhed out of my grasp. It happened gradually over the past year, only I hadn't noticed. I was so busy remembering Kathmandu as my city, Nepal as a place I knew. In the land of Thais, Nepal is a haven to me – a place where I know the language, the people, and the culture.
But I am no longer in Nepal. I am in Thailand. I have failed to learn this language and this culture because I've been afraid of losing my knowledge of Nepal, bit by bit, strand of information by strand of information.
What I realized while in Kathmandu is that it represents the past, and that I need to live for now. I am in Thailand now. And that's pretty good, too.
So as I walked through re-awakened memories and remembered where I was this time last year, I realized that a wonderful, eventful, and education year has passed and brought me to this equally full and beautiful moment in time. So I hopped on the plane, and flew back to the present, to my life here – brimming with possibility and full of new knowledge about culture, language, and people to learn.