Even though I recently spent a hectic month in London, I managed to see This incredibly city in a whole new way and from a completely different angle than the last time.
In November, I was obsessed with the tube, walking around the center of town, and late nights. This trip, for whatever reason, I became a fan of the buses, the outskirts, and all the things to do during the day.
I knew I was not going to be able to walk as much as last time, so I bought a one-week public transport pass, which opened up my world.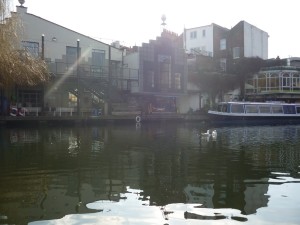 Now, rather than worried about spending £2 each time I jumped on a bus or tube, I took random buses to random places, just because I could. I would sit on top of the bus – sometimes in the front seat, with only glass in front of me!- and stare out as we meandered through the London streets. It didn't matter if we got stuck in traffic, or if the journey took longer than the tube would have, or if I needed to take 3 buses to get home – all that mattered was getting to see new parts of the city, and not having to mess up my ankle all the while.
Perhaps as a result of taking the bus to random pockets of the city, I discovered new, really awesome, areas of the city that I hadn't seen the last time. A few favorites:
– Camden Market: a really cook market in northern London with loads of street vendors selling all sorts of delicious-looking food and rink, funky art, vintage clothes,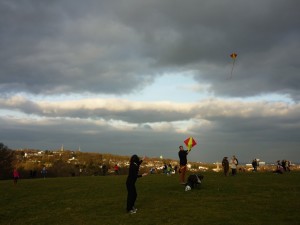 and second-hand books. On this beautiful Sunday afternoon, I sat at the edge of the canal with a falafel and a book, face in the sun, people watching (which is especially fun here due to all the funky people). I also watched a houseboat go into the locks and was close enough to see the young hippy couple that evidently lived on this boat. This led me to my next discovery…
– Little Venice and the Regent canal: further west from Camden, the canal continues past the London zoo, a series of spectacular homes,a sub-community of hippy house boaters, and finally, Little Venice, a triangular-shaped body of water where the three canals meet. I ate a panini and a hot chocolate at a cafe on the water and watched the geese and ducks enjoy the warm sunny day. This was cool, but the highlight was catching a glimpse into the lives of these house boaters and daydreaming about one day living that way. I love the idea of living on the water.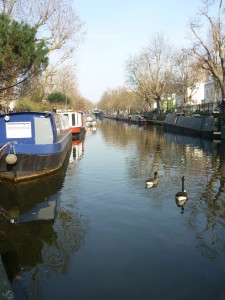 – Outdoor green spaces in the north: first and foremost, Hampstead Heath, NE of Camden market, and quite a posh, cute area with gorgeous old brick homes (including the home of the late George Orwell), a few patisseries, and a huge green space with a duck pond and a kite hill overlooking the city (apparently this hill was featured in a scene of Nodding Hill – gonna have to watch that movie now!). Another lovely hill further west and doable if walking along the Regent Canal is Primrose Hill, north of Regent Park. I sat there for an hour and watched the clouds go by, imagining myself living in one of the beautiful houses adjacent to the park, and coming here daily to walk my dog and catch a breath of brisk February fresh air.
– South London nightlife: a few cool areas filled with bars and restaurants are Brixton and Clapham Commons. There are very multicultural areas which seem to be somewhere in the middle of their transformation from less-than-ideal places to be to funky, hip areas with a young cool crowd. A highlight? Hootenanny's, a.

Lives reggae bar. Nate – can I say raaaa-stafari?!?
London became a more real, livable city to me this trip. It showed me that it has stamina and variety, and so much to offer if you peel back the layers. Of course it also has amazing mainstream culture, like the Picasso special exhibit at the Tate Britain museum (which was amazing and super educational, and I am not just trying to sound like I liked it!), but I think I now love London more for its burbs than its center (and those of you who know its center know how cool it is…)!