Ever wondered how to create food not just for your body, but for your soul? I've been working on my own recipe for many years now, but have only recently managed to find the right mélange of ingredients. My soul has been contented and joyful for some time now, as you may have noticed in recent blog entries. It appeared that I had found my perfect mix of ingredients for Zimbabwean Soul Food. But with an upcoming trip to London, I wondered what concoction I would have to create to allow this inner peace to be brought to a not-so-peaceful place.
With the challenge of finding a new Soul Food recipe in mind, I set forth on my fourth and final trip to London.

Looking back on my two-and-a-half week trip, I think I indeed found that perfect recipe:
Ingredient #1: Live Music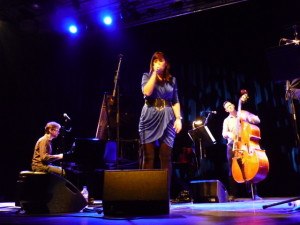 My first weekend in town happened to be the final weekend of the London Jazz Festival, so I took full advantage of it, seeing 4 performances in four days.

The first was Fatoumata Diawara, a Malian singer/songwriter.

Despite being exhausted from my 28-hour journey to London, I felt warmed inside by her music and her spirit.

Her smile, her humbleness, her ecstacy, her appreciation of the audience – it all radiated such pure joy it couldn't help but be contagious.

Fatoumata reminded me that peace starts from within, and that it comes by following your True Nature, that which you know you are being called to do.
That weekend, I also saw Brazilian guitarist/pianist legend, Egberto Gismonte, Brazilian percussionist, Adriano Adewale (who has most famously played with Bobby McFerrin), and the Jazz Allstars, featuring my beloved jazz vocalist, Natalie Williams. The Jazz Allstars brought out the inner child in me, as the concert was designed for the entire family. Starting the show with a medley from "The Jungle Book," finishing with a sing-along about chocolate, and oozing wholesome fun that made me smile from ear to ear, I was reminded that being innocent, childlike and playful is oh-so-good for the soul. Life can feel so serious sometimes – career, responsibility, current events… The wise person remembers that we are but miniscule specs in time and space, allowing one to put things into perspective and see that life can be light and free, the way a child sees things. Pablo Picasso once said, "It takes a long time to grow young"; the Jazz Allstars helped me grow just a little bit younger that day.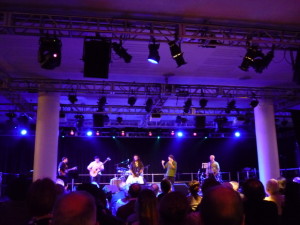 But the biggest dose of this musical ingredient was found in my parents' Christmas gift to me: a second-row ticket to see "Les Miserables"! I had seen the musical 12 years ago, but wanted to see it again since it's my favorite musical of all time (I still parade around the house in my pajamas belting out every single lyric of every single song). The night was an unforgettable dose of up-close action, heart-wrenching drama, and beloved musical score – exactly what my Soul Food Recipe called for!
What is good for the body is good for the soul.

Knowing this, I decided to take a few zumba dance classes in London.

There is something about dancing which is so freeing and full of spontaneous joy, that any food for my soul must include a few pinches (or more!) of dancing.
Yet zumba, alone, wouldn't quite be enough for my second ingredient. I knew I needed more exercise than just a few dance classes – and I also knew that I needed a form of exercise which helps to reconnect the body and mind. I've been practicing yoga on the farm this entire year, but my practice had recently been lacking spirit and enthusiasm. It was time for a tune-up with some real teachers. I managed to find a "20 pounds for 2 weeks" yoga pass at Triyoga London, a group of 3 studios in different parts of the city. In those two weeks, I took 17 yoga classes! Yoga of all sorts – anusara, ashtanga, iyengar, scaravelli, vinyasa flow… you name it, I took it! What an amazing experience to get to take such a variety of yoga classes in gorgeous, incense-filled studios. It uplifted my waning practice, strengthened my body, and fed my soul with such flowing richness that I don't think I will ever be the same person again. Indeed, I am forever changed by that intensive yoga "retreat" – I feel so well in my own skin and have such an intense desire to be good, pure, honest, and free that I think I am transforming into a new version of myself.
Ingredient #3: Friendship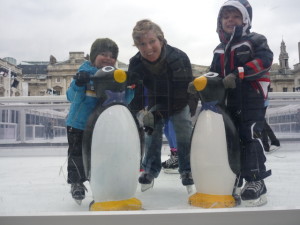 No Soul Food recipe would be complete without generous doses of friendship.

But not just casual friendship with casual friends – real, meaningful encounters with close friends.

Who would have thought that I would be so lucky to meet up with FOUR people from my past while in London?

First, a weekend visit to Brighton and Worthing to visit Annie, my Ottawa zumba buddy, who is currently working in Worthing as a supply teacher.

Though it poured the entire time we were together, we hardly noticed as we were so lost in conversation.

We'd spent hours in cafes and restaurants filling our bodies with delicious food, but more importantly, filling our souls with companionship, understanding, shared stories of our journeys.

Who knew that it would feel just.so.good to reconnect with an old friend and gab the day away?

I think I may have forgotten, in my chosen solitude, that this must indeed be part of any healthy soul.
After the amount of talking, listening, and laughing I did with Annie, who knew that I'd be able to do it again the following weekend with Richard, my Nepal trekking buddy (see blog entries "Finding Mude" (Oct. 2007) and "A Week of Food" (Dec. 2011)). Richard graciously traveled down to London to spend the day with me – and what an intense day it was. There are very few people in the world with whom I converse at such a deep and spiritual level. Richard – thank goodness we see one another only in small doses or I think I'd have trouble existing in the "real" world!


And no trip to London would be complete without a meetup with Louis, and this time – to my pleasant surprise – Dani, another Thailand connection. Richard joined the three Thailand musketeers for an evening on the town, laughing and reminiscing about the days of yore. Boy, do those days feel long ago, and boy, have I ever changed! Nonetheless, there is nothing like reconnecting with friends from your past, people who know you, with whom you don't have to start fresh, but can pick up wherever you left things, laughing at old memories and jokes and discussing things deep down inside.
Ingredient #5: Fun Activities

Concocting a Soul Food Recipe is hard work!

To spend my entire trip to London working so hard would have been a shame – I needed to go out and have some fun too!

So, I went to Whole Foods, ate delicious South Indian food, revisited the Museum of London, took the kids ice skating, drank mulled wine at Christmas markets, and sat on the top deck of double decker buses.

I took a vegetarian cooking class, where I learned how to make a Moroccan tagine, and then got to eat it with my own creatively flavored couscous!

The most fun activity of all was the evening I spent with Christoph and Ilaria (my student and his younger sister) bringing them Christmas joy.

We took a trip to Winter Wonderland, a Christmas-themed outdoor festival, where I watched them giggle with glee on rides and slides and stuff their faces with hotdogs and hot chocolate.

Later, at home, I gave them their Christmas present – a gingerbread village set – which we spent hours decorating and playing with.

Last, we watched my favorite Christmas movie of all time, "The Grinch Who Stole Christmas", before I put them to bed with an imaginary story about Frosty the Snowman, Santa Claus, and Christoph and Ilaria, of course!

Seeing these two lovely children with smiles on their faces, full of warmth, love, and Christmas spirit, was the final ingredient required to make my London Soul Food Recipe.

I return from London feeling even more "Brittany-like" – even more content in my own skin and even more confident that the path I am taking is the right one for me.

I am unpeeling the layers surrounding me and reaching my true self, and this process of discovery brings me joy like nothing ever has before.

If any one of you wishes to feel the same way, I highly recommend indulging in your own taste of Soul Food.

My recipe is listed below, though bear in mind that each person's recipe will vary slightly, depending on tastes:
Recipe for Soul Food
3 teaspoons hip-shaking dancing
4 pinches of pure frienship
Stir ingredients for a determined time period, interspersed with periods of healthy solitude and plenty of fresh air and unobstructed horizons.

Enjoy!