On November 28th, Bruno and I celebrated our second wedding anniversary!  We had an absolutely wonderful day in the southern Portuguese town of Tavira (I know, I'm jumping ahead in the narrative of my blog, since last we left off we were in northern Spain with our Basque friends – but in my next blog post you'll understand how we got so far south so quickly).
To mark our special day, Bruno and I took our bikes out past the whitewashed buildings of the town, over the Roman bridge, and into the marshy salt flats at the outskirts.  Then, we happened upon a ferry boat going to the Ilha de Tavira and decided to hop on.  We ate a picnic lunch I'd packed then wandered along the beach of the 11km-long island, our toes dipped into the Atlantic Ocean.
In the evening, we went out for dinner at a tiny, brightly-decorated Portuguese restaurant in an alley off one of Tavira's many churches.  We feasted on a seafood platter and a vegetable risotto, both amply dressed in olive oil, as is the Portuguese custom.  A glass of porto, a dessert of flan, and a moonlit walk home completed what was a perfect – and best of all, unplanned – second anniversary.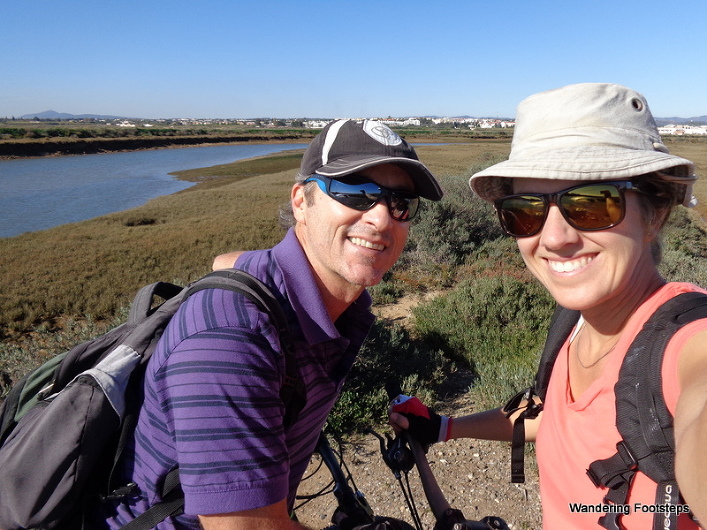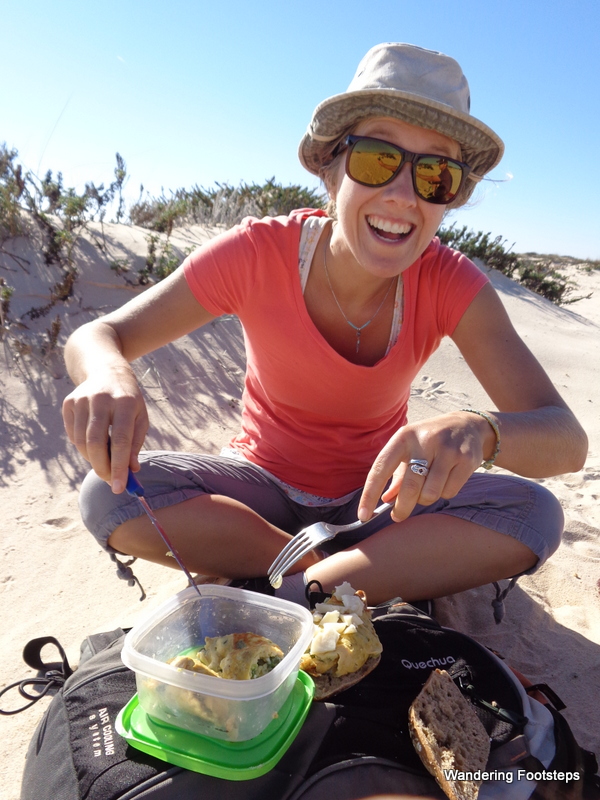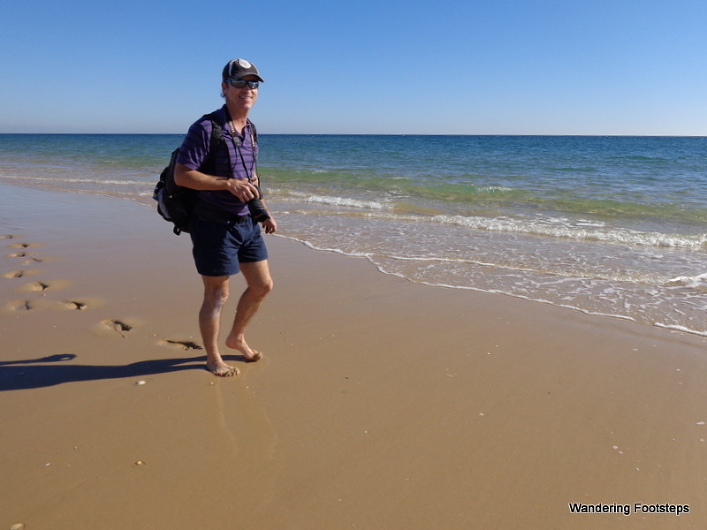 In honor of our recent celebration, we're doing something a little different here at Wandering Footsteps.  Since we're all about sharing our love of travel, we've organized a giveaway contest so that you, dear reader, can do a bit of traveling of your own!
We've partnered with GPSmycity, a company that offers appsfor Ipad and Iphone of self-guided walks in almost 500 cities around the world (check out the extensive list here).  Ordinarily, the full-version app for each city costs $4.99, but today, 20 lucky readers will win a promo code to download the full version of one city's self-guided walks FOR FREE!  Your new City Walk app will include a detailed, fully functional city map that works offline (important when traveling) and several carefully selected self-guided city walks to all the must-see sights and several lesser-known locales.
All you have to do for a chance to win a promo code is to like Wandering Footsteps' Facebook page!  20 randomly-selected people from our new Facebook fans will win a free app to the city of their choice!  (If you already like us on Facebook, why not convince a friend or relative to Like Us and join them on their upcoming trip?)
Don't waste any time – this competition is open from now until December 11th December 14th (11:59pm GMT).  So log onto Facebook and Like us now!  (And spread the word – we want as many clicks as possible!)  Winners will be contacted via Facebook for their city choice shortly after December 14th.
Exciting, isn't it?  Happy 2nd wedding anniversary, indeed!