For the first time since I moved away at the age of eight, I spent an entire summer in my Canadian hometown of New Brunswick.  As I sift now through 2,000 photos of my summer, I'm wondering how to jam-pack an entire summer's worth of experiences, activities, and encounters into a single blog post.
The answer came from a post I wrote last summer as an ode to my summer in New Brunswick: a photo post!
As I see it, this summer happened in three phases: in the first phase, I was home with just my parents; in the second phase, Bruno joined us; and in the third phase, Nathan (and his dog, Shizuka) joined us all in one very cramped house on the beach!  This ode to summer, then, will be organized in three parts, with quick descriptions accompanying a whole lot of photos.
Phase One of Summer: Three's Company
One of the things I love most about coming home to New Brunswick is getting to become a "daughter" to my two wonderfully loving parents.  What better way to slip into that well-worn role again than by celebrating my 32nd birthday with them?  My mom has always tried (successfully) to make birthdays very special, and this one was no exception.  She decorated the house and served me a special breakfast with a few gifts.  Then we went for our first kayak of the summer with our neighbours and spent a wonderful afternoon on the beach with family and friends.  For dinner, mom and dad brought me to a delightful little restaurant near the border of Nova Scotia for a simple, healthy meal in a restored century home.  We came home for vegan gluten-free dessert to top off a wonderful day.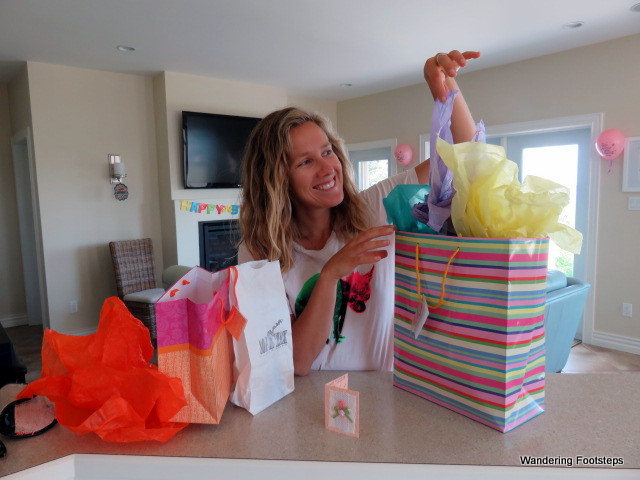 It wasn't by chance that we were eating gluten-free, vegan, refined sugar-free dessert.  As one of my "daughter" goals this summer, I created a 30-day Life Revolution plan for my father that included dietary changes, exercise, and more.  Dad humoured me at first, but eventually felt the positive effects of this lifestyle change enough that he participated in earnest, and even asked for an extra 30 days!  He lost almost 20 pounds over the course of the summer and felt more energized and generally better.  I'm very proud of his hard work and will power and hope he'll continue to maintain these habits into the fall and winter.  (Yes, dad, I know you're reading this!)
Summers in New Brunswick wouldn't be complete without social time with family and friends.  Every year, there are lots of big meals with various groups of people.  But this summer, because of dad's diet, they were slightly more health-oriented.  We even had a big vegan potluck at my cousin Katie's house with both our families!
Indeed, talking about Katie brings me to one of my personal highlights of the summer – getting to meet the new babies around.  Katie has a (now) seven month old son, Theo.  And our family friends and neighbors, Nicole and Natalie, each have new babies, too.  I could hold a baby all day long, and admittedly, I spent a lot of time on a lot of occasions doing just that.
Another fun event that seems to have become somewhat of a tradition is a dinner/movie/sleepover with my mom, cousin Christine and Aunt Anne-Marie.  These nights are so much fun because they are full of women talk (something I don't get most of the year), food, and wine.  I hope they continue being a summer tradition for years to come.
Of all the things that summers in New Brunswick represent, it is the simple family rituals that mean the most.  Gardening, spending afternoons on the beach, sharing meals in the sun room, having lobster feeds, doing yoga, going to the local market, walking on the beach, watching the sunset, sitting out back with a book… these are the family activities I revel in the most, and are the activities I was most excited to share with Bruno.
Phase Two of Summer: Bruno Meets the New Brunswickers
It's taken Bruno four years to get to New Brunswick, at least partially because he wanted to arrive in style – with Totoyaya.  And he did, as our camper van arrived only a week after him on a ferry from Belgium.
I plan to speak more about Bruno's time in New Brunswick in another post, mainly because there are several interest cultural and touristic experiences that are of interest to a reader of travel blogs.  What is more important to note in this post is how seamlessly Bruno integrated himself into our family rituals.  He came to the beach with us.

He gardened.

  He joined us for yoga classes.
He cooked (and ate) with us.

He chilled out back with a book.

He went for bike rides.

He kayaked.

He watched the hummingbirds that visit our bird feeder every summer.


These are all things I've been dying to have him do for four years.  I've wanted him to see my home, to spend more time with my parents, to meet my brother (more on that in phase three) and to meet all the important people that live out here who've been curious about this nomadic Tarzan who won my heart so many years ago.
It was amazing having Bruno in New Brunswick this August.  He partook in family reunions, open houses, social afternoons on the beach, game nights, and big family dinners.  He was around for the memorial party for a dear family friend we lost a few months ago and the funeral of a distant relative.  He was here for the movie nights and philosophical dinner conversations, for the long walks and the cooking, for the bonfires and the unseasonably cool weather.  It was a very (very!) social time for him, and sometimes his head was spinning and he couldn't think in English for another moment, but everyone I love here finally got to meet him, and I'll be forever grateful.
Phase Three of Summer: A Full House
My brother, Nathan, has been living in Ecuador for the past five years, so the two weeks I get to see him most years are always very special.  Even more special this year was having him meet Bruno for the first time!
Nathan joined the family of four with his dog, Shizuka, and fit effortlessly into the rituals we had going on – the walks, the cooking, the yoga, the beach bumming, the bonfires.

While Nathan was here we got to have a few very special family visits – we had several afternoons on the beach with mom's side of the family (where he also got to meet his second cousin, Zoëlle), a lovely lunch out with our grandfather and his lady friend and a family reunion with dad's side of the family (more on that in my next post).  We had a cousins-only night for sushi and philosophical discussion.  One particularly fun – and tasty – evening was celebrating the birthday of my cousin's hubby, Mitch, with a private gourmet home chef who served us over a dozen hors d'oeuvres paired with wine.
Summer is over.  My brother has left for his new adventure as a PhD student in Toronto, and Bruno and I are getting ready to head out on our own adventure, too.  I'm scrambling to get this post live before I no longer have access to reliable wifi, so perhaps my words don't seem as meaningful as my experience of my summer truly was.
So let me end by saying this: Thank you to everyone who took part in making memories with us this year.  Thank you to my parents for putting up with me for so long and for welcoming Bruno so openly into your home and hearts.  Even though Bruno and I are excited to see what life will hold for us in the coming months, it is with a heavy heart that I publish this blog entry, finish packing the car, and officially end my wonderful summer at home in New Brunswick.