Click on the links to see my previous posts, America the Beautiful Pt I (Petrified Forest and Saguaro N.P) and Pt II (Grand Canyon and Grand Teton N.P).
Mama bear and her cubs aren't far off.  Thirty feet away, tops.  In my whole life, I've never seen a bear, and now, here I am, standing on the side of the road in Yellowstone National Park, watching a family of them forage playfully in the bushes.  I don't even care that fifty other people hover around me with cameras and tripods and loud voices, or that a ranger is directing traffic and ushering us back as the bears edge forward.  I am in awe of those beautiful, silky-black bears and the miracle of Nature I am experiencing here in Yellowstone.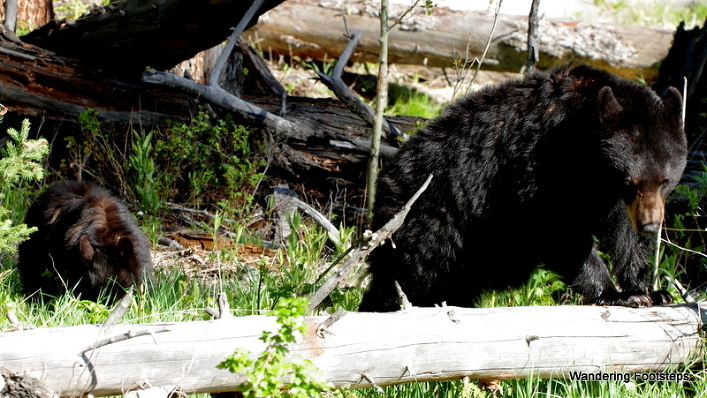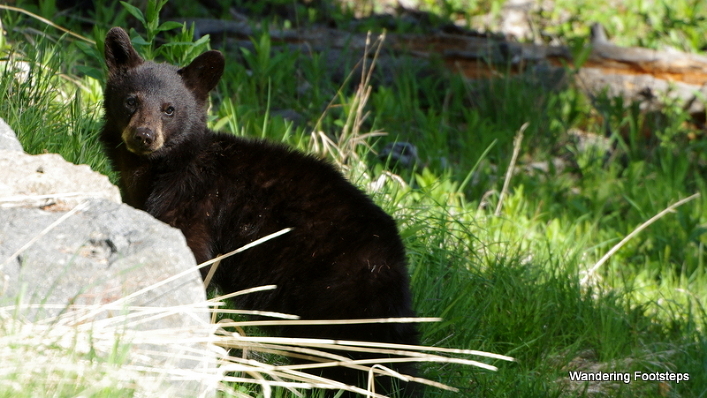 It's sort of been this way throughout our four days in the world's first national park.  Me in awe of the miracle of Nature, I mean.  And most of it had to do with bubbling, brewing geysers.
It's rare for me to visit something with Bruno that he is seeing for the first time.  Amazingly, Yellowstone National Park was one of those places.  This doesn't make any sense when you know how much Bruno loves national parks; but when you know the effort he puts into avoiding cold places, it makes perfect sense.
I didn't give him the chance to bypass Yellowstone this time – I built our entire summer itinerary around it.
It's funny, though, how little I actually knew about Yellowstone.  Like, I knew about the decimation of the wolves and their subsequent reintroduction (check out this amazing video on how wolves move rivers) and, of course, Old Faithful.  But I had no clue that the entire park was smoking and gurgling and simmering away.
Yellowstone National Park sits on an active volcano (or caldera) that is also the largest on the continent – it's even been dubbed a "supervolcano."  Because of this, it has one of the most diverse and extensive network of hydrothermal activity in the world.  This means I got a thorough education in geysers, of course, but also in hot springs, mudpots, and fumaroles!
Bruno and I walked into the Old Faithful Visitor's Center just as Old Faithful herself began to blow.  Our timing continued to be impeccable that day – at that very instant, a nearby geyser (called "Beehive") was also blowing, an event that is less common and reliable, and something that rarely occurs at the same time as Old Faithful.
Bruno and I spent the day wandering around the boardwalks along the Upper Geyser Basin, which allowed us to see a variety of hydrothermal activity.  I didn't know there were so many geysers in Yellowstone, and I quickly learned that, though Old Faithful may be the most famous (due to the predictability and frequency with which she erupts – roughly every 90 minutes), it is far from the most impressive.  Instead, Grand Geyser took the cake, but perhaps that was because we got to experience it blow up-close.  Its fountain-like eruption shot up 200 feet in the air and lasted about fifteen minutes!
Because we'd seen three geysers erupt within our first hour, I figured this was a common phenomenon, one easy to witness.  Over the following three days, however, I learned that the business of predicting eruptions is an approximate science, at best, and simply impossible to predict for more than a handful of geysers.  Steamboat Geyser in the Norris Basin, for example, can erupt at intervals of anywhere between one and fifty years (the most recent eruption was in 2015), and scientists can do nothing to predict an eruption but identify signs of its building pressure!
The geysers were cool, but more photogenic were the hot springs.  I had no clue hot springs could have such colours!  The science is that different-coloured bacteria thrive in different sections of the spring (the blue heat-loving ones closer to the center); but for Bruno and I, Yellowstone's hot springs were simply a miracle of Nature that were really, really fun to photograph.
The largest hot spring is Grand Prismatic Spring (an apt name) in the Midway Geyser Basin, but my personal favourite was Morning Glory Hot Spring.  The colours were mesmerizingly vivid – apparently so mesmerizing that people, over the decades, have been compelled to throw coins, rocks, and even clothing into the spring.  This, sadly, blocks the spring's free-flow of water (the key characteristic of a hot spring), diminishing the spring's original bright blue color.  Every year the park has to remove the garbage from the spring, no easy feat when working with temperatures that far exceed boiling.


Being the oldest national park in the world means that Yellowstone has gone through ever-changing regulations as we have learned how to better manage the park.  There are old photos of businesses offering spa facilities for tourists, using the water from the hot springs; and reports that early residents used Old Faithful as a heavy-duty clothes-washing machine!  This is the same mentality that eradicated the wolf from Yellowstone and caused the American army to need to protect the park's ecosystem from poachers before the creation of park rangers.  It's a good thing we've learned a thing or two over the years.
During our three days of hydrothermal tourism, we visited the bizarre Mammoth travertine terraces, which are a type of hot spring formation created from the limestone rock found in that area of the park.  We visited the acidic, grey, sulfury-smelling, deadly-looking Norris Geyser Basin, which could have been an excellent alternate setting for Mordor.  We saw fumaroles, which release only steam because they are so hot the water doesn't have time to reach the surface; and mudpots, which are hot springs with sulphuric acid that breaks down rock into clay.  I loved the gloopy sound of bubbling mud.
Actually, I loved all the sounds of the hydrothermal features.  They all made them: sometimes low grumbles or bubbling brooks, other times the sound of wind, pressure cookers, or of water boiling.  Who knew water and gas could replicate so many different sounds?
Despite the cool sounds and colors, after three days of looking at geysers, we'd had enough (for now).  Bruno and I turned our attention to some of the other features of Yellowstone National Park – like its yellow and pink canyon, dubbed "The Grand Canyon of Yellowstone" (and probably where the name of the park came from); and its waterfalls, carving out Cappadochia-like fairy chimneys in the rock.


Most importantly, we turned our attention to the wildlife of Yellowstone.  Until that point, we had seen nothing but bison everywhere.  It seemed the bison were as common in Yellowstone as the impala in the African savannah.
That, however, is where the similarities between wildlife-viewing in Africa and America ended.  I think I had been spoiled by my African safaris, where on any single outing, you'd at least be guaranteed giraffes, zebras, monkeys, and elephants, if not some kind of big cat.  In America, it seemed, you had to content yourself with pronghorns and bison.  And they weren't looking their best at this time of year!  Still, it was good to be around wildlife again, and I could see it was doing a lot of good for Bruno's spirit.
Also, in America, you can view wildlife from outside your vehicle.  (The only place I know of in Africa where you can do this is in Zimbabwe's Mana Pools National Park).  In the U.S., you can hike in bear country, get out of your vehicle when a bear is on the side of the road, and even take selfies with a bison!  Actually, those last two are highly discouraged, but that didn't stop the countless tourists I saw literally two feet from a bison taking their latest Instagram shot!
I may have been feeling slightly underwhelmed by our lack of animal-sighting in the park, and maybe that's why Yellowstone decided to give us a giant gift.  On our final day in the park, we were gifted with an Africa-like day of wildlife-watching that started with that family of black bears.  Honestly, that would have been enough; they had already brought me to tears (no joke).
But then, Yellowstone offered us a mountain goat balancing herself on the edge of a cliff.  Like the bison and pronghorns, she was shedding her winter coat, but to me, her beauty was perfect.  We were given the opportunity to watch a mother raven feed her young, which reminded me that even ravens are living creatures; and a coyote face off with a badger, which reminded me that Nature is filled with surprises.
Our efforts to find the wolves we kept hearing were passing along the river with a kill were semi-rewarded with a momentary distant glimpse of a black wolf retreating with her section of dinner.  I've been on a decade-long search for the elusive wolf (I'll tell you about it sometime), and Yellowstone brought me just a bit closer.
As if all this weren't enough, as we were about to exit the park, we caught sight of a lone grizzly.  He only stayed long enough to show us his rear and offer a few backwards glances, but it brought me back to that first animal-sighting of the day.
Mama bear and her cubs not far off.  Thirty feet away, tops.  In my whole life, I've never seen a bear, and now, thanks to Yellowstone National Park, I've seen several.  Thanks to Yellowstone, I've communed with the miracle of Nature, sometimes bizarrely bubbling in an otherworldly landscape, but always full of beautiful surprises.