Every once in a while, you stumble upon a place that surprises you.  You arrive with no preconceived notions, no aspirations of grandeur, no idea that you are entering a truly special place.
Such was the case with Tucson, Arizona.
The first time Bruno and I came to Tucson, back in November of last year during our search for a new home-on-wheels, we settled ourselves into a part of town that was entirely lackluster.  It had wide boulevards, large retail stores and heavy traffic.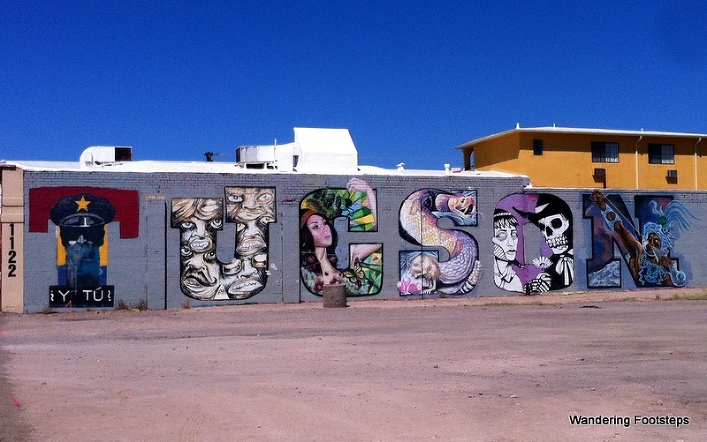 So we were even more surprised when, upon our return to Tucson in February, we learned that this town had charm!
The Air BnB home we moved into was a ranch-style bungalow built in the 1950s.  It had a brick façade, a long gravel driveway, and a backyard with a few scruffy plants.  From the outside, the house wasn't beautiful or flashy, but, as I soon learned, it was perfectly typical of the neighbourhood.  Each house here was unique – none of the new cookie-cutter homes of Phoenix – yet built according to similar design principles.  Over time, these houses came to represent an important aspect of Tucson's charm for me.  I liked them from the get-go.
From the moment, I stepped inside the house, I liked it, too.  The house had the character of an older home, but because it had been recently renovated, it had a clean, fresh look.  The large kitchen had been totally renovated – there were even brand new appliances – and the floors and paint job were new.  The furniture was simple and sparse (the rental was designed with Tucson's infamous Gem Show in mind, meaning that most renters would be bringing large amounts of rocks) but with a few tasteful artistic flourishes.
On one of our first nights, I rode my bike down toward the university to take a yoga class.  I had already ventured around the neighbourhood and noted its cracked and potholed roads.  I had noticed the rough-around-the-edges locals, some wearing cowboy hats and boots, others with tattoos and gold teeth.  The dusty buildings looked like they'd come out of the Wild Wild West.  The town had already given off a clear south-of-the-border feel that appealed to me, especially after the truly American feel of Phoenix.  Arizona's largest city was sprawling, busy, commercial, new, and totally devoid of character.  Tucson's imperfections gave it so much more charisma.
When I rode down 4th Avenue, I was even more pleasantly surprised.  Here was a street totally lined with colourful restaurants and funky shops.  Students walked the streets and sat out at cafés.  Tucson, I discovered, was also hip, artsy, and multicultural.
I also soon learned that Tucson was exceedingly liberal.  Free newspapers discussed the country's new president with crude banter, people displayed tri-lingual signs (in Spanish, Arabic, and English) on their yards saying "No matter where you're from, we're happy you're our neighbour," and I saw more bumper stickers advertising ideas I could get behind than "Make America Great Again."  I didn't expect to encounter these viewpoints in the middle of the desert in the southwest United States.  It was yet another welcome surprise.
For one-and-a-half months, I rode my bike along the streets of Tucson.  Mostly, I was headed to hardware stores, RV shops, and the occasional yoga class (Tucson, by the way, has a phenomenal yoga culture) – Bruno and I were on a mission to convert a bus and didn't have time for tourism.  This was unfortunate, for I would have loved nothing more than to dig deeply into Tucson and see what it was really made of.  But even these daily bike trips, and the interactions I had while making my purchases, revealed a lot.
They revealed that Mexican food was king here – I saw more taco trucks here than anywhere I've ever been.  A sign on 4th Avenue boasted Tucson's several miles stretch of "best Mexican food in the USA" (it also boasted about being a gastronomical capital, generally).  Tucson Tamales Restaurant is famous across the entire state and beyond.
The bike rides revealed the city's architecture.  Its desert flora.  Its intoxicating spring blossoms.




They revealed that Tucson was really just a small town.  Its center had about three skyscrapers, and even they were only twenty or so stories high.  I could get almost anywhere I needed to in a twenty-minute ride.
And biking around town revealed that Tucson's people were the type of friendly that you only experience in a small town.
Through my interactions with these friendly people, one recurring theme struck me.  Throughout the month of February, as winter just wouldn't let go its grasp, locals discussed the weather with gratitude and relief.
Isn't this weather great? 
Sure am thankful for this stretch of cold. 
Phew!  One last wave of cold before summer sets in.
As a Canadian, and general warmth-seeker, I wasn't happy about the below-seasonal weather in Tucson.  I was struck by the different perspective of the locals, but it made total sense.  It was summer that was Tucson's difficult season, the one people dreaded and gritted their teeth to get through.  Summer meant stifling temperatures, dust storms, and the monsoon season, so it only made sense that locals were grateful for every extra day of cold.
When March arrived at the weather shot up 15 degrees celcius overnight – and we experienced two weeks of +30 degree weather – I understood their perspective.
On two occasions, I managed to pull myself away from our bus conversion and take advantage of the city I was quickly learning to love.  The first was an event called Meet Me at Maynards, which was suggested to me by our Air BnB host.  This weekly 5-km social walk is put on by the historic Tucson restaurant, Maynards.  At 5:30pm every Monday night, people meet up at the restaurant, grab a badge and a light, and walk or jog a historic circuit around the downtown area.  Afterwards there are raffles, drinks, and discounted food at various restaurants around the city.
I went thinking I might grab a map and walk/jog it with the hopes of seeing a bit of the must-see parts of town.  I ended up, instead, joining a group doing a slow guided historical tour (we did only about half the route).  The tour group was composed entirely of locals out for a weekly stroll.  They showed me architectural details I wouldn't have noticed on my own and gave me historical facts that, truthfully, were too out-of-context for me to grasp.  I remember only that a few famous bandits and outlaws came through town, and that the railroad was vital to the town's economy.  I will never forget the El Barrio section of town, with its absolutely enchanting restored homes.
From my tour group, I learned that Tucson has an amazing array of events and festivals, which I could learn about in the Tucson Weekly or the Visit Tucson website.  They all seemed to love their town so much, describing it as lively, community-focused, and with a special aura about it.  I definitely felt what they were saying.


The other occasion I got to get out on the town was with my Air BnB host, Krista.  She kindly offered to show me some of her favourite spots one Friday night.  Krista is a Tucsonian, born and raised, with an infectious love and enthusiasm for her city.  She took her role as tour guide very seriously, pointing out some of her favourite houses, drawing my attention to artsy details around town, and giving me a play-by-play of why each place we visited held a special place in her heart.  She took me to an arcade, a pizza parlour, a trendy fashion shop, and at least a half-dozen bars.
My favourite moment of the night was our stop at Tucson's infamous Hotel Congress.  This old hotel has seen it all – the expansion of the downtown area, the roaring twenties, the railroad boom, the arresting of the John Dillinger Gang, ghosts.  That night, however, it was just a typical Friday night party.  A DJ was mixing Mexican mariachi music, and Krista pulled me onto the empty dance floor.  After I got over my initial shyness, I let loose, so happy to hear something other than electronic music or Top 40 stuff.  Soon there was a crowd dancing around me.  We were multicultural, happy, and laid-back.  Under the silhouette of Tucson's most famous landmark, I experienced a truly Tucsonian night out – and I loved it.
For one-and-a-half months, Bruno and I made a home for ourselves in Tucson.  I biked around a city I found aesthetically, culturally, and atmospherically attractive.  I felt part of a small yoga community.  I made friends with the employees at all the hardware and RV shops.  Best of all, we made a comfortable home for ourselves in our Air BnB home.  We had a bedroom and bathroom to ourselves, and a second bedroom and bathroom for our HelpX guests.  There was a bright living room, a garden in which we took almost all of our meals (to the chirping songs of the plentiful birds and the view of the rocky Catalina Mountains), and of course, that amazing kitchen where I cooked up a storm.  Our bus was parked on the side of the house and we made ourselves a makeshift workshop in the yard out back.  We were incredibly lucky to find such a perfect set-up for our project, and I am eternally grateful to Krista and Chris, our hosts.  If you're ever in Tucson, do consider staying here.
I do wish Bruno and I had had more time to discover Tucson.  I'm sort of bummed our bus conversion took up all our time.  Tucson is so worth knowing, offers so much to be discovered.
But I'm mostly just happy that I now know about the secret gem that is Tucson.  Now that I know, you can bet I'll be going back.