It's funny how you can spend over a decade searching for wonders halfway across the world when there are gems such as the Gaspé Peninsula just around the corner.
My parents came to this spout of land on the eastern tip of Canada almost 40 years ago, just a few months after their wedding and long before I was even a thought on their minds.  They spent a rainy few days driving the coastal route around the peninsula, trying to glimpse the spectacular ocean views and to stay warm and dry in their pop-up tent.
Perhaps it's no wonder they never took my brother and I there during our childhood.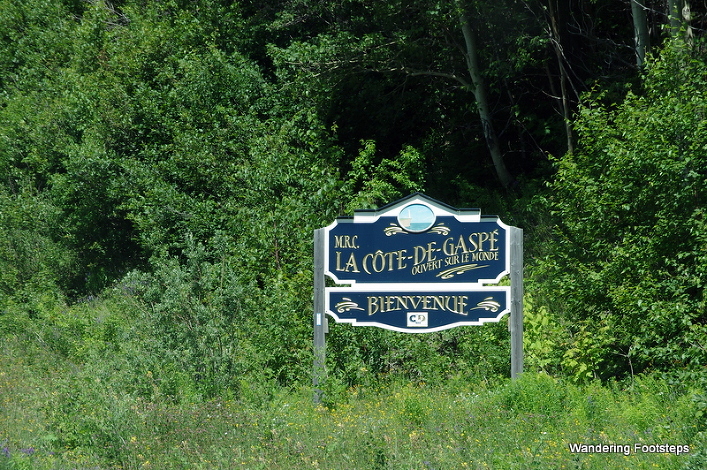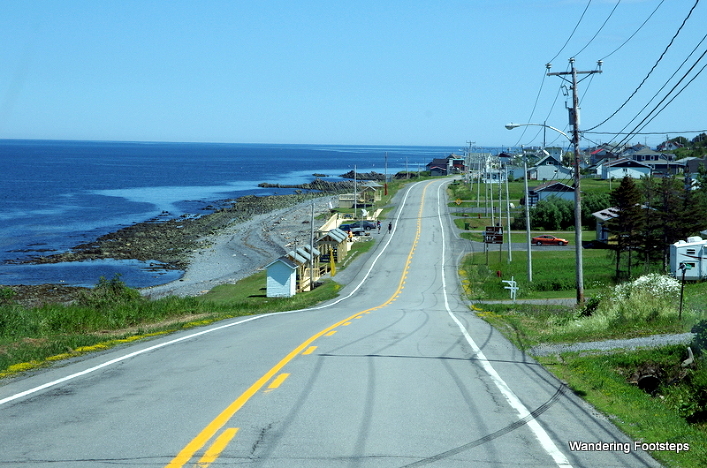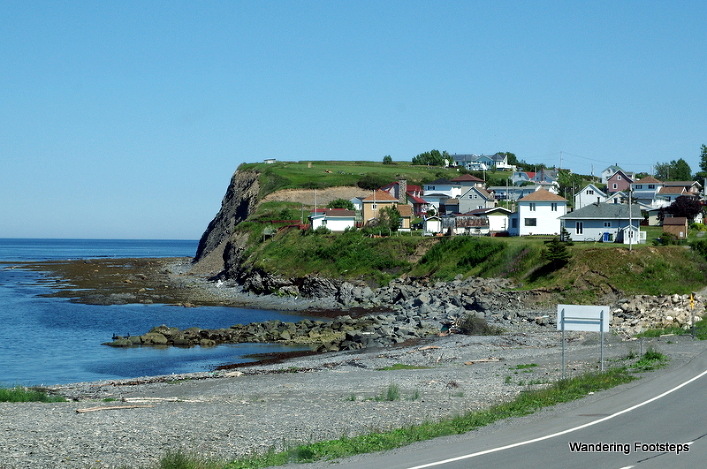 But something about this lobster-claw-shaped peninsula called to me.  I think it was just far enough away from home (in New Brunswick) to feel exotic enough to venture to, yet also close enough that I would be ashamed of myself had I missed it.  We were on a home-coming trip of sorts this summer, after all, with our two-month cross-Canadian road trip.
We began our coastal tour of Gaspé in Matane, on its northern coast, after crossing over the mighty St. Lawrence River in a ferry.  Although I have no recollection of ever seeing photos of the peninsula, what lay before me was exactly as I'd seen it in my mind's eye – forested cliffs tumbling into the sea, interspersed by protected fishing towns.  Unlike for my parents so many years ago, the weather chose to cooperate, and the scenes before us looked all the more charming in the summer sun.
Bruno and I spent a few days driving slowly along the coast, stopping in quaint towns, at revealing viewpoints, and along beaches to soak up the summer sun.  The road would veer up and out toward the sea before tumbling back into a cove sheltering a little town.  The in-and-out rhythm was predictably pleasant, but around each turn lay a new striking vista.
When we reached the tallest lighthouse in Canada – not the first or last lighthouse we'd see in Gaspé – we knew we had reached the climax of our cross-Canada road trip – Forillon National Park.  Months ago, on a recommendation from my mom, I'd reserved three nights at one of the park's campgrounds.  Bruno and I have never done this before, but what with Canada's 150th and it being the height of summer, we thought it might be wise.  This, though, had the effect or keeping us on a sort of timeline throughout our road trip, as it was impossible to forget that we needed to be at Forillon by July 17th.
The park was well-worth the effort.  Of the four Canadian national parks we'd visited, Forillon was my favorite.  Our campground was located just behind an absolutely stunning pebble beach, where one could chance a whale-sighting in its blue waters, gaze at the sheer cliff of the peninsula, or even encounter wildlife while chilling on one of the park's red Adirondack chairs.
Besides its stunning coast-and-cliff views, Forillon offers several worthy hikes.  We chose two.  The first led us up a very steep 2km-long path to Mont St. Alban for a 360-degree view of the park from a tall wooden platform.  Well above the tree line, we could actually see the full shape of the very tip of the peninsula, called Land's End.
Our second hike took us to Land's End, where yet another lighthouse awaits.  Bruno claims the *true* Land's End is in Patagonia, Argentina – and Canada's is truly in Newfoundland – but the name was still enough to persuade us to do this hike.  More than the views from Land's End itself, we enjoyed getting to see so many whales in the Baie des Chaleurs along the way.
What was probably most surprising about Forillon National Park is that, in addition to its scenery and hikes, it offers an interesting slice of history.  This was a first for us at a national park in Canada, and I really felt that it added a lot to the park's offerings.
I'm talking about the Grand Graves Heritage Site.  Grand Graves was an old cod fishing village that has been preserved and restored by Parks Canada.  Some of the homes show the simple and hard life of the family that once lived here (Bruno recognized many household items from his grand-parents' childhoods in France); one building teaches us about the fascinating cod fishing industry that this village was founded upon; another recreates the town's general store; upstairs details the life of the fishing families throughout the seasons.  A final building illustrates all the groups of people that have inhabited this point of land, and somewhat atones for the process of forced resettlement that occurred when the land was desginated a national park.
As we drove out of Forillon National Park, the landscape became flatter and less dramatic, yet somehow more familiar.  Just beyond the bay, I could see my home-province of New Brunswick, and around me it looked as if we were already there.  Part of me wanted to simply rush home.  Yet there was one more must-see site in Gaspé – le Rocher Percé.
As one of the world's largest natural arches in water, Percé Rock is one of Canada's major landmarks; funnily enough, I had never heard of it.  I must have been the only one – it seemed all of Quebec was in Percé to visit this hunk of stone.  Apart from Tadoussac (Quebec's whale-watching-central), Percé was, the most touristy place we visited during our entire Canadian road trip.  After having spent such peaceful days in Forillon's wilderness, it was a little too much to handle, but we did stay long enough to capture a few views of this picturesque rock from a few different angles.


I think people come to the Gaspé Peninsula to visit a place that holds a unique place in Canada's story.  It is part of the [equally unique] province of Quebec, yet its history stands apart from the rest of the province.  Its coastal road hugs the coastline, and (on the northern side especially) you are literally stuck between sheer cliffs and water.  Located at the very tip of continental Canada, it has that "end-of-the-road" feel to it.  The Gaspé Peninsula calls out from afar to curious travelers, but you truly have to want to come here to be here.
We heard the call and came.
And we're glad we did.