The first time I ever stepped outside English-speaking North America was to Mexico.  This is not unusual for someone from my part of the world, nor was it unusual that that first trip was to a beach resort.
What was probably unusual is that the thing my fifteen-year old self remembers most of that family trip (apart from the giant crush I developed on one of the emcees) was the day my family ventured off the resort to explore the town of Puerto Vallarta.
Fast-forwarded more than half a lifetime later and here I am, for a second time in Mexico, having my senses utterly overwhelmed again by the traffic, dirt, taco stands, street dogs, garbage, potholes, and staccato Spanish of another Mexican town.  After spending over a year in Europe, Canada, and the United States, Mexico has come as a shock – even if it is just Mexico-light, as they call Baja California.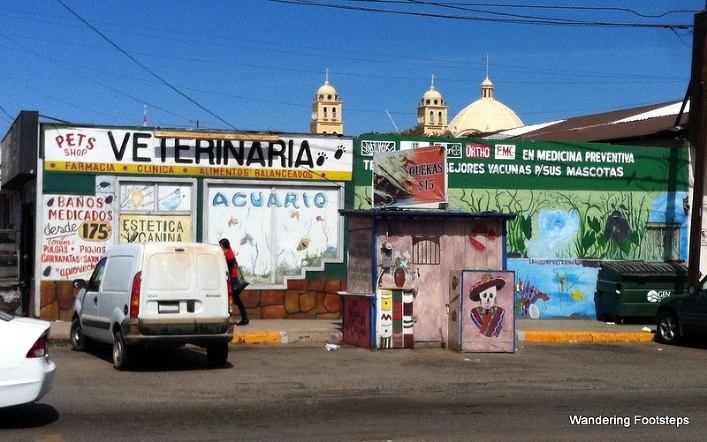 I am happy we're living in a small village rather than in the larger city of Ensenada.  Here, on the two main streets of Chapultepec, are every essential element of a Mexican town – the panaderia (the bakery, where many varieties of pan dulce, or sweet bread, are sold); the tortilleria (Mexico's true corner bakeries, where one buys tortilla shells of all varieties); the michoacana (the ice cream shop, which sells gorgeous artisanal popsicle-like ice cream bars in additional to regular cones); and several informal taco stands on the side of the road (some with bar stools), where locals pop in between meals for a quick fix.  Taco stands, I learn, are Mexican fast food.
Chapultepec is an unintimidating [re]introduction to Mexico.  The locals treat me with that perfect mixture of indulgence and indifference.  I am not gawked at, pestered, or otherwise made to feel like a foreigner; yet, as I test out my basic Spanish, the locals decipher and decode my broken sentences, somehow making sense of my attempts to communicate.  It's an encouraging atmosphere, and I quickly feel at ease.
I venture into Ensenada a few times, mostly to purchase fabric or foam for our bus conversion.  I hitch a ride in with Bruno then hop on a minibus into the center of town.  It is exhilarating to once again be using public transportation in an unfamiliar country.  I feel empowered and emboldened.  How could I not?  If you brave it, it's actually so simple to take a minibus in Ensenada.  All I must do is walk to the nearest main artery, hail down any approaching bus– of which there is at least one every minute or two – then pay 10 pesos (about $0.60) and I am off toward the downtown bus terminal.  All buses point downtown.  It's getting home that is slightly more complicated.
The center of Ensenada is a small grid of commercial streets.  There are no skyscrapers, large malls, or impressive sites.  There is only a church whose steeple rises above the rest and sets itself into the forefront of the populated hills that surround the city; taco stands on each corner, most of them selling fish tacos, which were supposedly born here; and a large harbour where commercial boats and cruise ships anchor.
One day, on a promise to myself, I wander down along Ensenada's coastline.  There is a small promenade, a marina for smaller boats, and, further up, tourist restaurants and gift shops.  I am here early – and on a day where no cruise ship is docked – so the area is pleasantly quiet.  As I veer a block inland, I find myself wandering down the street that cruise shippers likely visit – it's filled with pharmacies advertising cheap Viagra, curio shops selling ponchos and sombreros and Day of the Dead skeletons, and roadside bars promising cheap tequila and delicious margaritas.  This place is nothing like Chapultepec – nothing, even, like a mere street over in Ensenada – and, when a local notes to me, in English, that I arrived "too early," I thank my stars I haven't, and decide it's time to head back to Chapultepec.
Besides, Chapultepec is where I have a new friend.  I meet Lethy at the local hardware store.  She is the only employee that can speak English, and my questions about the availability of certain materials quickly turn into friendly conversation.  Lethy tells me that she has 90-minute lunches, so if I ever felt like popping by for a bite, that would suit her well.  I take her up on that offer a few days later, and again a week after that.  We sit inside restaurants and order enchiladas and chilaquiles (nachos) and chiles rellenos (stuffed deep-fried peppers) and talk for hours.  Lethy practices her mostly-forgotten English and I get to have a new local girlfriend.  It's wonderful.
Chapultepec is also where I do most of my business.  It is where I find a tailor to sew curtains for our bus and an upholsterer to cover our foam dining room cushions, and where I try to find a carpenter to do a few more small pieces of wood furniture for us.  I'm not successful on that last count because their services are a lot more expensive than I expect.  The same is true of the tailor and the upholsterer, but these are essential services that we cannot do on our own.  I learn that, because of the proximity to the United States, this part of Mexico has a skewed economy.  Most skilled workers are employed in exporting businesses, so there is a short supply of local carpenters and tailors.  This shoots the price up, making their services attainable only for the upper middle class in Mexico.  We barely qualify.
Thankfully, fresh produce is more in the price range I like to pay.  I take advantage of this at my favourite weekly event – the Chaputepec farmer's market.  I love local markets no matter what, but this one is particularly pleasant.  The market isn't large, nor is it overly chaotic, but it has a laid-back yet bustling atmosphere.  Every week, I wander past the stacks of used clothing, local produce piled high, and ready-made foods and drinks.  I pick up stashes of veggies for great prices – most notably nopales, or cactus, and chayote, a small pear-shaped squash – and make friends with some of the regular vendors.  I discover aguas frescas, (falling in love with jamaica, the juice of hibiscus flower, which I had obsessively drunk in Senegal twelve years earlier, though there it went by the name bisap).  I try an empanada stuffed with squash flowers, coconut pieces smothered in a spicy and sour sauce, and tamales dulce stuffed with pineapple.  I listen to the mariachi groups and wander past the old men in cowboy hats and the scores of Chihuahuas.
The Chapultepec farmer's market is the height of my time in Baja California.  It's the best opportunity I have to be exposed to the culture, food and language of the region at a time where most of my energy is being spent on our bus conversion.  It's where I catch my breath from all the work we're doing, where I feel like – just for a moment – I am doing the place we are temporarily calling home justice.
Five market days come and go and it's time to leave Baja California.  There is so much I haven't discovered here, so much still to learn, to taste, to see.  It's the same feeling I had all those years ago, when my family wandered around the dusty curio shops of Puerto Vallarta.  In both instances, Mexico gave me a little taste, and left me wanting more.