The Mother Road.  The Main Street of America.  The Great Diagonal Way.  The Road of Dreams.
Diners, motels, neon signs, vintage cars, old service stations.
Route 66 calls to mind many nicknames, symbols, and themes and is etched in the minds and hearts of many Americans.  For the rest of us, Route 66 is simply a chance to travel down 2,278 miles and eight states of the United States in order to experience a time-capsule of American culture and history.
Route 66 may have been designed with truck drivers and American soldiers in mind, but it quickly became the ultimate American road trip.  As Nat King Cole sang, If you ever plan to motor west, travel my way, take the highway that's best; get your kicks on Route 66.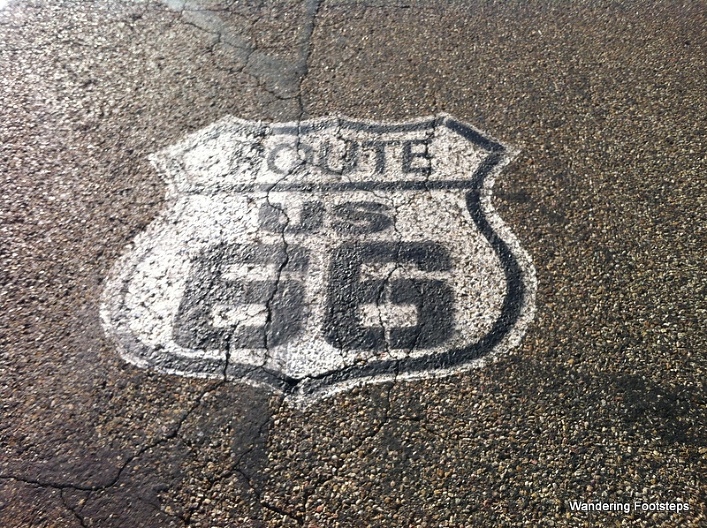 Well, our plan was to head west (to base ourselves in a warmer climate while searching for our new camper van).  And so, even though Route 66 had never been on either of our bucket lists, Bruno and I decided to listen to Nat King Cole.  We would, like so many before us, get our kicks on Route 66.
Here is the story of our journey down the Main Street of America.
Planning Our Road Trip
A bit of research taught me that following Route 66 is not as easy as you'd expect.  The route had never been static – as larger bypass roads were created, the route was slowly diverted around town after town, made straighter and wider, until eventually the interstate highway system made Route 66 redundant.  Many parts of this infamous road have been left to deteriorate, and other parts have been renamed or incorporated into highway frontage roads.
Without a good map or GPS, it is impossible to follow Route 66 from its starting point in Chicago all the way to Los Angeles, on the U.S. west coast.
Once I learned this, I dug around online for GPS data I could download and use to guide us on our road trip.  I wasn't able to find anything.  I did find a website that provided a detailed turn-by-turn description of the Route, so I manually plotted each turn into my GPS (you can download my waypoints here – you're welcome!).  It was gruelling, long work, but it was also pretty fun – probably because it had been a while since I'd gone on a road trip.  I spent my time imagining each place we would soon encounter which stoked the fire of anticipation within me.
Funny enough, the first day of our road trip, I ended up purchasing the EZ Guide for Travelers, by Jerry McClanahan, from a tourist center at the old gas station in Odell.  I bought it as a travel companion, to learn about the history and the notable not-to-miss sites along the way.  In the end, though, we ended up also using it to guide us along the route, making my GPS points essentially unnecessary.  The book has loads of maps and detailed directions that were spot-on and very helpful, although occasionally time-consuming to decipher and follow.  I highly recommend it.
Let the Kicks Begin in Illinois
We hopped onto Route 66 fifty miles south of its starting point in Chicago.  I tried to put the news of the recent presidential election out of my mind and get excited about the road trip before us – it would be a long 2,000 miles otherwise!
It worked.  Within minutes, I was excitedly pointing out our first evidence of Route 66 to Bruno – roadside signs!  Minutes later, we were eagerly pulling over to visit our first old service station, where I snapped photos and read the interpretive signs.
We would see a lot of old service stations along Route 66, and they would be my first example of how this route mirrored the development of America.  See, in the 1920s, when the idea for a route cutting across the heart of America was born, the car industry was just beginning its boom.  Fuel was generally purchased from general stores.  With the new accessibility of cars and the ease of interstate travel came a growing demand for fuel, so entrepreneurial people in the little towns along Route 66 started opening shops offering quick and easy roadside access to fuel – thus the service station was born.
Route 66 took us past flat farmland and into charming little towns – a few of which had populations of 600, 500, or only 200 people!  Despite the excellent signposting in Illinois, I frequently had my head in the guidebook.  There were often two or three different choices we could make in our route, depending on whether we wanted to follow the oldest route available or more recent versions.  We always followed the oldest, but as we wound left and right and into the center of each town, I began to understand why the original route had been quickly bypassed with straighter 4-lane roads.
Driving down Route 66 felt like being on an epic scavenger hunt.  There were so many historical artefacts to see – restored neon signs, old motels, famous diners, segments of original route.  Some of them – like the giant astronaut Muffler Man – were easy to spot, but many weren't so easy, and I wound up missing quite a few that our guidebook pointed out.
The most memorable find in Illinois occurred on day one, just past nightfall.  We were winding our way along a narrow country road.   The guidebook mentioned "turkey tracks" up ahead.  I had no idea what they were and didn't expect to see them in the dark, but there they were, bordered in white paint and with a giant turkey poster pointing them out (so that you couldn't miss them, like I'd done so many times that day).  The "turkey tracks" were, well, actual footprints of turkeys imprinted into the cement road!  Those footprints must have been almost a hundred years old!
While almost every Route 66 site is right on the road, there are a few worthy detours.  We took one just before the Missouri state border to visit the Chain of Rocks Bridge.  The bridge, once part of Route 66, is unique because it's not straight.  About two-thirds of the way along, the bridge turns at a 30 degree angle!  We thought it was perhaps an engineering error, but in fact, the truth is in the bridge's name – it makes use of a chain of rocks under the water for its foundation.  Walking down this funky bridge allowed us to stretch our legs and get a glimpse – my first! – of the Mississippi River.
The Kicks Continue in Missouri
Right after the Missouri border is the city of St. Louis.  It's famous for its giant arch, which is a symbol of the gateway to the West.  The city seemed like a cool, vibrant, and funky town with a noticeable bicultural population.  Right outside the city the Ozark Mountains began and flat Illinois gave way to rocky, green hills and vineyards.  Missouri didn't look the part of a typical Midwestern state.
Signs for the Meramec Caverns began popping up with increasing frequency.  These caves are infamous along Route 66.  The story goes that in the 1930s, a man discovered these caves and began to exploit them as a tourist destination.  By then, Route 66 had been seeing increasing traffic from vacationers on big family road trips.  The man offered to paint dozens of old barns situated along the route America for free – the only catch was that the paint job would include a mural advertising the Meramec Caverns.
This man, of course, was not the only one using roadside advertising to entice business along the Main Street of America.  Increasingly, motels, diners, cafés, and drive-ins popped up along Route 66, and with each of them came a beautiful, bright, giant neon sign.  Interesting, it is along Route 66 that so many American business models began – fast-food restaurants, drive-in theaters, motels, roadside advertising – and all were designed to be appreciated from the comfort of your automobile.
Nowadays, one of the most quintessential elements of driving down Route 66 is spotting old renovated neon signs.  I saw tons.  I also saw tons of Trump/Pence signs.  We were officially in Republican territory here in Missouri, and would be until the end of our road trip.  I would see dozens of Trump signs, but the only Hillary sign I would see the entire time was a very unflattering piece of negative advertising.
Indeed, the conservative Missouri culture made me at times uncomfortable.  In addition to offering typical kitsch Route 66 memorabilia, one trading post we visited displayed guns, knives, hunting gear, animal fur, and patriotic posters.  I was taken aback by two:
If you can't stand behind our troops, stand in front of them.
And: If you can read this thank a teacher, but if you can read this in English than your troops.
Admittedly, I was no less shocked by another poster reading I didn't climb to the top of the food chain to become a vegetarian, so I guess I just didn't fit in here.
But I was also intimidated by more than one café the guidebook encouraged us to visit.  The cafés were almost solely patroned by men – biker men, men wearing camouflage print, big men with long beards.  I did muster up the courage to visit a café in the little town of Cuba – famous for its lovely murals, also a frequent sighting along Route 66.  Shelly's Route 66 Café was a typical little breakfast diner, serving biscuits and gravy, breakfast meats, and unlimited watered-down coffee.
We'd barely opened our mouths and our server already knew we weren't from around here.  "Where y'all from?" was her reply when we asked for tea.  We hadn't gotten this in Illinois, but it would be a frequent question – sometimes even before we'd opened our mouths – the further west and south we went.  I started to grasp the deep cultural divide that exists between America's north and south.
13 Miles of Kicks in Kansas
Route 66 passes through a tiny chunk of Kansas' south-eastern corner.  Yet, in Kansas' 13 miles of route came the greatest inspiration for the Disney movie, Cars.  Indeed, Cars is entirely based on Route 66, from its plot and setting to its quirky cast of characters.  The writers traveled up and down the route many times drawing inspiration for the film, and in the dusty little town of Galena, Kansas, they found their inspiration for one of the main characters, the old red tow truck called Tow Mater.  Along the route we would pass several motels, trading posts, and cafés also used in the movie, but Kansas gave us our first Cars on the Route experience.
The Most Kicks of All in Oklahoma
From the state with the fewest miles along Route 66, we entered the state with the most – Oklahoma.  Oklahoma would also mark new territory for me in the United States, and for the rest of our road trip, I would be visiting states I'd never before stepped foot in.
Oklahoma greeted us with buffalo!  We stopped at the Buffalo Ranch to take a look, and a half-dozen buffalo walked right up to the edge of the fencing to greet us.  The largest one came right up to me and started rubbing his head against the fence like he wanted me to pet him. I did, he sniffed me, and we totally bonded.  I had no idea buffalo could be so friendly, and I pitied their inevitable fate.
For I knew their fate, no question.  We were definitely in the South now.  We saw our first cowboys.  Drove past our first ranches.  Saw more barbecue joints and steakhouses than any other type of restaurant.  Came face to face with giant animal trophy heads each time we went to a gas station toilet.  Yes, I knew the fate of those poor buffalo.
Unlike Kansas, which made a rather large fuss of their tiny Route 66 section, Oklahoma seemed to take their 400 miles for granted.  Roadside signs all but disappeared, and if it had been possible before to follow the route without a guide book, it was now totally and utterly impossible (and would be until the end of our road trip).
Also, the oldest sections of the route were often undriveable because they had disappeared, were in poor condition, or were now on private property.  We spent most of Oklahoma along 4-lane- and frontage roads.  We also got our first chunk of dirt road, but that part was a welcome change.  We drove every single old loop we could, the most notable past several defunct oil tanks.
Oklahoma is a major producer of oil, in case you didn't know.  The state has made its fortune off it, and the capital, Oklahoma City, is evidence of that.  It's a new city, modern, wealthy, and sprawling.  It's also the only state capitol building that has working oil tanks on its property!  I would have loved to check them out, but the city was so pedestrian-unfriendly that we got caught in the flow of traffic and couldn't get to the capitol.
And so we continued on our road trip.  Over the coming days we would see a string of giants, learn about the darker sides of Route 66, experience first-rate Southern hospitality, take part in a public art installation, and witness jaw-dropping scenery.  Stay tuned for those stories and more, through Oklahoma, Texas, New Mexico, and Arizona in our upcoming post!