I have been avoiding writing this blog entry for several weeks now. I am waiting for that inspiration which has propelled my blog these last few months. I have been getting such nice comments on my blog lately, and – though very nice to hear – I think I am starting to feel the pressure to make each entry as inspired as the last.
And for this particular blog entry on my trip to Ecuador, that poetic, self-reflective Brittany just hasn't come.

As I waited for her, I asked myself why she was being so elusive this time.

Was it that Ecuador wasn't inspiring?

Did I not learn anything while there?

Were my observations less astute than usual?
I think, deep down, I always knew why this blog entry wasn't brewing in my mind.

All year, I had traveled to places "just because" – for travel in and of itself; pure discovery.

I was an empty vessel begging my destination to fill me up.
But on this trip to Ecuador, there was a purpose, and it was not to fill my ever-emptying vessel. It was to see my brother and the life he has lived in Ecuador for the last 10 months. It was to spend time with his girlfriend of 2.5 years, to get to know her and to meet her extended family. Because of this purpose, I fear I may have traveled to the country with partial blinders on. I saw the mountains of Quito, but did I really "see" them? I saw the biodiversity of the country but did I really "see" it? I felt the flavor of the culture, but did I really "feel" it?
I've come away from this trip with a few isolated impressions of Ecuador and Ecuadorian culture, but they are mere snapshots of a country which I know deserves a full-length feature.

As such, in this blog entry, I can merely pass on my Ecuador snapshots to you, my faithful reader.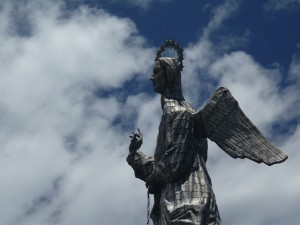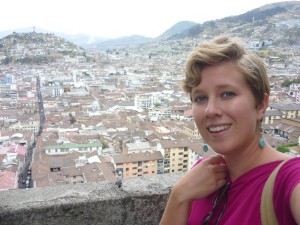 Picture a historical city located in a narrow valley with Andean mountains cascading overhead and you will conclude that this city must be spectacularly beautiful.

And it is, though I didn't internalize it until near the end of my time in Quito.

I spent the majority of my 15-day trip here, as this is where Nathan, Ara and the family live.

My initial impression of the city was that it had an interesting mix of old and new, rich and poor.

Its outskirts were dusty, almost desert-like, but its neighborhoods reaching up into the mountains were brightly colored, standing out amid the dust.

As I spent more time in the city, I got to see its charming historical center, its basilica, its narrow European streets leading to its cobble-stoned plazas.

Aboard the tourist city bus, I saw its urban parks, low skyscrapers, and funky tourist/artsy streets and markets as the bus wound its way up to El Panecillo, a gigantic Virgin Mary statue on a hill on the south of the city.

After seeing Quito's beauty and charm, it slowly became more than a dense Andean developing capital and more a hip, intriguing, historical and cultural town that Nathan and Ara are lucky to get to explore daily.
Snapshot #2:

Quito Surroundings
I got to do quite a few day trips from the city, thanks to Ara and her great little new car!
1.
Mitad del Mundo – "center of the earth", a monument commemorating the geographical work that was done here as well as celebrating the fact that the equator runs through this exact point.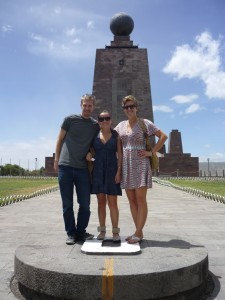 2.
Teleferico, a gondola lift up the mountain range surrounding the city.

At over 4000 meters, the Teleferico literally offers a breathtaking view of the city below.

It's hard to believe the city only has a little over 2 million inhabitants, for from this peak, the city seems to have been stretched on both ends like a baker preparing baguette dough.
3.
Mindo, a eco-tourist town where we went rafting down a cool, fresh river surrounding by jungle scenery, and where I made best friends with a butterfly at the butterfly garden.
4.
Papaillatcha hot springs, a series of warm pools nestled in a misty mountain village.

Nathan convinced me to jump back and forth from the hot pool to the freezing cold natural spring river and back.

It's actually really addictive, as your body tingled from head to food!

Snapshot #3: A Taste of the Amazon
I got to do an overnight trip to Tena, a town bordering the Amazon jungle.

After the brisk mountain air of Quito, Tena's hot humid heat was stifling.

Even hotter was the cave that Nathan, Ara's cousin and friend, and I wandered in for an hour.

What a different environment from the landscape outdoors – pitch black, full of bats and spiders, stalactites and mites everywhere, and fresh water pools and waterfalls that you had to swim in to get out the other end.

Later that afternoon, a visit to a jungle river where the locals bathe and cool off in the hot jungle heat.

On my next Ecuador trip, I'm venturing further into the Amazon!

I got to dance salsa on two occasions: one at a famous Quito nightclub, and the other at an exercise class in Tena.

Salsa is in the bones of Ecuadorians and it was really fun to try to keep up with them!
I made it my goal to try every Ecuadorian food that didn't have meat in it.

I always like tasting local delicacies because it's one cultural aspect that I particularly value in travel.

But it was even more important here in Ecuador since I wasn't doing a lot of other cultural inquiry.

Thanks to Ara, I think I managed to try every vegetarian Ecuadorian food possible:
–
Helado de paila – local ice cream made with native Ecuadorian fruits

–
Michelada – Ecuadorian beer with salt on the mouth of the glass and lemon in the beer
–
Locro – creamy potato soup with avocadoes and mozzarella dropped in just before serving
–
Morocho – milk and Ecuadorian corn heated up and slightly sweetened; drunk in a mug as a beverage
–
Empanada de Aire – friend bread shaped in a half moon, filled with air, a bit of mozzarella cheese, and dusted with sugar on top
–
Bolones – green banana batter fried with mozzarella in the center, eaten with a spicy chili sauce
–
Patacones – some kind of banana (apparently there are 5 or 6 kinds!) sliced and fried; Ecuadorian version of chips
– Fruit, fruit and more fruit! Fresh, salads, with salt, in juices, in batados (milk juices)!

There may have been more Ecuadorian foods I sampled, but I can't recall.

I enjoyed the ones I tasted, as they are mainly composed of ingredients like mozzarella cheese, corn, bananas, and potatoes, with the option of adding spices!

What's not to like???


I've already written two blog entries about the coast of Ecuador, but it needs to be mentioned again on this trip.

Here is where I let myself eat seafood (ceviche!!) and where the three of us explored unchartered territory together.

As mentioned in other entries, we visited the Isla de la Plata, saw blue-footed boobies and humpback whales.

We also did a really nice 3 hour walk in the Machalilla National Park, hitting up viewpoints and hidden beaches on our journey toward Los Frailes beach. And I watched the fishermen come in with their catches, desperately trying to avoid the sea birds who await them each morning.

In Montanita, we became beach bums, soaking up the strong sun and playing in the waves for a few days.

Ecuador's beaches did not disappoint!


I saved this snapshot for last because it was the most important and impactful snapshot of my time in Ecuador.

Ara's family generously offered to let me stay in their family home.

I really enjoyed getting to share meals with them, especially sitting around the table at dinner (which is more like free-for-all evening snacking) and conversing in three languages over a plate of cheese and bread or an omelet, as Nathan, Ara, and her sister Sophia sucked on salty lemons. (Ecuadians love salt and sour things!)
I also got to have lunch once at Ara's grandmother and another time at her aunt's.

Ara's family tries to lunch together once a week, and the whole extended family shows up on their 2-hour lunch break!

Even though there was a language barrier with some members of the family, it was really meaningful to get to know them and to feel so accepted into their family.

Lastly, I got to spend a lot of time with Ara's other sister, Nadia, her husband Andres, and their son Samuel.

They had us over for dinner one night and I made Nepali food for them on my last afternoon before taking their son bowling.

I had heard so much about Samuel and it was so lovely to get to spend time with him and the entire family.

I am eternally grateful to Ara and the entire family for their generosity and their welcoming attitude.

You all truly made the trip for me!