Seven months, seven countries, some 10,000km.

 

With our return to Kampala, our East African Loop – otherwise known as the Extended Honeymoon Loop – was completed.

 

We'd looped the loop.
Before I arrived on the scene, Bruno never traveled in loops (unless we count his 14-year trip around the world a loop, which I guess it was).

 

He always ventured forward, ever onward, toward eternal new horizons.

 

It's strange, then, that this is not the first, but the second, loop that we've looped together.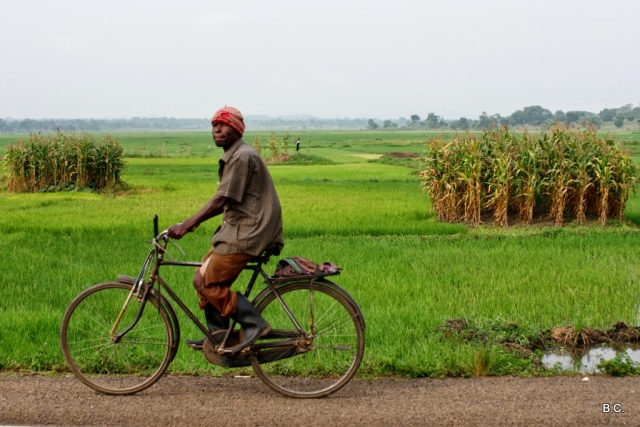 A Ugandan traveling by bicycle.  Wonder if he's doing a travel loop.
The nature of the Travel Loop is peculiar.

 

By definition, it means revisiting a place you've already been – yet when you return, something feels different.

 

Quite simply, you've changed.

 

You hadn't really noticed the subtle internal alterations that occurred over the course of the countries and experiences you've collected.

 

But now, thrust back in a place where you were an old version of yourself, the differences seem glaring.

 

You are flooded with memories of how you were then – what you thought, felt, and did – and the dire juxtaposition of what you think, feel, and do now.

 
Loop Travel affords insight into the self, and is, in my opinion, a worthy, meaningful travel style.
On the other hand, as you approach the point where the loop will loop, a strange thing tends to happen.

 

You cease to travel, in a way.

 

Your sense of discovery and inspiration at all that is new around you slows, and you feel yourself to be in a sort of transit mode.
In transit mode – slowing down and just chillin'.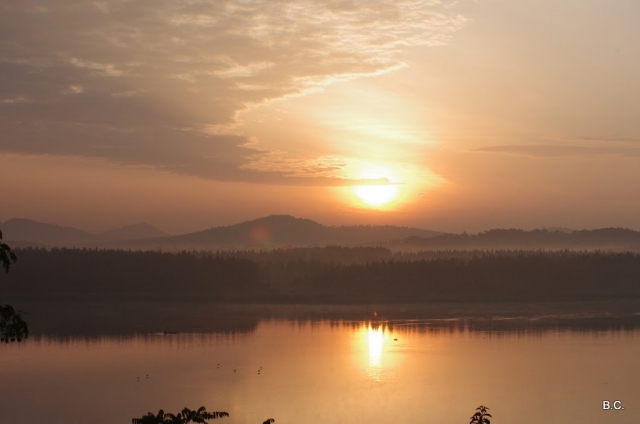 Rather than exploring, we chose to sit and just watch the sun rising over the Nile River.
That's exactly how Bruno put it to me soon after we'd entered Uganda.

 

We had ten days until we needed to be in Kampala, and it was a two-day drive away.

 

I thought we'd explore the hills of Western Uganda.
"We're in transit mode now," he replied.

 
That meant there was no sense in veering off the main path we'd set for ourselves, to Kampala and then onwards to Nairobi, where I was to fly in less than a month.

 

We would simply drive, relax a bit, and drive again.

 
For him, this sense of transit mode was born from the fact that we now had dates impeding our freedom – a meeting with friends in Kampala, and a flight for me to Canada.

 

For me, the sense of transit was born more from the fact that between Kampala and Nairobi, we would be driving essentially along the same path we'd driven at the beginning of our loop, and therefore would not be chartering new territory.

 

My sense of adventure and discovery was thus replaced with familiarity and comfort.

Eating the same appetizer salad at the Haven as we had on Christmas Day.
Note the gorgeous view of the Nile River rapids.
After being initially put-out by Bruno's declaration of our transit-mode-status, I came to terms with it.

 

We'd traveled so quickly since our safari in Zambia's South Luangwa, and had such horrendous campsites, that I was exhausted, and actually welcomed a bit of relaxation and tedium.
And so, after leaving Kampala, we returned to The Haven, a lodge outside of Jinja, near the source of the White Nile, and on a beautiful section of rapids on the Nile River.

 

We had spent Christmas here, our first stop after leaving Kampala, when all I wanted was some much-needed R&R.

 

We returned for the same reason – and ended up spending an entire week watching red-tailed monkeys, with white hearts for noses, bound through the trees, fish eagles soar over forest beyond, and birds wake us every morning with their chirping songs.

 

It was, as its name indicates, a total haven.

Revisiting the red-tailed monkeys.

Parked at the Haven – a total haven.
Later, we returned to Camp Carnelley's at Lake Naivasha, where we'd spent Bruno's birthday, for a few days of ping pong tournaments, wood-oven pizza, hippos at the lake's edge, and once again, loads and loads of birds.

The birds of Lake Naivasha (this one, the infamous fish eagle).

Parked again at the lovely Camp Carnelley's along Kenya's Lake Naivasha.
It was nice to be back in the familiar.

 

It was restful in a way that visiting places for a first time never is – for me, at least, who can't help but be curious and touristy and exploratory to a fault.

 

It was a luxury not to have to find new campsites, but instead to know for sure that we had a place to sleep that night (and that there would be a hot shower!).

 

And it was especially nice to see savannah – that most African of sceneries – after months of forested and farmed hills.
More than all that, being back in places we'd already been allowed small details already lost in our memories to re-emerge.

 

To recall the forgotten memories of the zebras and giraffes along the side of the Kenyan highway, the rose plantations on the edge of Lake Naivasha, or the pointed shoulders on the traditional gomezi dresses of the Buganda people of Eastern Uganda.

 

I'm trying to lodge those memories more firmly in my mind this time.

Zébras LITERALLY on the edge of this Kenyan highway.

The gomezi, a lovely pointy-shouldered traditional dress of the Buganda people.
Now we are back in Nairobi, affording us a final touch of déjà vu before I take my plane ride to Canada.

  
We had a lovely home-made Thai dinner with my friend Jo (the one who made me the five-course crumble meal in Paris), and I picked up my suitcase of work clothes that I'd left at his place the last time we were here.
With nothing left to do but pack, Bruno and I have begun planning the next leg of our overland adventure around the world.
It's exciting to gather information about visas and boats and road conditions, and to look at a new section of the world map.
I plan to string you along, dear reader, for at least another month, before I divulge our future plan in detail.
Let me simply say that they are sure to be just as interesting as what we've just done.
Oh yeah.

 

And it's not a loop.

Having five delicious Thai dishes made by Jo.
For dessert, a pineapple crumble!!