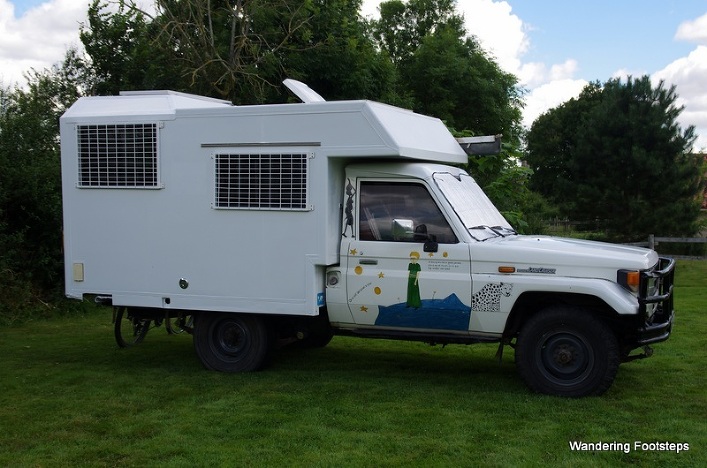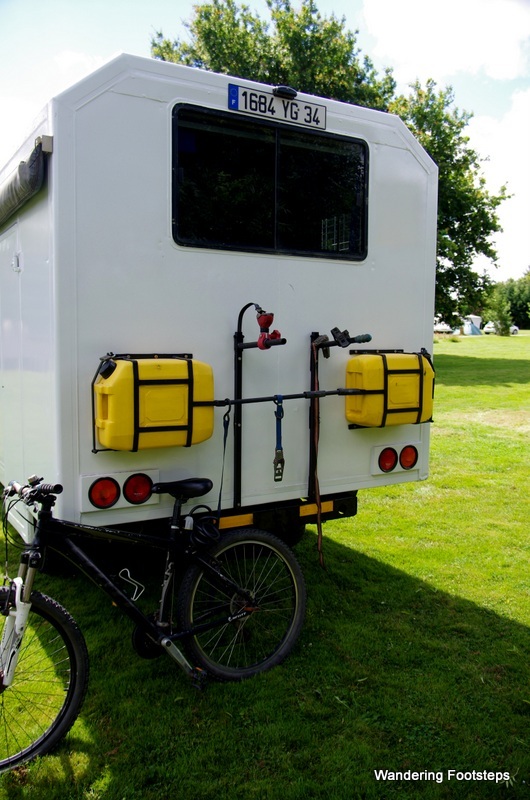 If you've been following Wandering Footsteps long enough, you know our beloved Toyota Land Cruiser BJ75, called Totoyaya, was up for sale last year (we wanted more space for a toilet, shower, and giant kitchen).  You might have wondered why, after posting the For-Sale ad online, I went radio-silent.
The reason is that Totoyaya got sold way back in August and I didn't want to jinx things.
Things got jinxed anyway.
A lovely man from Boston jumped on the opportunity to buy our unique Land Cruiser.  He visited us in Montreal, gave us a deposit, and agreed to allow us to keep our home-on-wheels until we found a replacement vehicle.
As you all know, that process took much, much longer than expected.
When we finally found our big bus (which I promise I will formally introduce very soon on the blog!), we alerted our Boston buyer that we were ready to part with Totoyaya.  We'd been in touch with him all along these months, and he'd continually expressed 110% conviction that he still wanted the vehicle – but for whatever reason, he backed out at the last moment (it seems like it's due to distance and bad timing).
So, folks, Totoyaya is back up for sale!  Read on for our formal For-Sale Ad:
1988 Toyota Land Cruiser BJ75 with Camper Box on Back
Location of Vehicle: Tucson, Arizona
Price: USD $13,000.
3B engine, LHD, H55 transmission, 24-volt system.
602,500km. No problem for few hundred thousand more because almost all kms in open spaces (Patagonia, Alaska, Sahara, etc.) so gear box hasn't taken a beating.  This vehicle is in GREAT shape, and we have impressed more than one car-aficionado!
Seats two, according to current registration.
Vehicle registered in France but has been imported into the US (obtained a 7501 form).  The buyer is responsible for registering the vehicle in his or her state/country.
VIN# JT1VOBJ7509002306 (registered as "fourgon", or van, not 4WD or RV.)
Camper van cell on back (made in December 2012): Aluminum/polyurethane 40mm-panels. Inside dimension: L 270cm X l 200cm X h 170cm. Permanent bed 190cm X 120cm.
Total weight 3.1 tons (less weight than original vehicle).
This cruiser fits in a high cube container (already done 2 trips inside HC container).











Sold with the following:
32 litres Engel fridge
24 volts ARB (CKMA24) compressor, (this cruiser is 24v) new from September 2015, never used…
Reinforced suspensions
Old Man Emu shock absorbers
Firestone air suspensions (back)
New roof Thule ventilator
Big awning 3.5m long from Howling Moon South Africa
Lots of Land Cruiser spare parts never use like relays, Edic system, motor fuel control, regulator, computer emission control, new original kit for rebuild the starter (no need to change it now, it starts without problem but just last year we were still on the way for a second trip around the world with Totoyaya so we took advantage to buy this kit when in Europe, hard to find after…), etc.
Foam mattress 120x90cm
Air-conditioned powered by old R12 gas, you will have to change the gas.
Back tires need to be changed before driving the vehicle too far.
Selling for USD$13,500.
Arrived in Halifax, Canada, in August 2016.  Currently in Tucson, Arizona.