Our big family reunion might have been over, but my own family's time in Morocco was just getting started.  My parents were about to embark on an adventure unlike anything they'd ever experienced before: a three-week camper van trip through Morocco!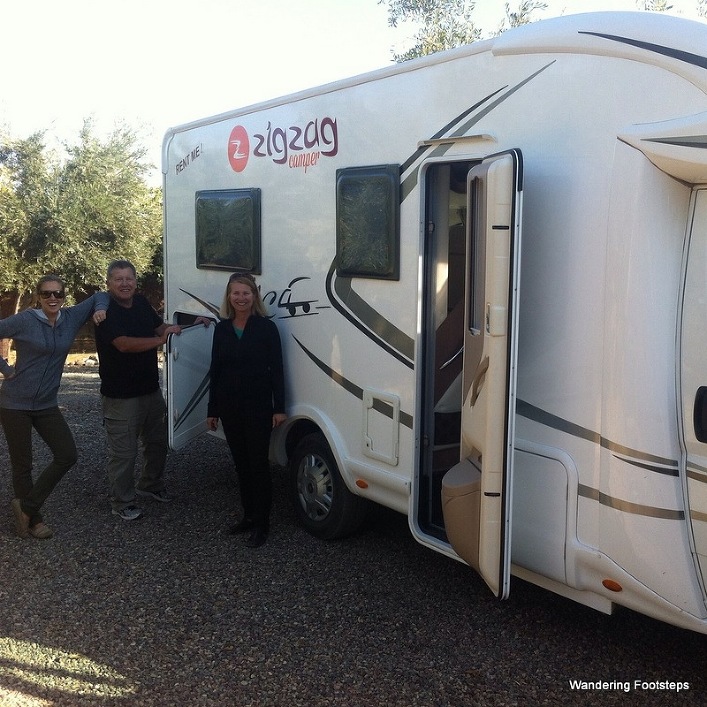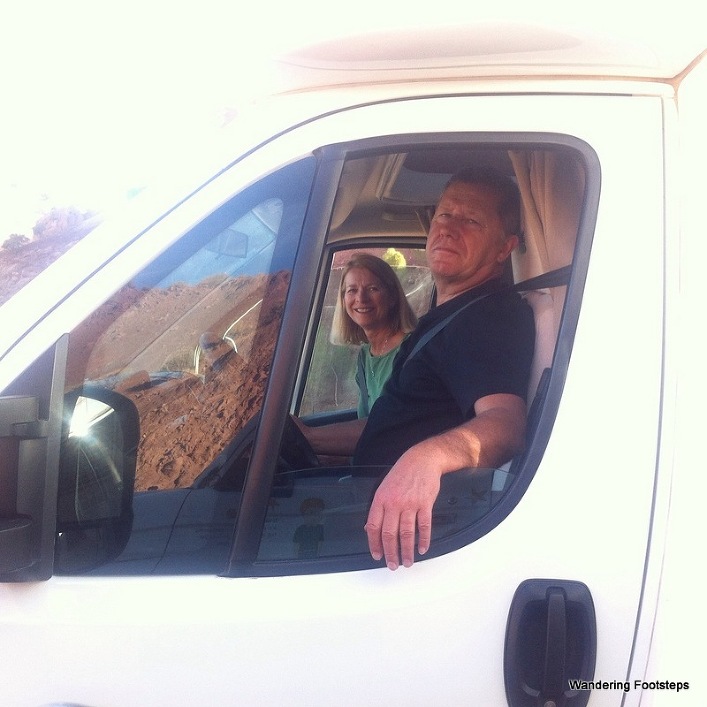 Organizing the Adventure
The idea hatched in dad's mind several months ago.  It's long been a dream of his to buy a camper van in Canada to travel around his own continent.  When I convinced them to come to Morocco for our family reunion, I invited them to travel a bit longer with Bruno and I – after all, it's expensive to fly to Morocco from Canada, so once you're there, you may as well stay awhile.  The idea of four people traveling in Totoyaya, however, didn't sound feasible to my parents, who require a bit more comfort (and have a bit more luggage) than our tiny four-by-four allows.
Besides, getting to experience firsthand what their daughter's unconventional nomadic life has been like for over three years is reason enough to consider a camper van adventure in Morocco!
A quick Google search pulled up Zig Zag Camper, a camper van rental company based in Marrakech (and the only such company we found in all of Morocco.)  My parents perused the four camper van models, choosing the medium-model, the MC 4-69 motorhome.  After that, it was a matter of reserving their dates via email, choosing one of two accident insurance plans, and paying a deposit (which they were able to do in person a few weeks before the rental date because they were already in Marrakech).
And just like that, Dad's idea of trying out the camper van life in Morocco was a reality!
Bruno and I met my parents on the outskirts of Marrakech.  We'd chosen a nice loop through the mountains and into the desert, a route that would allow them to experience the best of Morocco within reach of Marrakech.  That first afternoon, we did groceries, they unpacked and organized their vehicle, and we had our first shared campsite dinner, which I was all-too-excited to get to cook in their massive (relative to mine) kitchen.
Hitting the Road
The next morning marked our official departure.  I knew it would be a long, tiring day, even though the puny 170km didn't look like much on paper.  I was right – it took us 8 hours to reach our first campsite, partly because the road was narrow, windy, and bad in places, but also because my parents were so excited that they wanted to stop constantly for photos!
It's true that the scenery that day was beautiful.  We were driving over the Tiz 'n Tichka mountain pass and the panoramic views were gigantic.  They reminded me of Oman's spectacular Mussandam Peninsula.

By early afternoon, we'd reached the site of our first tourist visit – the Telouet Kasbah.  A kasbah is an old fort or citadel where the local leader lived and protected himself against enemies.  The crumbling kasbah in Telouet was built by the much-feared Glaoui Pasha, an Arab man given lordship over Marrakech who eventually amassed so much power from the salt trade that he was able to exile the Moroccan king to Madagascar.  You could see proof of the Glaoui's wealth in the highly-decorated ceramic-tiled second floor rooms, which required the work of 300 artisans over a period of three years.
We would see a lot of kasbahs over the course of our camper van adventure, for the route we had chosen has been dubbed the "Valley of 1,000 Kasbahs".  This region of Morocco was along the old caravan route from Timbuktu and Sudan, caravans which brought salt and slaves across the Sahara Desert (the Telouet Kasbah held 1,300 black slaves at its height).  Kasbahs were built along the traders' routes to provide safe refuge to the caravanserai, or group of people and goods traveling along the caravan routes.
The final stretch of our inaugural camper van day brought us on a very rough stretch road – where there were more potholes and rocks that tarmac – before terminating on one of the prettiest routes I've seen in all of Morocco.  Between Anmiter and Tamdaght was a gorge with mud-brick villages that would have been invisible but for the pale pink minarets soaring above the single-storey flat-roofed skyline.  In the bottom of the gorge was a patchwork of fields cultivated by the villagers, who obviously don't worry about floods.  My parents commented that they'd never been to such a remote-feeling place.
Morocco in the Movies
After camping out next to a dried oued, or riverbed, we all ventured to Aït Ben Haddou, Morocco's most-filmed village.  Hollywood has got it bad for the town's ancient ksar, or fortified village, and it has shown up on movies and TV shows like Gladiator, Lawrence of Arabia, The Mummy, and Game of Thrones.  My guide book had said the ksar had, as such, been over-restored, but we all found it photogenic, and not at all as touristic as we'd expected.
The four of us crossed the river and weaved up through the narrow mud-walled alleys to the top of the hill.  There stood an agadir, a fortified communal granary.  The view was totally otherworldly, and I could see why Hollywood constantly returned here – the landscape could be Jerusalem, Tibet, the Wild West, or even another planet.
The following day we would get a tour of a Moroccan film studio in Ouarzazate, where we would learn that the same props and scenery could be used for loads of different films without anyone noticing.  We would see famous props up-close and see how fake and amateur they looked off-screen.  And we would visit the set of a very important Game of Thrones scene, the one where Khaleesi trades a dragon for her army of Unsullied.
We wandered back down the charming alleys of Aït Ben Haddou's ksar, but we kept losing sight of dad.  One after the other, shop owners invited him into their shops for a "free visit," and dad relished the opportunity to engage them.  He'd done the same the previous day on the Tiz, saying he wouldn't fall for their selling tactics, and just liked joking around.  I had to laugh when he walked out of one shop with two new, totally useless, souvenirs.  Hey dad, have you used your antique scarf pin yet?
Routines and Road Conditions
Routines and Road Conditions
Conscious of dad's lightening wallet, we hit the road again, stopping later for a roadside picnic.  Those lunches, of salad and bread and cheese, would be taken leisurely in a quiet, flat spot accessible from the main road.  This has always been an integral part of Bruno and my routine, and I think it quickly became a much-beloved part of our group's daily tradition – a tradition which also encompassed early-morning breakfasts and an early start to the day, and evening dinners inside their camping car followed by guide-book reading and card games.
After lunch, we pulled back onto the main road, our vehicle in front.  My parents' camper fell behind; we assumed they'd slowed down or stopped to take a few photos.  We waited a few minutes and, when their camper came into view, we continued toward Ouarzazate.
It was much later that we learned that they'd been in a minor accident.  Many secondary roads in Morocco are narrow (narrower than single-lane roads back home) and lack dividing lines.  When there's oncoming traffic, it's necessary for both vehicles to move their right wheels off the tar and onto the gravel.  On this particular stretch, we'd noticed that oncoming vehicles weren't upholding their end of the bargain, and Bruno's four tires were often forced off the tar.
It appears my dad was sick of being pushed off the road (it's admittedly harder for his vehicle to pull back up onto the tar than for our 4WD).  He decided to play chicken with an oncoming vehicle – and he lost.  The other vehicle was already practically falling apart, and Moroccans often drive with the attitude of Incha Allah (that their fate lies in God's hands), so the other driver thought nothing of crashing into a vehicle twice his size.  He stepped out of the vehicle, put his palm out, and asked my parents for money.  Thankfully my parents held their ground, but I cursed myself for not being there to help them out of such a sticky situation.
No policemen would be called, no official accident report made, and my parents' car insurance would be useless, though their damage deposit would now be in question.  Thankfully the accident had happened at about 10kmph, so Bruno was able to repair the side-view mirror and dad spent the afternoon rubbing off as many paint smudges as possible.  There was still some minor damage, but things could have been much worse.  (It ended up costing them about $100).
Indeed, driving in Morocco isn't easy, both because of other drives and the road conditions.  A few days later, while driving down a new divided single-lane road, the tarmac ended abruptly, and a very bumpy gravel piste took its place.  Had we continued on that road, all the screws fixing their bed and drawers in place would have come undone, so we tried driving on the side of the road.  But, between the sand (we were now approaching the desert) and the uncomfortable angle between the road and the roadside, the women felt nervous enough to turn our group around and find an alternate route to the desert.  Such is driving in Morocco.
Fatima and the Skoura Oasis
We spent a night at the edge of the Palmeraie de Skoura, a Unesco-protected oasis of 1,000 palms.  The men were kasbahed-out, so mom and I ventured to the Amridil Kasbah, feature on the back of the Moroccan 50 dirham note, without them.
There we met Fatima, a local woman and descendant of the Kasbah's original family.  She spent the next three hours with us, teaching us about the kasbah, traditional life, and the palmeraie.  We learned so much from her – that all kasbahs are several stories high, with the animals and kitchen lower down and the living quarters up high; that the empty space in the center of the kasbah was a communication tower between levels; that dried courgettes used for storing rose water helped even the ugliest of women keep their husbands happy; that traditional walls were made by a layer of rock behind densely-packed mud and straw bricks; that the dry squat toilet in the kasbah allowed excrement to drop to the bottom floor, where it was stored until olive flowers bloomed and then used as fertilizer.
Fatima even took us into the palmeraie, where she told us of plants that had medicinal properties, those that replenish the soil, those you can and can't walk on, those used for fodder, how date trees are fertilized, how olives are processed, and how burning a palm tree combats a deadly palm fungus called Bayoud disease.
Fatima was so interesting, so knowledgeable, so intelligent, and so passionate about her village.  She's divorced her husband, raises and supports her family alone, and still finds time to work with the Women's Association in her village, helping to uplift and empower women in her community.  I rarely opt for a guide when I visit a place, but Fatima helped me understand how profound an experience can become with a knowledgeable guide.  I would love to see more female guides in Morocco.
Gorges are Gorgeous
The next two days were devoted to two infamous gorges cut into the High Atlas Mountains.  Originally, I'd only planned to bring my parents to one (since both were detours on our way to the desert), but we couldn't chose which one to visit.  All the locals I asked urged us to see both, that they were different from one another and both worthwhile.  We're glad we listened.
My parents have always loved driving around pretty places; since these gorges were all about the views, it was a well-liked step in our itinerary.  The road in the Gorge du Dadès takes you up a series of crazy hairpin bends that are listed in the world's most dangerous roads, but even though mom was incredibly nervous, she admitted later to enjoying Dadès most because of the bends.  I especially loved the rock walls – the red hues were gorgeous, especially near sunset, and the shapes in my favorite section looked like molten lava.  Our campsite offered us a perfect view of these rocks, so we took advantage of the site to climb up hills and then have a dinner at the restaurant, warmed by the chimney fire.
Unlike the birds' eye view leading into the Dadès Gorge, the Todgha Gorge offers views from the bottom.  The narrow gorge section itself is longer than the Dadès, but also more touristic.  We dropped one camper off at a campsite in a palmeraie and drove the rest of the gorge in one vehicle.  I loved getting to share impressions of things we were seeing in real time with my parents.  The flora here was more tropical, there were more ksars and palmeraies, and the women wore unique white sheets draped around them like togas.
Into the Desert
As we drove further from civilization, I became more and more aware of the subtle differences in dress from one village to the next.  I also became hyper-aware of how little fresh produce there was.  Food was much more basic and scarce here, and I hadn't anticipated this since I'd been able to find supermarkets and exotic fruits everywhere in Morocco so far.  I hadn't experienced a food scarcity in over a year, and with four mouths to feed it took a certain amount of creativity to make our salad veggies stretch.
Morocco's desert doesn't look like what most people picture in their minds.  It's actually not even the Sahara per se – at most, it can be called the gateway to the Sahara.  Instead, Morocco's desert is a hammada, a desert of rock and stone.
It still has camels, though!  When mom and dad first spotted them along the side of the road, they got pretty excited, and we had to stop the car to do a major photo session.  Even though camels aren't wild animals, they are pretty shy, and will walk off slowly if you approach.  Mom ogled over their long eyelashes while Bruno explained that Africa's camels are, in fact, dromedaries because they have a single hump.  You have to go to Mongolia to see the two-humped camels we all associate more with camel-ness.
We arrived in Merzouga, the final destination of our group camper van tour.  By this point, my parents had decided to extend their two-week camper rental a third week and head north to a few other sites my mom wanted to visit.  Bruno and I couldn't accompany them because a friend of mine would soon arrive from New York for her own camper van adventure with us.
Dying Days on a Dune
But, Merzouga was the perfect place to end our grand tour, for it is on the edge of the largest erg, or sand dunes, in Morocco.  Here was where the four of us would get our taste of the Sahara.  And, here is where my parents would experience the other side of our lifestyle – the "stay-in-one-place, no-plans-today" lifestyle.  Up until now, our travel and tourism schedule had been pretty packed, the pace had been much faster than what Bruno and I keep.  In Merzouga would be a chance for my parents to experience the mundane, everyday part of camper van life.
And that's just what we did.  Settled for four nights at the Haven La Chance campsite, we did things like cut our hair, yoga, and give ourselves pedicures, all in view of the fabulous Erg Chebbi dunes. Sometimes we walked around them; other times we climbed a mini-dune and watched the sunset.
And once, we even went on a sunset camel ride in the dunes.  Two friendly, almost-toothless, turbaned Berbers showed up with four frothy-mouthed dromedaries.  We mounted the kneeling camels, then held on tight and shifted our balance back and forth as they stood awkwardly up. Mom giggled, dad sang songs with the Berbers, and we all learned a few new vocabulary words.  We zigzagged around dunes, rather than climbing up and down, and our Berber guides walked beside us, holding the camels' ropes tightly.
The path we used was well-trodden.  Erg Chebbi is so accessible that camel rides – for sunsets or to overnight desert camps – are incredibly popular.  The camel tracks, at least, were charming additions to the erg – the same can't be said for all the tracks of footsteps, motorbikes, quad bikes, and 4WD vehicles.  Up on a tall dune, overlooking the erg, I could see nothing but sand in every direction but the one we'd come.  The dune was, in fact, bigger than I'd imagined, but the feeling of solitude and peace that one expects when one ventures into the desert was definitely absent.  The four of us watched the sunset – our penultimate – and were back at our camper vans within thirty minutes.
On the morning of our separation, our two vehicles followed one another for the first 30km or so.  At a T-junction past Rissani, we stopped on the side of the road.  Our vehicle would turn left, and my parents would continue straight.  I gave them last-minute advice and reminders that made me feel like a mother sending her children off to their first day of school.  Bruno and I had taught them what we could – now it would be up to them to navigate the roads, vehicle, campsites, and towns up north.  The four of us had had a camper van adventure to remember – and now the two of them would have one of their own!