I'm sat in my own bed. I have clean hair and shaved legs. The cats are sat, purring, at my feet.All is calm, all is quiet.
Alex left Zimbabwe today to return home. Our trip is over, work has started again. Life is back to normal. What a strange feeling, that after almost a month of adventure and discovery, life can return to the way it was before.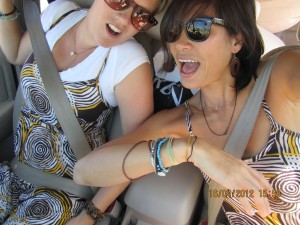 Yet something is indeed different. An attitude toward Zimbabwe, a perspective has changed. Somehow, by having Alex here, I see Zimbabwe in a new light. Perhaps it's the fact that Alex thought the farm was spectacularly beautiful. Or that she waved enthusiastically at everyone we passed. Or that she learned a few words of Shona to communicate with people.
Or perhaps it was also our adventure to the deep corners of Zimbabwe. For we got to roadtrip and camp around Zimbabwe for 8 days, and it was grand.
Our adventure began last Monday morning at the crack of dawn. We packed up the viggo, which my boss graciously allowed us to use for our trip. Inside the truck were all the things we would need to camp in the wild – a tent, blankets, mattresses, bug spray and mosquito coils, a gas canister, torches and batteries, candles, a guitar, jugs of water, and masses of food (we are both happily big eaters). Once packed, we departed, picking up the cousin of my neighbor, Roland, in Harare. Our drive that first day was 600km long and took 8 hours. Even though the speed limit is generally 120kmph, the lorries, single-laned highway, and frequent tolls and police roadblocks slow down the pace of the journey. We drove through such towns as Kwe Kwe, Gweru, and Bulawayo, before reaching our day's destination – Roland's brother, Wayne's house, some 40km west of Bulawayo, on a vegetable seed farm. Exhausted, we all hit the sack after a few drinks, a bite to eat, and a chat, and Alex and I were up with the sun and on our way to Victoria Falls.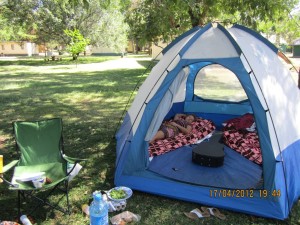 This time, the drive was easy, and the 400km took 5 hours. We reached Victoria Falls by noon, found our campsite, pitched our tent, made a quick meal, and explored the town! Victoria Falls is the only truly touristy town in Zimbabwe, and offers an incredible array of activities for the tourist with money. From canoe trips and white water rafting to bungee jumping and helicopter rides, elephant rides and lion walks to sunset cruises and game drives, Victoria Falls offers something for everyone's taste – or, for someone like me, tooooo much to choose from. Alex and I shopped around, found the best deal, and opted for three activities – white water rafting, a half day of adrenaline activities, and a sunset boat cruise.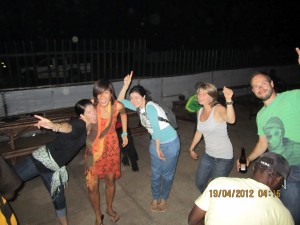 First up – white water rafting. During the dry season, the Zambezi River offers one of the most dangerous rafting trips in the world. In April, however, it is much calmer. This suited me just fine, as I hadn't rafted since I was 8! We were picked up at our campsite and driven in an open-air truck to the meeting point, where we were given a safety demonstration before driving to our site. Since rafting is a team activity, I was happy to see a group entirely composed of youngsters, mostly guys. Our group, the "Who-has!" (named by Alex, of course) was chosen and we embarked on the steep, challenging descent down the gorge to reach the water. By the time we reached the bottom, my legs were quaking – and they would subsequently ache for 3 full days because of that descent!


After learning a variety of important commands from our captain, JB, we were on our way. And for the next two hours we proceeded to float, row, tip, crash, scream, get wet, laugh, and gaze in awe at some of the most beautiful scenery I have ever seen. At times the water was scary, but mostly it was fun and exciting. Our team bonded, often shouting our cry – Who-ha! – and high-fiving one another with our oars. In calm areas, we jumped in the water and floated lazily down the river. Once we even hijacked the other team's boat; once, we had a massive water oar fight. I didn't want to get out of the boat, not least because it meant having to climb back up that hideously steep gorge. The only thing that propelled me forward was the thought of a hot lunch at the top and the spectacular view I got every time I stopped for a breath.


Next up – half day adrenaline activities. This activity was chosen by Alex, and I was none too pleased when she chose it. The package comes with three activities – the Flying Fox, the Zip Line, and the Gorge Swing. I was quite happy to do the first two, but the Gorge Swing was another matter. I had seen a video, and I knew that it was essentially a bungee jump. Eek! Thankfully, we did these activities early enough in the morning that I was still half asleep, so I made my way quite calmly through each activity. The Flying Fox was great – you are strapped into the harness from your back and you jump off a platform headfirst like Superman. You are propelled at 15kmph for 200 meters over the Zambezi gorge, just 400 meters after the massive Vic Falls. I felt like a bird! The Zip Line was even more thrilling – at speeds of 100kmph and a distance of 450m, it was the fastest zip line I have ever done. Awesome! By the time we were up for the gorge swing, I felt quite relaxed as I'd worked my way up to this level of adrenaline. Alex and I were strapped in together so we could do the swing tandem. The harness is strapped in at the waist, shoulders, and stomach by a rope which is anchored some 200m away, over the gorge. You stand at the edge of the platform, count to five, hop off the platform and freefall down into the gorge before being swung several times. Thank goodness I didn't look down! The moment I stepped off the gorge I was trying to brace for something that would stop my freefall. Obviously, there was nothing to grab onto but Alex, so we held each other until the fall was over and the swing began! It felt like we had been falling for ages, but it was probably only 2 seconds. It was incredibly exhilarating, and I am so glad Alex made me do the Gorge Swing, but I certainly don't feel the need to do it again any time soon!


Last but not least – the sunset boat cruise on the Zambezi River. We got incredibly lucky and only had 5 people in our big boat, so we were able to keep changing seats according to the animals we were viewing and the sun set. Equipped with appetizers and cold drinks, we saw a crocodile, several hippos (including one that was 2 meters from the boat!), a herd of 10 elephants with babies grazing on the island in the middle of the river, and a breathtaking sunset. I was so happy we got to see animals, especially because Alex had come to Zimbabwe with the goal of seeing as many African animals as possible.
In between all the activities, we got to make friends with locals and tourists alike, be absolutely soaked by the Victoria Falls, watch people bungee jump off the bridge 100 meters from the Falls, cross into Zambia for a beverage, and attend an Independence Day party. All in all, I didn't really want to leave Vic Falls, as it was the first time I felt like a real tourist in Zimbabwe, and I liked it! At least we were headed to Hwange National Park!


I must pause now to mention how lucky Alex and I were to get to do this trip in our own car. Had we not had the vehicle, it would have been very difficult to get from the main road to the National Park headquarters, and it would have been incredibly costly to do the game drives. In the 2 days we were at Hwange, we did 4 game drives, and all it cost us was a quarter tank! We did two evening drives, one sunrise drive, and one mid-afternoon drive. All of them were wonderful and we saw loads of animals – zebra, giraffes, crocs, hippos, buffalo, wildebeest, elephants, antelope, and warthogs. The highlight was probably the herd of 70 elephants that came to drink at a waterhole 20m away from our platform. We watched them drink and play for almost an hour before they wandered off! The only animals that eluded us, unfortunately, were the big cats – lions and cheetahs. It would have been great to see those animals, but it was still a great trip!
On our way out of Hwange, we visited the Painted Dog Conservancy, a place which educates, rescues and reintroduces the endangered wild painted dog. I learned a lot about these fascinating creatures and saw a few of them that were being treated before being released. It reminded me yet again of the terrible influence humans have on animal survival – it is due to humans (poaching, road accidents, habitat encroachment…) that these animals are endangered; and yet, most of us go through our lives without thinking off all the creatures we negatively affect.


A three hour drive took us to Wayne's house again, where we spent the night engaged in fascinating conversation, which ought to be the subject of another blog entry, I think. The following morning, we drove 3 hours to Rhodes Matopos National Park. This park is quite a bit smaller and wilder than Hwange – not wilder in the animal sense, but wilder in the sense that the roads are terrible, the facilities quite basic, and the bugs incredibly pesky. This park is famous for its balancing rocks (very cool, as you get to play the "guess that shape" game that people usually do with rocks), ancient cave paintings, high leopard population, and one of the last strongholds of the black and the white rhinos. Alas, we didn't see any of that! We searched for the cave paintings in vain, climbing rocks and following dead-end paths for hours. We went on two game drives, including a guided walking tour, in search of these elusive and rare animals, but we hardly saw anything at all. If not for all the poop on the ground, I would have though the park was empty! I guess we were indeed lucky at Hwange! Despite our fruitness searches, it was neat to see a different national park and a unique Zimbabwean landscape.
Yesterday, we drove 9 hours to reach the farm. We arrived here late, made a quick meal, exchanged photos, and passed out. And before I could even gather my thought, Alex was gone. All that is left are the memories we created (complete with loads of pictures) and the fresh attitude Alex has left me with here in Zimbabwe. Life on the farm can, at times, be lonely and boring, and I often find it difficult to connect with the people around me. Yet Alex, with her energetic openness and curiosity of a child, made me feel that Zimbabwe is a place with so much to offer and so much more to see, and that I am lucky to be here and be able to discover it. Thanks, Alex!