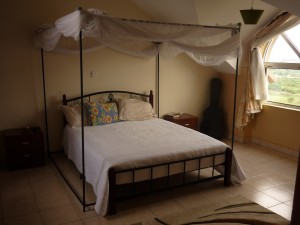 It's hailing outside.  A strange phenomenon to witness in Africa.  But it's all good, because I'm safe and cozy in my new home in Kampala.  And what a home it is – it must be the largest space I've ever lived in as an adult.  Three bedrooms and bathrooms, living room, full kitchen, garden, and private parking space.  Need I extend personal invitations to you all?
Anyway, I am getting a bit ahead of myself here.

 

Let me start at the beginning.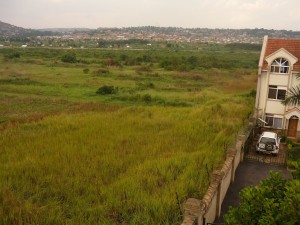 I have been in Kampala for almost two weeks.

 

I was picked up at the airport by my employer and whisked off to my home in a safe residential-complex only 5 minutes from school.

 

We are quite far from the center of town (12km), which gives this area a village feel.

 

Chickens, goats, and cows roam the streets.

 

There is a huge valley-like swamp all around me, and just beyond, the edge of Lake Victoria.

 

It's nice because most of the time, all I can hear are the birds that play in my garden.

 

But, of course, being far out of town means I am far away from the conveniences of town, like shopping centers, supermarkets, and restaurants.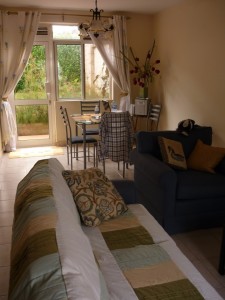 It took me more than a week to begin venturing out of my area alone.

 

The first week, I was intent on getting my home up-to-snuff for Bruno's arrival, as well as organizing things like internet, cell phone, and electricity.

 

And of course, my primary focus since I arrived has been working.

 

The school where I will be working as a grade 5/6 teacher is brand new, opening its doors for the first time on September 3

rd

.

 

This means that there is a lot of chaos and commotion at the moment, and that things are far from organized.

 

I have spent the last ten days trying to locate furniture and resources for my room as well as figuring out which curriculum we will be using and which themes I will be teaching.

 

Oh, and did I mention that we are doing all that without a principal or vice-principal?

 

They don't arrive for another week or more…
So far, I am one of four foreign teachers that has arrived.

 

There is another Canadian around my age, a Scottish woman, and a British woman.

 

All are very nice, have interesting and varied teaching experiences, and have spent several years in Africa.

 

Two more teachers arrive over the coming weeks and I look forward to meeting them as well.

 

So far, I am very happy with my teaching team and I feel that we will all work well together.

But you don't want to hear about work!

 

You want to hear about Kampala, obviously!

 

I must say, I was whisked into town several times last week by the school driver to run errands.

 

We were always in a dire hurry, so my impressions of Kampala are primarily of its traffic, fumes, chaos, and shopping malls.

 

However, in the past few days, I've begun to get out, to walk around the markets in my area, and to take public taxis (minibuses) into town and around.

 
Yesterday, I went into town by public taxi with the British teacher (Debra) and we went to a big fruit and veggie market called "Nakaseru Market", bought ourselves maps of the city, and had lunch at a little café.

 

Today, map in hand, I felt confident enough to take a public taxi to one of the close-ish groceries (none deserve the adjective "close") and back home.

 

Success!

 

I made it in one piece!

 

Ok, I admit, on the way to the grocery store, I was forgotten by the driver and he was almost in town by the time I realized I'd been forgotten and announced to him such.

 

But other than having to go all the way into town before coming back to my area and going to the correct supermarket, it went well.

 

People in Kampala are really friendly, generally helpful, and very laid-back.

 

All the locals I've met so far have gone out of their way to help me – whether it was to give me directions somewhere, to organize transportation for me, to show me around town, or to help me get my internet or phone working.

 

One teaching assistant took me to the local market to make sure I didn't get ripped off, and another took me to a local restaurant to try my first Ugandan food. (FYI, Ugandan food is like other typical African food, with the maize-meal ball, spinach, and beans, but it also has something called "matoke," which is plantain cooked and mashed.

 

It's really yummy!)
The traffic is indeed horrendous in Kampala, with minibuses ("public taxis") and motorcycles ("boda-bodas") aggressively plying the roads.

 

You certainly won't see ME driving here any time soon!

 

And although Kampala residents are known for their late-night, bass-heavy partying, the city isn't as dirty or as large as many African cities.

 

I look forward to getting to know it a little bit better once Bruno arrives, but for now, I better get back to work!