Disclaimer:  The following blog entry contains several photos of Bruno and Brittany looking really, really happy on the road, such as the photo that follows.  The authors will not be held responsible for ensuing depression or suicidal thoughts of reader.  Proceed at your own discretion.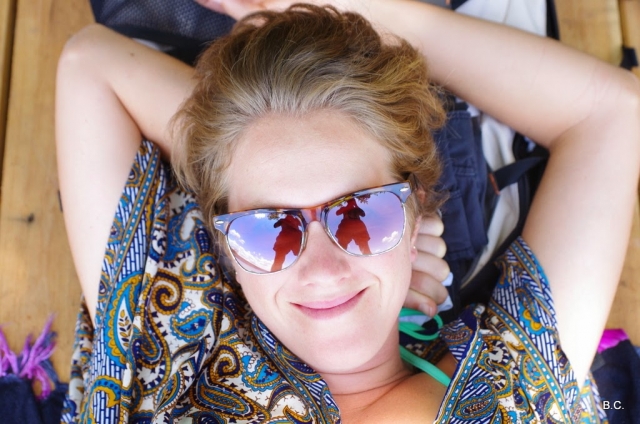 "…If there is a wider purpose to our life, it is to understand the world, to seek out its diversity, 
to celebrate its heroes and its wonders – in short, to witness it

."
– Philip Marsden
The calm before the storm affords me a moment of reflection.
The calm is, ironically, an airport departure lounge.  Despite the bustle of transiting people and loudspeakers blaring jumbles of numbers and names, I steal a moment of solitude here before the downpour.
My airplane, which arrives soon, will take me firmly into a tempest of visits with family and friends, more people and conversations packed into five weeks that I've experienced since the beginning of the year.  In a single day, I will be thrust into a world with reliable electricity and fast internet, calm and order, wide spaces and a big home, cleanliness and whiteness.  My airplane, which arrives soon, will take me into a tornado of modernity after an unbroken year of A.f.r.i.c.a.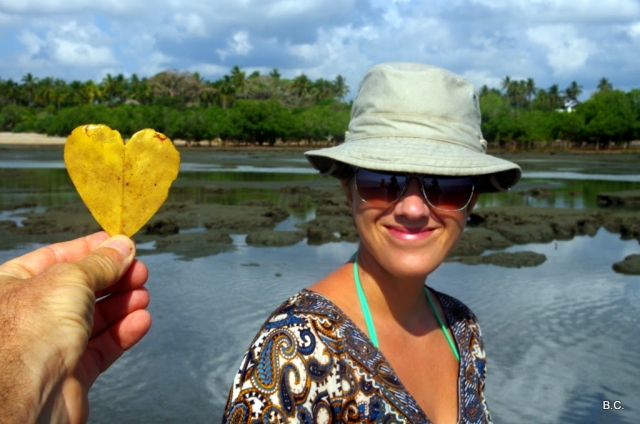 Walking along the mangroves off the coast of Tanga, Tanzania.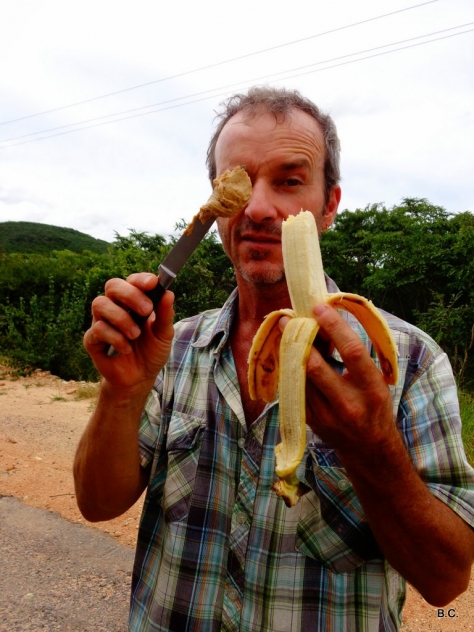 After a skype conversation in which my father professed the many virtues of peanut butter,
a certain skeptical Frenchman decided to give it a try.

Trying nsima made from wheat (rather than the usual maize) in Burundi.
There's little doubt as to why I'm taking this private airport moment to organize my thoughts.
This past year has brought me a whole lot of firsts.  First time in East Africa, first time living in a camper van for over half a year, first time traveling, uninterrupted, for so long.  first time being away from Canada for so long, first time on an airplane in over a year, and first time not going on an airplane for over a year!
As such an experienced traveler, you wouldn't think all these things would be the case.  But 2014 has truly marked the beginning of a new travel style for me – one as an overland tourist rather than an expat.  Though I sampled the camper van life last 
for over five months last year
, I'm now totally in the groove of it, and I've accepted that 
I am officially a camper van denizen
.  I expect many more firsts to come out of this change in travel style over the coming years of travel.

Staring at black and white colobus monkeys in between dips in the Indian Ocean at Kenya's Tiwi Beach.

Yoga session along the bank of the Nile River, near Jinja, Uganda.

Bringing the yoga balance to Kenya's Lake Naivasha.
If I haven't explicitly declared it before on my blog, I love this way of life.  The freedom, the simplicity, the variety.  The fact that we can live by our values, put our money into local economies, and live in a more ecologically-friendly way.  The perfect marriage between the excitement of travel and the comforts of home.  The time to create memories and to appreciate the beauty of the world.  The active seeking of cultural understanding and peace.
But especially, I love this way of life because of the education it affords me.  The process of discovering a new place, making sense of it, and developing a view of it based on personal experiences and observations is the fullest and most meaningful of educations I could possibly receive.   I'm constantly stimulated and inspired – I think the slew of blog entries this year proves that – and it's so satisfying to know it's all because of the camper-van-wandering-traveler lifestyle I've chosen to lead.

Munching on popcorn and beer while I wait for my chipsi mayai, at a local bar in Tanzania's capital, Dodoma.

Bruno getting up close and personal with a chameleon.

Me getting up close and personal with a chameleon!
It wasn't any one thing that turned me off the region – it was a lot of little things that slowly began to get to me.  The fact that the region is massively overpopulated, making villages and towns polluted, dirty, crowded and uncomfortable.  The fact that much of the worthy sites were expensive and thus off-limits to us.  And the fact that, no matter where I went, I couldn't shake off my mzungu persona – being a white woman followed me everywhere and tainted most of my interactions with local people.

Sunning myself to ward off the cold mountain air of Western Kenya.

Stopping for a quick lunch while on the road.

All the animals in the campsites want my love!
When Bruno and I toured around Southern Africa last year, I enjoyed it, but I didn't truly appreciate it at the time.  Now that I've spent a year in East Africa, I know that the wide open spaces, affordable safaris, and relative color-blindness of Southern Africa makes the place special.  NowI appreciate and love Southern Africa.
And that's the thing – you don't have to fall in love with each place you visit in order to have gained something from travel.  Sometimes 
the most memorable travel experiences are the ones full of difficulties, discomfort, and distaste
.  Just because I didn't love East Africa, that doesn't mean that I didn't enjoy these past few months (because on the contrary, 2014 has been the best year ever).  To have experienced this region, to have created memories, to have learned about the people, the culture, the food, the history and the landscape, to have developed perspective – 
to just go
, in other words, is what travel is all about for me.

Waiting for the sunset over Mt. Kilimanjaro at Lake Chala Crater Lake, Tanzania.

Tip for successful cooking at the coast: Use an umbrella to ward off coastal wind.

Bruno driving.  And wearing every hat he owns.
Mosques, Islamic dress, and the call to prayer.  Custard apples, chipsi mayai, and rolex.  KiSwahili.  Rift Valley lakes.  Colonial history.  The Kikuyu, the Maasai, and the Buganda tribes.  African metropolises.  Matatus and boda bodas.  Markets bursting with exotic fruits and locally-grown vegetables.  Like squeezing a lemon into a cup of herbal tea, the distinctive flavor of East Africa was immersed in me.  On its own the lemon is bitter, but fused into the tea, it adds a bit of je ne sais quoi.

Checking out the coffee at Mbeya, Tanzania.

Descending Kenya's Mt. Longonot was no easy feat!

Mmmmm…. Custard apple.  My favorite!
Yep, I'm better for having been to East Africa.
The loud speaker is shouting out flight numbers and boarding calls, but I have awhile to go.  My thoughts inevitably turn to the place my airplane will take me.  A place with hot showers and ultra-clean toilets within easy reach.  A place with a gigantic fridge stocked with delicacies I've only dreamed of this past year.  A place with a beach at least as beautiful as the ones I've sat upon this year.  A place filled with familiarity.  And best of all, a place filled with love and friendship.

About to dive into my birthday Belgian- chocolate bar, purchased in Kigali (where else?).

The one and only time I filtered our drinking water…

Tasting delicious rice and coconut cake with spices, made by a local coastal Kenyan woman.
I appreciate the place that the plane will soon transport me to especially because of the year I've had.  Yep, I'm better for having spent the year in East Africa.
Though I'll miss my sweet Bruno, I feel ready to move on.  So long, for now, Africa of the East.  See you again in October for the start of the next leg of our overland trip around the world!

Bruno finally giving me my wedding ring.  Made of Rwandan grasses.  Exotic.

Being goofy in Uganda.

Being romantic, in love, and happy on a sunset boat cruise on my birthday, on Rwanda's Lake Kivu.