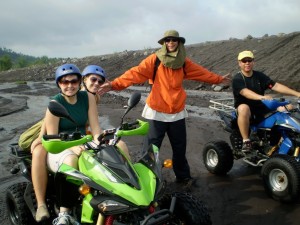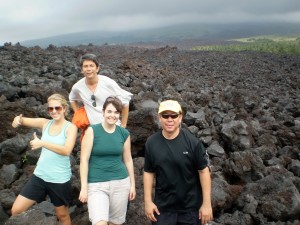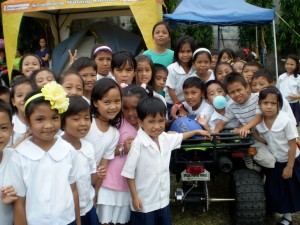 For my October holiday, I went to the Philippines with Erin. We contemplated going to the traveler's enclave that is Boracay, but in the end opted to head off the tourist track. We went to Southern Luzon, to Legaspi and the Caramoan Peninsula. A very interesting week, it was!
The first highlight was the town of Legaspi, with its beautiful volcano. Unfortunately, the weather wasn't cooperating, so we could only see the base of Mt. Mayon. Luckily, we met some local politicians who took us under their wing. They took us on ATVs, plundering through rivers and over hills to reach the base of the volcano, whereupon we hiked up lava rock that still smoked! The landscape atop this lava rock was like that of Mordor in the Lord of the Rings. Very creepy.
The second highlight was in the Caramoan Peninsula, where we camped for two nights on a deserted island. There is no tourist infrastructure in this area, so we had packed a tent just in case. It sure came in handy. It was glorious! We were taken on a local boat to this island at 9am, dropped off with food and water for the night, and the boatmen were off. We put our food under the shade, and started enjoying the beautiful day. We read, we swam, we napped. The water was gorgeous and no one was there, it felt like OUR island. Later we set up the tent, cleaned ourselves off, and feasted on the fish and shrimp the local hotel had packed for us. It was fark by 6pm, but we had a fire so we were quite happy to sit by it and watch the stars. Can you imagine two nights like this? Paradise!!
But the Philippines is a strange place. I can't quite put my finger on it. It's like, we are in these poor, rural areas, but there's American music everwhere. People were so nice, but their mentality was so different from mine. I enjoyed my trip, saw beautiful landscape, and had an interesting cultural experience, but food was so non-veggie-friendly and travel was so difficult between islands, that I'd probably not go back. Oh well, why would I when there are so many other places to see?