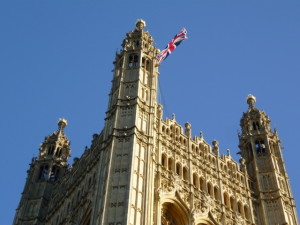 Just like our England trip, this blog has been broken up into two entries.

This one focuses entirely on our week – yes, one WHOLE week ! – in London.

And a mighty full week it was !

On my previous two trips to London, I took advantage of every single free moment and filled my days to the brim.

I didn't expect to be able to keep this pace up with mom, but my goodness has that woman got energy !

Either she was being a trooper or she was having too much fun to notice her aching feet or the freezing cold, rainy, damp, horrible London weather !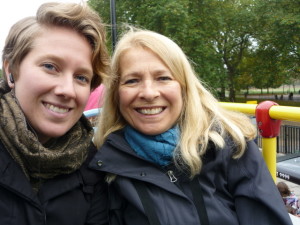 Like any well-organized trip to an important city, one should always begin with a bus tour.

This orients you geographically and shows you a little bit of everything, so that after you can choose which areas you like best and want to return to.

After our London bus tour, I asked mom which areas she liked and wanted to explore more – with a frazzled look, she replied, « Um…. All of them ? »

Those of you who know London know how MASSIVE it is, so seeing « all of it » is near to impossible.

However, I must say that we did pretty well !
–
The changing of the guard and St. James Palace on a walking tour
–
Regent Street and Oxford Street – Selfridges department store, among others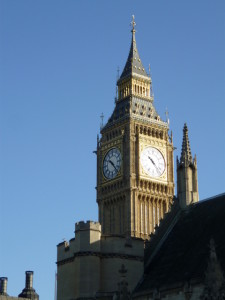 –

–
Covent Garden
–

–
Soho and the West End (where we saw not one, but TWO musicals – Billy Elliot and
Singing in the Rain)
–

–
London's most famous Jazz Bar, Ronnie Scott's (where we saw a great modern piano jazz trio, the 'Bad Plus')
–

–
Knightsbridge, museum strip, and Harrods
–

–
Hyde Park and the Kensington Palace Gardens
–

–
Brick Lane (infamous for its curry !)
–

–
King's Cross (Harry Potter's 9 ¾ platform)
–

–
Little Venice and the Camden Locks on boat
–

–
Camden market and Hampstead Heath park
–

–
Tate Modern Art Gallery

–

–
South London on the double decker bus (Brixton and Streatham)
Phew, that list just exhausted me !

Can you believe we did that in a week ?

No, scratch that – 6 days , as our last day was spent in Oxford !

I told you mom was like the energizer bunny ! I certainly hope I have as much energy as she does when I'm… errr… well, older.
I could go into detail of exactly what we did and saw at each of the sites I listed, but that would go on for ages – it filled 10 pages in my diary, and I was being brief !

So instead, I just want to say that I had an unforgettable time with mom on our trip to the UK.

We don't get to travel together often (the last time was 3.5 years ago in Thailand) so it was so special for me to be able to experience this place with her.

And it feels soooo good as a daughter to know that I helped to make this trip possible, that I am responsible for helping to create these mother-daughter memories.

What's the best memory that I'll take away from this trip ?

There are many, but the one that stands out right now is when mom and I went to eat japanese food.

I ordered edamame beans after apparently telling mom for the umpteenth time how much I love it.

I asked her if she wanted some (assuming she'd tried it before, since she seemed to be familiar with this legume).

She grabbed an edamame pod while I continued scarfing down my sushi.

A

moment later I looked up at her, and she had a sour, confused, and midly disgusted look on her face.

It turns out she had eaten the edamame, pod and all.

Classic !

Love you mom and miss you tons !
Buckingham Palace and the Changing of the Guards




Curry Lunch at Brick Lane

Kensington Palace Gardens


Tower of London

Little Venice (cold and rainy field trip day!)


Hampstead Heath


Fish and Chips with the LARGEST plate of chips I have ever seen (and a free bottle of wine if you buy two mains – best London deal?!?)


Oxford!