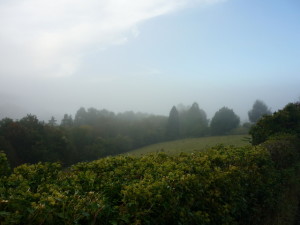 The past two weeks have made my decision to come back to the farm completely worthwhile. For I got to host my mom in London ! The family I work for traveled to London again, but they only needed me for 4 days of work out of the two-week trip, for they were going to Switzerland and Austria without me. So, I asked them if my mom could stay at their home in London and they graciously agreed ! This was absolutely wonderful news, as London has been on mom's bucket list for years, and here she was being provided with an affordable way to see it !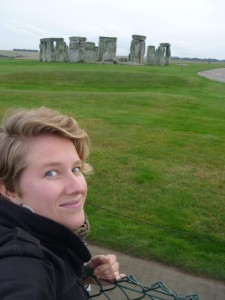 Mom arrived on a Friday afternoon so that we could take advantage of my weekend off together, even though she wasn't due to move into the London home until early the next week.

We decided to head to the countryside first, since I hadn't gotten much of a chance to see the UK outside of London.

We chose to see Bath, Stonehenge, and the Cotswolds, as they are « must-see » sights within a close distance of London.

We opted to rent a car to afford us the freedom of seeing the sights we wanted to at our leisure.

This proved to be a good option once we got over the roundabouts and a completely useless GPS !

Although, to be fair, because of « Sarah » (as we « fondly » named her), we did get to see a fair bit more of the countryside, including loads of small villages and minuscule hamlets, and a LOT of back-country roads.

It just took us a little bit longer to get everywhere (I'm being nice here).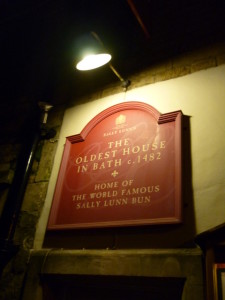 Once we finally arrived at the village of Melksham (12m from Bath), we checked into a little bed and breakfast.

I haven't stayed in a room this nice in a LONG time – but then again, wanderingfootsteps readers would know that this isn't saying much.

Nonetheless, it was a little bit of luxury for me, and mom and I loaded up on our full English breakfasts.
Our first meal out together was at a lovely, cozy English pub.

Over pints of beer and cider, we feasted on fancy pub fair (not an oxymoron!) and bounced from subject to subject, so excited were we to see one another.

Lovely beginning to the trip.

The next morning, we headed into Bath, an ancient Roman city with an interesting history due to its warm spring water.

We joined a free city walking tour, where we learned about the various historical uses of this spring water, including for medicinal therapy and as a leisure spa town for the upper class.

History has left its imprints on this town, as the buildings here show their age in their quintessentially Roman architecture.

In the afternoon, we spontaneously decided to drive to Stonehenge – see what renting a car can afford you?

It was less than an hour away, so said the tourism bureau.

« Haha », scoffed Sarah, as she took us every which way but the right way, bringing us FINALLY to Stonehenge a mere 15 minutes after it closed.

Needless to say, our experience of seeing Stonehenge from the other side of a metal fence was not exactly spiritual or romantic, as I was expecting.

I did, however, manage to climb the fence, and with one hand holding on, I snapped a fence-free shot of myself with Stonehenge behind.

Mom, unfortunately, was not quite so agile!

In search of warming our bodies and spirits, we headed back into Bath for dinner.

We dined at Sally Lunn's, housed in the oldest house in Bath (1482) and home of the famous original Bath buns (essentially a roll with a lump of sugar inside and currants sprinkled on top).

Another successful dinner!
I think I was most excited about Sunday, our Cotswolds day.

On this day, I was so thankful for our car, because it allowed us to visit some small villages that sounded interesting but may not have been on an organized tour list.

Fabulous mom prepared an itinerary for us based on her research and the map that two English strangers had given us after taking pity on our hopeless search for Stonehenge.

We departed bright and early and so got to visit 6 villages that day – Lacock, Castle Combe, Bourton-on-the-Water, Upper Slaugter, Lower Slaughter, and Stow-on-the-Wold.

All of these villages had something special to boast – for example, Lacock houses a famous abbey that was in the Harry Potter films (the hallway scenes – you know, the beautiful hallway with high ceilings and gorgeous arches), and Bourton-on-the-Water is nicknamed « Little Venice » for its rolling brook through the center of town.

But my two favorites were Castle Combe and Stow-on-the Wold.

Castle Combe exhibited the charm I'd imagined English villages having – tiny old homes with gorgeous doorways, an old church looking over the town, cobblestoned streets, and an open center square in town, all surrounded by lush, green, English countryside and rolling hills.

And Stow-on-the-Wold had that same charm but on a larger scale – as a fairly large town with not one, but TWO churches and a large square (on that day hosting an Italy Food Fair), it was fun to wander down the streets and smaller alleys and look into the shops and restaurants.

Unfortunately, mom and I had to part ways on Sunday night – myself for London to work, and mom to Chipping Campden, another Cotswold village where she would spend the night and the following day before she drove herself back to London. See you on Monday evening mom! London, baby!
A few pictures of Castle Combe – you see why mom and I liked it so much!





And one of the Lacock Abbey, where Harry Potter scenes were filmed