I've been learning that America is truly beautiful.
I'd collected evidence of this last winter, when I visited my first two American national parks, Petrified Forest and Saguaro National Park (where I wrote Part I of America the Beautiful).  I was reminded of America's beauty just recently, when our friends, Sharon and Glenn showed us around Sedona, Arizona, and the surrounding area.
But I learned it, without a doubt, during our recent road trip north, when we stopped in a few very beautiful, very grand, national parks – so grand, in fact, that two of them earned the word grand in their very names!
Can you guess which national parks I'm talking about?
Yup: Grand Canyon and Grand Teton National Parks!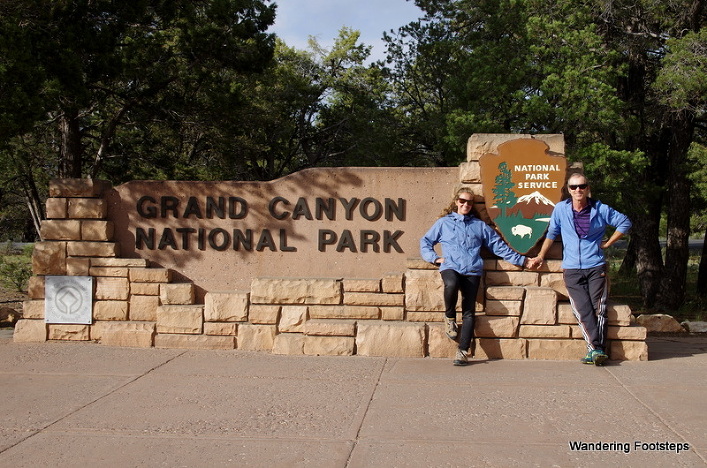 Grand Canyon National Park
Grand Canyon is one of those places I'd grown up hearing about, and I'd conjured up its grandeur in a way that only a child with a very imaginative mind can manage.  I expected, then, that when I actually saw it, I'd be underwhelmed.
This must be why the canyon is so grand.  No matter how many photos of it you see, no matter how much you've built it up in your mind, you will still not be prepared for that first view of it.  There is no way to be disappointed by Grand Canyon, not a chance you cannot be touched by its sheer vastness.  It fulfills every clichéd expression of awe you can think of.
Grand Canyon is so big it looks like a two-dimension painting.  It's impossible to view it in its entirety at once – though you can come close from the air, on the ground you're limited to miniscule sections of it, (and they already look like giant canyons!).  It is so deep you only catch turquoise glimpses of the Colorado River, which, from above, looks more like a tiny creek than a river mighty enough to cut 1.6km down into layers of rock billions of years old.  It is so vast that when you see a condor – the largest bird in North America, with a 3+ meter wingspan – fly over the canyon, he looks no larger than a hawk.
When you see all this before you, you can't help but feel intolerably small.
There is one aspect of Grand Canyon, though, that takes away from this poetic experience – the sheer number of people also experiencing it.
It's no surprise, really.  Grand Canyon is one of the most famous geological landmarks in the world, and the variety of languages you hear around you as you take in the sights is proof.  Also, I think the fact that the national park can so easily be visited as part of a day trip contributes to the number of visitors.  Not only is Grand Canyon near a number of other worthy sites (Las Vegas, Hoover Dam, Flagstaff, Route 66, the national parks of southern Utah), but the very design of the park allows you to arrive, snap a few selfies to say you've been here, and be gone in an hour or two.
Thankfully, Bruno and I discovered that the further from the visitor's center we traveled, the fewer crowds we encountered.  In fact, the morning after our arrival, as we headed west toward Hermit's Nest, we could walk from one viewpoint to another along the edge of the canyon without encountering another person!  That returned the poetry to the experience.
That morning, it was incredibly cold out, and Bruno was hilariously covered in layers of clothing so that he looked like an astronaut.  It had snow-showered during the night, so the visibility on that sunny morning was spectacular.  We could see well over 100km in the distance, and I was deeply grateful for the chance to experience clear views of Grand Canyon.
As Bruno and I hiked (and sometimes took the free shuttle bus that plies this route – a great idea to reduce congestion on this road), I developed a strong urge to hike down into this grandest of canyons (something my mom and her girlfriends had done to celebrate their 50th birthdays – right on, ladies!).  I wanted to commune with her more intimately, to get to know her from below, as well as above.  This hike now officially on my bucket list, so expect, one day, to read a post about the experience!
In other words, our brief visit to Grand Canyon National Park was more of a reconnaissance mission, and will undoubtedly not be our last.
Grand Teton National Park
From deep canyons to jagged mountains, the relatively young Teton peaks may be less infamous than Grand Canyon, but they are no less grand.  What makes them so impressive, I think, is that they rise up, as if out of nowhere, from the flat plateau of Wyoming.
Until this point, all the national parks I'd visited were in Arizona.  Now, though, I was entering a brand new state – and Bruno was entering a brand new park (a rarity for a nature-lover who's seemingly experienced it all).
We arrived into the park in the late afternoon, so all we really had time to do was set up camp before sitting down to dinner.  When our meal was done, we both sat there silently, staring at the mountains and the grasslands and the birds, saying and doing absolutely nothing.  It was a beautiful moment, a gift from the park.  These moments are the true gift of all the national parks, if you're willing to stop and listen.
The Teton Mountains overlooked all our activities in the park.  They were there as we searched for wildlife – which included a few bison, pronghorns and elk, as well as two juvenile moose.  They were there, perfectly reflected in the clear waters of Jenny Lake.  And they were there, forever in the background, as we settled down by Jackson Lake for a quiet sunset.
Because their trailheads were far from our campground, we opted, instead, to hike up to Signal Mountain (next time, though, I'd prefer to hike the Tetons themselves).  The sign at the trailhead warned of bears, and I spent a fair amount of time worrying about an encounter.  Eventually, I settled into the groove – or, at least I tried.  The trail had evidently not been cleared for the season yet.  There were so many fallen trees on the path (apparently the park had experienced an incredibly rough winter, with 600 inches of snow!), and we had to navigate through mud and snow.
Yes, snow!  By about the halfway mark in the hike, we were walking almost entirely on snow, our hiking boots falling through and slipping around.  We completely lost the trail and ended up cutting straight up to the top of the mountain in order to find it again.  Bruno had fun trying to catch me in ungraceful moments as I navigated tree branches and snow, but the truth is that my Mediterranean man slipped way more on the snow than me!
After such an active morning, it was positively delectable to spend the afternoon sitting on the rocky beach of Jackson Lake.  Again, the Tetons were there, sparkling in the bright sun.  I sat, sunning myself, with a book and a pair of binoculars.  I tried – tried being the keyword – to sketch the mountains.  We had lucked out with the weather again – it was so hot I had to peel off layers and dip my legs in the icy water to cool off!  It was the perfect way to spend an afternoon with these grand peaks, and for this moment of communion with America's beauty I am eternally grateful.
Next Up: Yellowstone
From Grand Teton, it was a short jaunt to America's most infamous national park – Yellowstone.  Though the word grand is notably absent from its name, it overwhelmingly lived up to its reputation.  I have so much to share (read: so many pictures to share) about our experience in that park that I'm going to have to devote an entire separate post to the park that showed me that, not only is America beautiful, it's quirky and funky-looking, bubbling and brewing, too!