A couple posts ago, I shared the exciting news that Bruno and I had, after months of frustrating searching, finally purchased our new vehicle – the vehicle that will replace Totoyaya and become our next home-on-wheels!
In actuality, we purchased this bus about a month ago now – as those of you who follow our real-time updates on our Facebook page or Instagram account can attest to – and I've been dying to share more details about our big blue bus ever since.
And so, here is our new vehicle: a 2001 Freightliner Bus with a Thor body on top.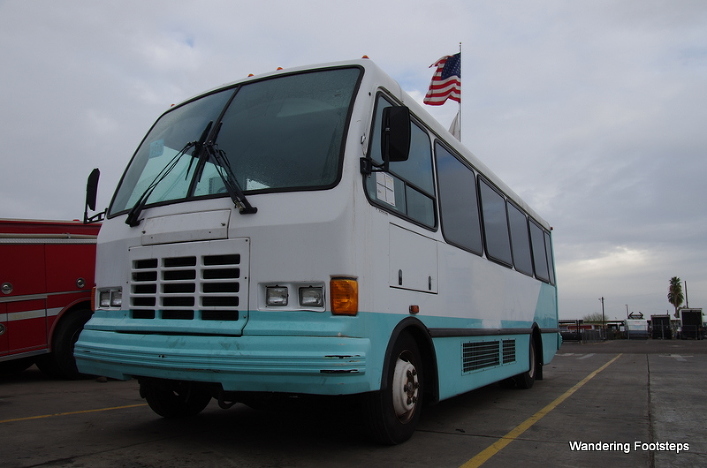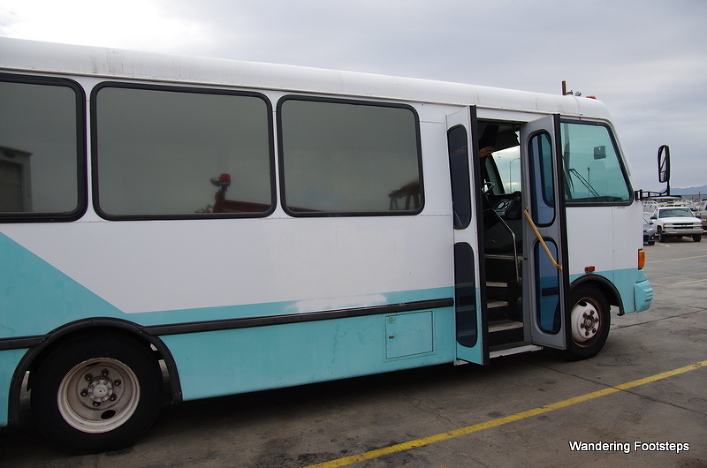 Is anyone out there surprised by the choice we made?  (If so, please leave a comment and describe what you had pictured for us in your mind!)  I'll admit that it's not exactly what I had envisioned at the outset of our search.  But we went with this choice for several reasons.
The 5.9 Cummins Diesel Engine
From the outset, we searched for a diesel engine that would be reliable and as fuel efficient as possible.  We briefly considered the Mitsubishi Fuso 3.9L Turbo Diesel engine then focused the vast majority of our search on the Ford 7.3L Diesel engine.  It was rather late in the game when we discovered the 5.9 Cummins, but our research led us to understand that it was a strong, well-built engine that would be easier and cheaper to fix than the 7.3L if we ever ran into issues.  Well-maintained, these engines are widely considered to be indestructible, a statement also generally accepted about our beloved Toyota Land Cruiser BJ75.
The Vehicle's History
This was a big factor.  With each vehicle we considered, we conducted Carfax reports in order to grasp its history.  Most of the time, the reports showed several owners (sometimes up to seven, with some owning the vehicle less than a year), accidents, or infrequent maintenance.  We were almost always left guessing (or worrying) about how previous owners had treated the vehicle and what (if any) maintenance had been done.
We were encouraged when we learned of the history of our Freighliner.  It had only had a single owner – a retirement community in a NW suburb of Phoenix.  A bit of digging around revealed that the vehicle had been serviced for many years at Freighliner of Arizona, obviously the best possible garage for a Freighliner.  As a fleet vehicle for the company, no money was spared to keep this bus well-maintained.  Just looking at the vehicle, we could tell it had been cared for.
Low Mileage
As a shuttle bus for the retirement community, the bus was used relatively infrequently.  In 15 years, it had driven only 134,000 miles, far less than the average of 15,000 miles a year that most people put on their vehicles.  This was good news, as ideally we wanted a vehicle that we could use for a few years and would have enough miles left on it to sell on to someone else afterwards.
The New Transmission
When we initially test-drove this vehicle, it was obvious there was a problem with the transmission.  It wouldn't shift out of first gear (it's an automatic, but gears still shift).  The company that owned the vehicle – American Truck Salvage – was willing to source us a new rebuilt Allison transmission (with a two-year warranty) and install it into the bus before selling it to us.  This meant that we'd be essentially getting a new transmission with the vehicle and would postpone any possible transmission issues in the future.
The Class-A Style
Bruno was all for getting a Class-A style vehicle.  He really liked the idea of the cab and living space being connected, and often joked about me being able to make him coffee while he drives (don't worry, mom, I won't do that!).  What I like best about a Class-A is that the front windows are gigantic and the visibility from my passenger seat is impressive!  I think many future photos will be shot from that seat!
Now, at the time we decided to buy this big blue bus, both Bruno and I were getting totally sick of searching for a vehicle.  I had long ago realized that we were never going to find the vehicle that fit all our criteria – perfect just doesn't exist.  So it became a matter of finding a vehicle that fit our most important criteria while simultaneously reducing our risk of choosing a bad used vehicle.  The bus fit the bill, and came at the right time, so we seized it.

Big Blue (my temporary name – we'll find a real one when we start living in it) isn't perfect.  It's slightly longer than I wanted – 26 feet long – and it has some complicated electronic parts that are already driving Bruno crazy.  The windows don't open (except for a few emergency exit windows) and there is only a single door (no access from driver or passenger seat).
But, at the end of the day, we feel this Big Blue Bus has a lot going for it.  Its design has character, which appeals to our desire to live in something unique.  Its history, transmission and engine leave us with the hope that we will be able to travel long and hard with it.  And the size of the living space in the back means that we are going to be able to kit out our home even better than I had hoped for.
We've already begun the conversion process.  It's going to be a long project, folks, but I'm looking forward to sharing the process of transforming this shuttle bus for retirees into our future home-on-wheels!
If you would like more frequent real-time updates on our conversion process, consider liking our Facebook page or following our Instragram account.
We'd like to hear from you.  What do you think of our new vehicle?  Is it what you pictured us in?  Could you see yourself living in Big Blue?