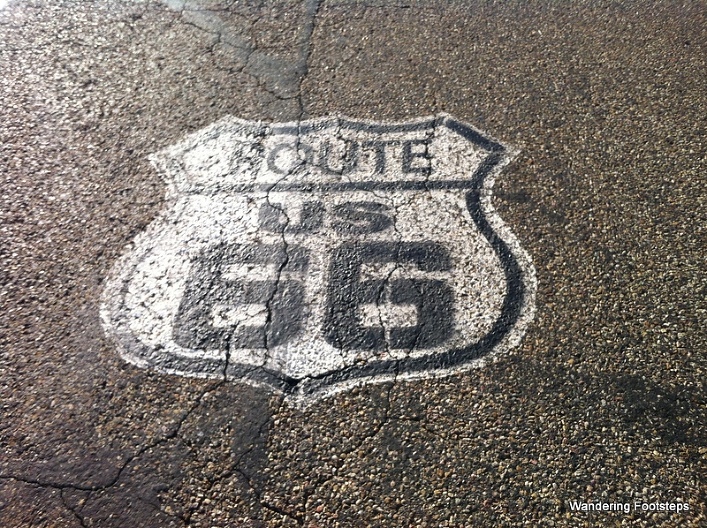 This is Part II of our road trip down Route 66.  To check out Part I – which includes our preparation, first impressions, and experiences in Illinois, Missouri, Kansas, and Oklahoma – click here.
We'd been on Route 66 for almost a week now, and the route's quintessential motels, cafés, and neon signs were starting to get old.  Thankfully, Oklahoma offered us a few new quirky sites along its chunk of Route 66.  We visited a restored giant round barn, a massive totem pole, a giant modern statue of a pop bottle (to advertise Pop's Soda Ranch, a shop selling, well, pop – 700 types!), and an old swimming pool with a huge plaster whale.
For some strange reason, giant objects are a frequent theme along Route 66.  So are antiques, bridges, vintage cars, farms, trading posts and churches.  Route 66 is much more than neon signs!
There are also darker themes associated with Route 66, unfortunately, and one of them is specifically associated with Oklahoma.  It is the Dust Bowl.  In the 1930s, several states in the southern U.S. were met with a double-whammy of tough times – not only was in the Great Depression, but severe drought and unsustainable agricultural practices devastated crops.  Families – surrounded by dust – couldn't survive, and so most headed west, to California, where they'd heard the soil was rich and moist.  These "Okies" – for most of the migrants came from Oklahoma – traveled to California via none other than Route 66.
An even darker theme in the history of Route 66 is the story of the Negro Motorist Green Book.  The decades in which Route 66 was in use were also the decades when it was still difficult – even dangerous – for African Americans to travel.  Even once the U.S. was officially desegregated and Blacks technically had the same rights as Whites – including the ability to travel interstate – the reality along Route 66 was a little slow to follow suit.  Many cafés and motels refused to serve Black clients, and there were even "sundown towns," entire towns that were prohibited to Blacks after nightfall.  Edmond, Oklahoma, adjacent to the state capital, was one such town (an old postcards of the town reads, A good place to live; 6,000 live citizens, no negroes), but there were dozens others along the route.
The Negro Motorist Green Book was like a Route 66 Lonely Planet for African Americans.  It detailed cafés, motels, service stations, and other businesses that would accept their patronage.  While White American families were enjoying happy family road trips down the Road of Dreams, Blacks were just trying to make it in once piece to their final destination.  I even read that businesses along the route often had names with triple K's – like Kosy Kottage Kamp and Klean Kountry Kottages – that were code for the Ku Klux Klan.
Route 66 might bring nostalgia into the hearts of many Americans, but I'm guessing it doesn't bring quite the same sentiments to older African Americans.  Diving through Edmond reminded me of my privilege in being able to travel problem-free down the old Mother Road.
Kicks in the Deep South in Texas
I was again reminded of my privilege at Shamrock, our first stop in Texas, and home of a sizeable Irish population.  The lady working at the U-Drop Inn gave us such a warm welcome, showing us her renovated diner – Bruno got excited about the booth where Elvis Presley had once sat – and giving us tons of local information.  She was so interested in our lives that she even took a photo of Totoyaya in front of the restored Tower Service station – which features in a scene in Cars.  Southern hospitality was in full swing here in Shamrock.
Texas marked the beginning of the wild, wild west.  We saw our first neon cactus signs, cowboy-themed motels, and actual tumbleweeds blowing past the flat, windy fields.  We drove on several long, straight dirt stretches past ranches and cotton fields and wind turbines.  We almost hit the birds that kept flying up from their nests in the tall grasses on the edge of the road.  We got caught in a traffic jam with cows.
Indeed, there are more cows in the northern Panhandle of Texas than people.  Amarillo, the region's capital, is also the world's capital of beef production.  There are 130 feedlots in the surrounding area producing 2.5 million heads of cattle a year.  You can smell the cattle everywhere, even though you can't always see them.  Locals declare, "Smells like money!" but I say it smells like gluttony.
An infamous historical marker along Route 66 is Amarillo's Big Texan Steak Ranch.  Here, you are encouraged to try their 72oz. steak-eating contest.  If you can eat that giant steak (plus four side dishes of shrimp cocktail, baked potato, salad, bread and butter) in one hour or less, the meal is free.  Several people try this feat every day, and about 1 out of 6 succeeds.  Each "champion" is commemorated on the Wall of Fame inside the bar, which also proudly displays articles of the beef industry's attack on Oprah and other lobbying successes.
Molly Shuyler, the woman who ate three 72oz. steaks in twenty minutes last year, holds a place of special honour on the restaurant's Wall of Fame.  If you can stomach it, you can watch the video of this "feat" here.
Needless to say, I didn't give the Big Texan Steak Ranch the honour of my patronage.
Thankfully, a little further on was a more pleasant historical marker – the equally infamous Cadillac Ranch.  Ten old Cadillacs are half-buried, face-down, in the dirt on a flat field near Route 66.  This public art installation is participatory, and thus ever-changing.  If you bring your own cans of spray paint, you can paint a few words or symbols on the vehicles – just know that by the next day, they will most certainly have been painted over.  Bruno was super-excited to visit this site, but he contented himself with photographing the art exhibit while I took in the thick caked-on layers of paint from close-up.
Near the end of Texas, we reached the official Midpoint of Route 66.  We were exactly 1,139 from both Chicago and Los Angeles.  It wasn't our own personal midpoint of Route 66, however.  We were nearing the end of our road trip.
Final Few Kicks in New Mexico and Arizona
By now, Route 66 was more highway driving than anything else.  Towns were farther between, which meant that interesting sites were fewer.
Instead, it was the interesting landscapes that took over our attention.  Red mesas, or tabletop mountains, began popping up along the horizon.  Short cacti started to appear.  Antelope grazed along the roadside.
The Southwest of the U.S. was exactly what I'd pictured in my mind, and I was thrilled to finally be here.  But, man, was it cold!  We were on a high plateau, and our first night in New Mexico was our coldest night yet (-3 degrees celcius!).  We could see snow in the distant northern mountains, so we decided not to take the older route through Santa Fe.  The straight route through Albuquerque is the less interesting of the two, as it involves a lot of highway driving, but Albuquerque itself seemed like a worthy place to visit.  The terracotta architecture was charming and there was tons of evidence of Mexican and Native American culture.  Taquerias, Spanish-speaking radio stations, Indian trading posts added an enticing multicultural flair to the city.
Route 66 climbed up to its supposed highest point, the Continental Divide.  This mountain range distinguishes the watersheds that drain into the Pacific Ocean from those than drain into the Gulf of Mexico.  I couldn't help but think of my friend Justin, whose Grammy-award-winning children's band, the Okeedokee Brothers, had just traveled the Continental Divide on horseback for a month to write their third adventure album, Saddle Up (which has also just been nominated for a Grammy).
And then we were in Arizona, our final destination.  Our Route 66 road trip was coming to an end.  And, honestly, I was ok with that.  Following the historical Route 66 had been a fun and enlightening means of getting south, but Arizona had more interesting things to offer us than the old Mother Road.  It had warm southern cities and gorgeous national parks, and these lures won out.  As Route 66 cut through Petrified Forest National Park, we turned right, got off the old Main Street of America, and entered my first U.S. National Park (which is a story for a later time).
Final Thoughts on the Kicks of Route 66
Driving down the old Highway of America had never been on my bucket list.  Americana isn't particularly my thing.  But if you get into the spirit of kitsch, of being unabashedly a tourist, and of buying into the stereotypes and symbols, Route 66 offers up some rewards.
For example, it's amazing to see the changing landscapes and cultures as you drive south and west.  Each state had something new to offer, and I happily acknowledged that there is incredible geographical and cultural variety within the United States.  (This bodes well for our extended visit in the U.S., then, doesn't it?)
Also, it's fascinating to learn about American history through the lens of Route 66.  The route really does tell the story of the last hundred years – of economic development, war, famine, race issues, transportation and technology – fabulously well.  I hadn't expected this.
Lastly, by placing such things as neon signs, motels, service stations, old cars, and diners on pedestals, I was able to see these things, not as mundane (for a North American, this is what they are), but as cultural artefacts.  This allowed me to view a culture so closely-related to my own from an anthropological perspective, which was enlightening.
Ultimately, I do not think it is necessary to drive the entirety of Route 66, and there is no part of me that wishes to complete the road trip all the way to Los Angeles.  I've gotten all I need to get from Route 66.
But I am really happy that our Route 66 road trip kicked off our American tour.  It was a great way to frame American culture and history, and a fantastic way to connect us to a long history of tourists getting their kicks on Route 66.
***
Tips for those planning their own Route 66 road trip:
1. When planning your Route 66 road trip, take a passenger along! It's so difficult to navigate Route 66 alone (even with a good GPS), so having a passenger who's a good map-reader makes the trip a lot less stressful.
2. We definitely recommend getting the EZ Guide for Travelers to help navigate the route. It was an absolute lifesaver for us, not only in order to point out interesting sites along the way, but to help us from getting lost!  Plus, the author is so passionate about Route 66 (even pointing out original pieces of cement and other random things) that his enthusiasm becomes infectious.
3. We recommend driving the route from East to West. It adds to the sense of adventure and fun if you're driving in the same direction that most families and tourists have driven it – toward the sun, warmth, and sea of California!
4. When Route 66 divides into 2 or 3 sections, we recommend always taking the oldest section available. It will likely be further from the highway and bring you into more towns.
5. Get out to walk often. It's so easy to begin a bad habit of staying in the car and snapping photos of sites while driving by (this is especially true once the initial enthusiasm wears off because there are just so many site to see that you begin to feel you're getting out of the car every 5 minutes!).  Our most memorable moments always happened when we left the lazy comfort of our vehicle.
6. I think driving Route 66 in an RV is a bit of a shame (even though this is what we did). You miss out on the essence of the road trip – the diners, cafés and motels!  Of course, sleeping in your RV is more practical and cheaper, so a good compromise in this case would be to dine out.
7. If doing the trip from east to west, plan to stop driving an hour or more before sunset. The last 90 minutes of daylight, the sun is directly in front of you, and it's truly blinding.  Not at all comfortable or pleasant.
8. If you're tight on time, we'd recommend doing less of the route but taking the time to do it right. Unless you need to get south for other reasons (like us), we'd recommend taking the time to savour the people, food, culture, and museums.  My favourite section – and therefore the one I'd recommend for those not doing the whole thing – was Illinois.  The route is well-marked and has great interpretive signs. There are loads of cute towns, well-preserved sites, and typically charming farmland scenery.  Two notable cities bookend the trip (Chicago and St. Louis), there's a funky bridge to visit (the Chain of Rocks Bridge), and you can get far away from the highway by taking older versions of the route.  Basically the Illinois section of Route 66 contains all essential elements of Route 66 in an easy and doable mini-trip.